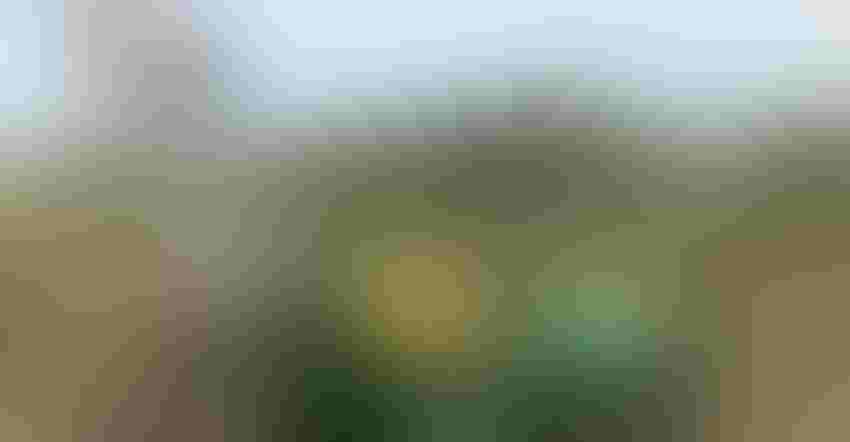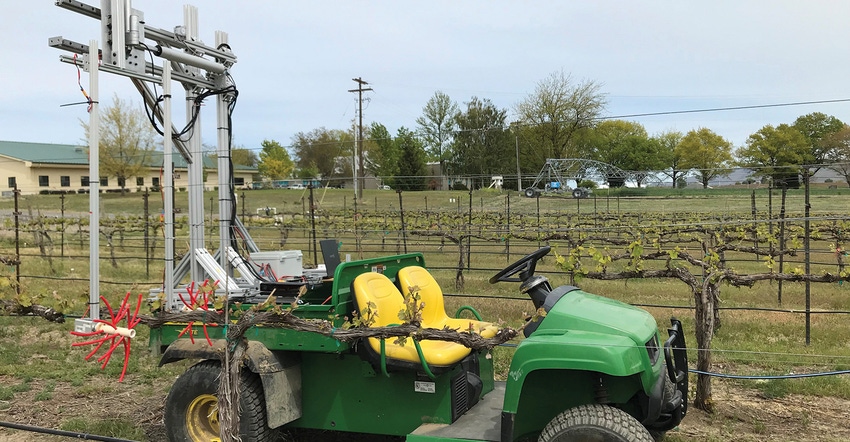 Washington State University's prototype precision shoot-thinning device is as yet unnamed.
Washington State University
In the agritech vineyards around Cornell University in New York, a mechanized Thorvald makes its presence known, an automated UV light robot that seeks out powdery mildew.
On the West Coast, an as-yet-unnamed and unmanned apparatus moves around the Washington State University Center for Precision and Automated Agricultural Systems vineyards, snipping green shoots — with precision.
Whatever it is ultimately to be named, this prototype automated shoot-thinning system is earning plaudits for improving canopy uniformity, spacing, and direction of shoot growth.
"There's no need to make operator adjustments," says biological systems research engineer Manoj Karkee, accredited in remote-sensing and computer engineering with a focus on agricultural automation and mechanization — specifically machine-vision systems for specialty crop production.
"Our system utilizes cameras to look over the vineyard cordons and based on what they see, automation guides cylindrical rollers with whips that activate to thin the shoots, if and where they need to be trimmed.
"There are other commercially-available green shoot thinners, but they are run by human operators sitting in a cab some 10-15 feet away, which makes it difficult for them to locate the cordons and guide the rollers.  Our automated thinner uses camera and AI-based imaging processing techniques (deep learning) to estimate trajectories of the cordons relative to the ground.  It finds them and positions the rollers, automatically and precisely, overcoming the limitations of current manual operations."
According to the Washington State University Viticulture and Enology Extension News, "Manual shoot thinning is highly labor-intensive and costly and not without its own challenges as tractor ground speed and thinning head speed can be variable and result in inconsistent shoot thinning.  Machine operators are needed to make constant adjustments to align the thinning head with the height of the cordon which often varies between and within vineyard blocks."
Designed for precision
The prototype for automated shoot thinning was developed in Prosser and designed for precision to eliminate the need for continuous adjustment of thinning heads by operators.
"In general, what we're trying to do by adding automation to farming is to minimize the inaccuracies and gaps of not having enough trained workers to perform in the field," says Karkee.  "Instead of humans laboring in difficult environments that might be too hot, too cold, or too smoky, we're devising other means to accomplish those tasks and doing so more accurately."
Still being received and tabulated is input from vineyard managers and supervisors on the subject.  A Shoot Thinning Survey to help in research efforts to develop a precision automated system asks some simple questions: Do you currently thin green shoots manually, mechanically, or both?  Would you consider adopting an automated shoot thinner if it were commercially available?  Is current automation technology applicable to your operation?
Karkee is one of the authors in a ScienceDirect article on "Computers and Electronics in Agriculture" discussing grapevine cordon shapes and applying mathematical models of cordon trajectories to find the best model.
"Green shoot thinning is an integral part of canopy management practices in wine grapes, used to reduce crop load to desired levels for optimizing quality," he explains.  "Mechanical thinning can reduce labor required by 25 times compared to manual operations (and) automating mechanical thinning can substantially increase both efficiency and performance."
Calling early season suckering or shoot thinning "one of the three most important vineyard management steps in the annual lifecycle of a grapevine (along with winter pruning and fall harvest), the half-century-old Jordan Winery in Healdsburg reports: "Shoot thinning is the first step in allowing filtered light to penetrate inside the canopy, bringing air movement within the cluster microclimate and assisting in flavor development of grapes during the ripening period."
Subscribe to receive top agriculture news
Be informed daily with these free e-newsletters
You May Also Like
---