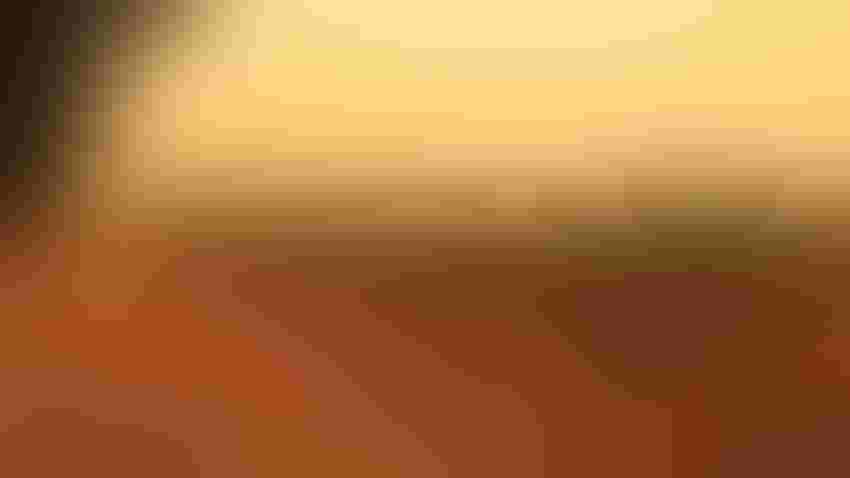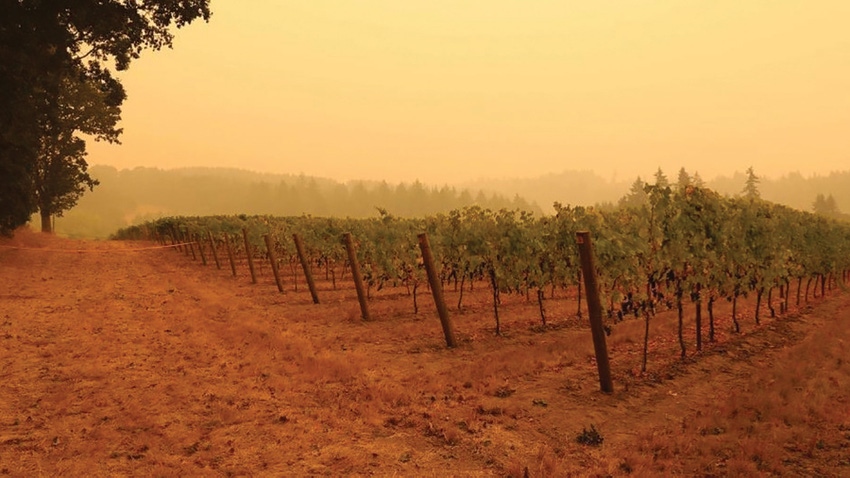 A vineyard in Oregon is shrouded in thick smoke in September 2020.
Deborah Bloom/AFP via Getty Images
As the thermometer climbs, so too does the worry quotient in the wine grape world following a forecast that 2023 could be another busy year — with somewhere between half a million and a million acres expected to burn.
Long-range forecasters at AccuWeather predict the 2023 fire season will be just-about-spot-on or slightly over historical averages, numbers that approximate some 60,000-75,000 wildfires.  In California, those who fight these wildfires collectively acknowledge that fire season is year-round.
In northern California, peak wildfire season begins to show up in late July or early August, running into September. Southern and central California's highest danger traditionally shows up a bit later, from September to November.
Perhaps even more so this year because the waves of winter wetness last fall lead to intense growth of fire fuels. In one CNN story on the subject, a scientist at the University of California, Berkeley Sierra Snow Lab commented: "We've seen this dangerous side in the past where all this moisture increases the amount of spring growth that dries into additional fuels."
Those atmospheric rivers, so welcomed earlier because of drought, now bear responsibility for this spring's dry grasses and tinder that could spark off a big burn amongst all the timber taken down by storm winds and flooding.
Apprehension is running so high that State Farm says it will no longer insure new homes in California because of the risk of wildfire. A company press release cited "rapidly-growing catastrophic exposure" as a reason for the action. 
The largest wildfire conflagration in California last year, the Mosquito Fire, put over 9,000 structures at risk. Earlier this spring, the federal government announced that California would receive nearly $79 million "to help communities become more resilient to wildfires."
All of which leaves grape growers and those who process the picked fruit waiting for the 'thud' --- if-and-when the other shoe falls.
Management urged
The matter of wildfire challenges took on even greater urgency last month in testimony before the House Committee on Natural Resources. California Farm Bureau President Jamie Johansson called for increasing the pace and scale of prescribed burns and forest management as further protection for farmers and ranchers.
Johansson, himself a grower in Butte County, noted: "With the presence of 18 national forests in California, nearly half the 100 million acres in our state are managed by the federal government," he said. "Given the extensive number of wildfire related impacts in California, California Farm Bureau has a vested interest in quality and quantity of forest management activities.
"Wildfires cause significant impact to the $50 billion agriculture industry with threats to farms, ranches, and wineries (representing) an issue raising deep concerns to growers in the state," he said.
"We always prepare for a bad year, but this year's outlook has some good news," says Cal Fire Battalion Chief Issac Sanchez: "We can anticipate and we can prepare, but until something actually happens and we start seeing a trend, we really won't know. Our weather folks at this point are expecting what used to be called 'a normal year' with monsoon lightning storms starting a bit later than usual which will push back the larger destructive fires until later in the year.
"Typically we see the serious lightning problems in late July and early August but we're talking about the unpredictability of Mother Nature where trends and expectations may not hold true.  We know it's going to get hotter and drier and humidities will drop, so we're not questioning the inevitability," Sanchez said."The question as to when and where the next fire will occur is entirely up in the air and unpredictable. All we can do is prepare.  But we have our summer resources in place and will attack every single fire aggressively."
Subscribe to receive top agriculture news
Be informed daily with these free e-newsletters
You May Also Like
---