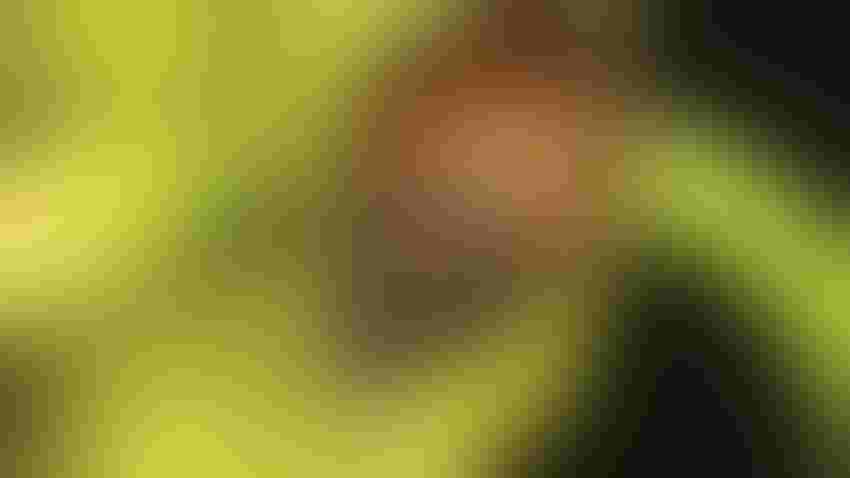 The Japanese beetle feeds on more than 300 plants, with a preference for grapevines.
USDA ARS
If you raise grapes for a living and you've never met Popillia Japonica, consider yourself lucky as this is not the kind of girl you want to take home to Mom…or your grapevines.
The scientifically named scarab beetle is an invasive species that feeds on foliage, buds, flowers, and fruits of over 300 plants with grapevines at the top of the preferred menu. When they come to visit, they expect supper and are impolite dinner guests who will skeletonize the leaves of some grape varieties or eat completely through the leaves of others.
They've made a home throughout American agriculture for over a century since they arrived from Japan in 1916. To say that the half-inch-long shiny green/brown/black pests are ubiquitous is to state the obvious.
The latest infestations causing concern are in Washington where the State Department of Agriculture has identified Yakima and Benton counties as hot spots. WSDA investigators detected and destroyed some 23,000 of the beetles there last year but they have a lot of kin who keep on coming. Japanese beetles are active flyers capable of covering up to five miles with help from the wind.
Dependent on property owner consent and allocated funding, ag personnel hope to treat all properties within the trouble zone. Eradication Project Coordinator Camilo Acosta says --- "While there may be highly infested areas that might need a second application, a single visit in late April or early May with the pesticide Acelepryn may be the best option.
"Incredibly destructive" is the way Acosta describes the beetle, adding "the discovery of even one should bring about a high alert."
The brilliantly colored pests can cause significant damage to grapevines during the peak adult activity period of July through September. Damage usually begins in the upper part of the canopy where established vines can generally tolerate some major damage.Young vines are more susceptible and may become completely defoliated as the beetles skeletonize the leaves of some grape varieties or eat completely through the leaves of others.
Three ways
There are three general ways to get rid of Japanese beetles — removing them directly from plants in small gardens, spraying them with a natural pesticide (soap and water works), and using Japanese beetle traps.
WSDA plans to set traps in Grandview and surrounding areas to detect for further expansion.Over 3,000 traps are planned for that area. WSDA is currently trapping in a grid in Yakima County with more traps set around nurseries in Yakima and Benton counties.
Just as every action produces an equal or opposite reaction, there are pros and cons in setting traps that attract the beetles through pheromone scents. The pro being that the aroma lures beetles into the trap where they can be destroyed. The con being that the pheromone also draws more pests to the site, numerically compounding the problem.
Two thousand of some 3,000 Grandview-area properties were sprayed with insecticide in 2022, the first year of a spraying program."Properties sprayed last year with the low-risk insecticide will need another application in 2023 to promote the success of our multi-year eradication program," said WSDA officials.
Subscribe to receive top agriculture news
Be informed daily with these free e-newsletters
You May Also Like
---