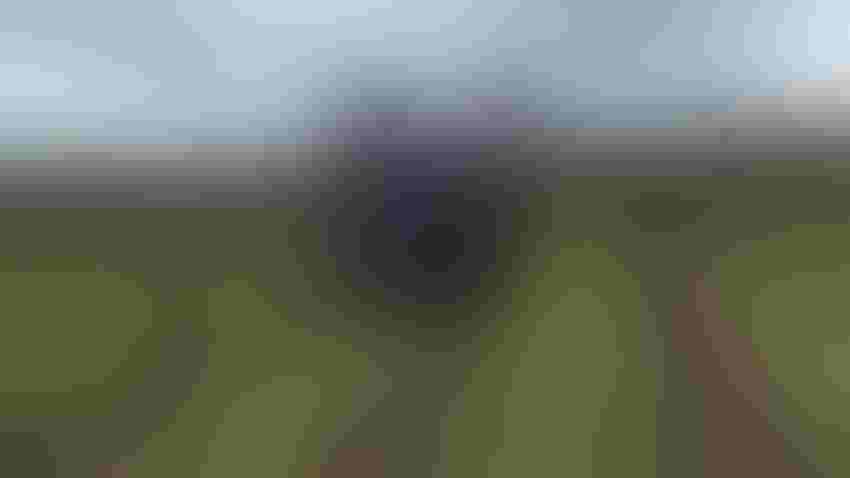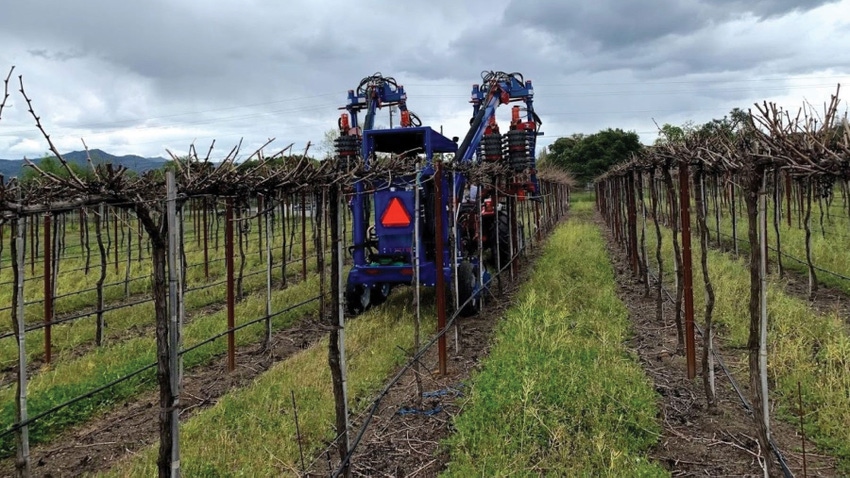 An automated pruner works in a vineyard.
UCANR
In one of the most memorable ad lines ever written, product maker Kimberly-Clark asked readers: Remember how simple life used to be?
For farmers, those days of hitching up Old Sal the Mule and heading to the West 40 to plow are but a distant memory as artificial intelligence expansion continues to transform most every process where something is grown --- in this case, the rapid transformation of AI in the grape-growing/wine-producing sector.
AI is being used to solve a variety of challenges facing grape growers --- pests and diseases; weather impacts; soil conditions, and labor costs, all of which impact overall productivity and profitability.
A recent Wine Industry Network presentation intended for the grower community went so far as predicting that developments in artificial intelligence would represent, "The Future of Grape Growing."
The webinar content supported an earlier Forbes magazine article that reported, "AI touches everything in the winemaking process from vineyard soil analysis to how consumers select a preferred vintage. AI is already present in the form of intelligent machines and sensors that assess soil conditions and water needs for the grapes. Automated drones fly above the vines with thermal infrared cameras checking hydration, disease, and pest damage."
The article, written several years ago, is prescient in its prediction that, "Ultimately, robots might take over tasks in the vineyard."
That was then. This is now where publications like Tech Briefs feature stories about Cornell University's PhytoPatholoBots rolling through the vines where their computer vision gathers data on the physiological state of each cluster as the vineyard is evaluated leaf-by-leaf, in real time.
In other parts of the world, Australia for example, Geospatial Artificial Intelligence for Agriculture uses AI software and a satellite image library to plot every vineyard in the country to monitor crop conditions and fruit quality.
The WIN conference was divided into three sessions covering irrigation practices, something termed "Climate-Friendly Farming", and the transformative potential of Artificial Intelligence in grape-growing.
Definition of AI
Speaker Tom Shepland began by suggesting a definition of AI was a good starting place. He called it, "A computer system that performs a task that would otherwise require human intelligence" and under that mantle he cited monitoring and robotics tasks and large language models (like ChatGPT). "Algorithms --- like a cooking recipe --- are a list of instructions that tell a computer how to take input data and produce output data.
"Machine learning is a type of algorithm, a subset of artificial intelligence that uses data to produce its own instructions via a neural network that resembles a biological brain that turns input data into output data."
Carlos Danti, a Napa County winegrowing director responsible for 700 acres, told how a growing archive of information was helping him do more with less, maximizing and reusing water for greater efficiency. By reducing block size from five to two acres, "our employees can manage more technology and automation to irrigate sub-blocks together and improve the system by adopting this developing automation with new blocks coming in.
"Napa topography, with lots of changes in elevation, is not easy to farm," he admitted, "but using sensors makes it far easier than having to be on an ATV doing visual checks."
Viticulturist Margarita Postoronca works with Danti and told of their learning curve involving retrofitting older blocks with hotspots. "We learned our system was not working as well as we thought it was. Using developing technology, we have gained more efficiency over actions and efficiencies. We work with Mother Nature, so any control we can achieve over hot spots becomes beneficial to us. With dashboards in the field, we can check on our I-pads and track what's happening."Attesting to the value of increased technology and sensory monitoring was Cassie Braswell of Nichols Family Farm who spoke to what she called Hot Spot Agriculture that her farm implemented in 2018. "Sensors are rate-analysis tools that record time of use and monitor things like sustainability, efficiency, and profitability. We can cover a lot more ground using sensors."
Subscribe to receive top agriculture news
Be informed daily with these free e-newsletters
You May Also Like
---