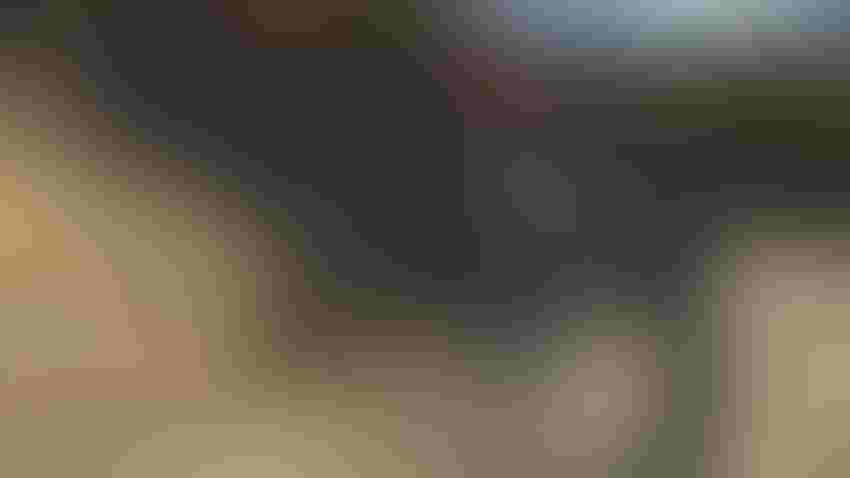 Mark Lagrimini, from left, vice provost for research and Extension for the University of California's Division of Agriculture and Natural Resources, and John Bailey, interim director of the UC Hopland Research and Extension Center, examine the difference in wildfire behavior on grazed and ungrazed land. This summer's River Fire burned about 3,000 acres of the facility.
UCANR
Growers are still taking stock of their losses after the late-summer wildfires that swept through large swaths of Lake, Mendocino, and Shasta counties in Northern California charred thousands of acres of rangeland and timber, destroyed several beekeeping facilities, and caused smoke taint troubles for wine grape growers.
In Lake County, the Mendocino Complex fires burned at least 40,000 acres of private rangeland, while also destroying about 30 acres of walnuts, 10 acres of grapes, and about 3.5 acres of pears, according to County Agricultural Commissioner Steven Hajik.
"The people who have cattle are going to have to buy feed," he says. "From a commercial point of view, cattle operations were probably hit the worst."
Another hard-hit group has been wine grape growers whose fruit has been rejected by wineries because of concerns over smoke taint. Unlike last autumn's wine country fires, during which most of the crop had already been harvested, this year's most severe fires spread just before or at veraison, when grapes soften and change color.
SMOKE TAINT CONCERNS
In late August, two major wine distributors — Constellation Brands and Treasury Wine Estates — rejected an estimated 1,200 tons of grapes from several Lake and Mendocino growers, just as harvest was getting under way, the Wine Spectator reported.
Crop insurance will cover grapes lost to smoke taint, says Gladys Horiuchi, spokeswoman for the San Francisco-based Wine Institute. "If they don't have insurance, they're just going to have to find a buyer for their grapes," she tells Western Farm Press.
For Lake County vintner Clay Shannon, about one-third of the 6,000 tons of grapes he plans to crush this year were taken on because the original buyers had deemed them of suspect quality, the North Bay Business Journal reported.
Talks between growers and vintners are ongoing, Horiuchi says.
"I know the wineries have long-term contracts with a lot of these growers, so they're trying to keep those relationships, but the wineries are very protective of their reputations."
University of California scientists have said they don't expect a significant economic impact on Northern California wine regions because only a small percentage of wines may have been affected by fires and smoke. Horiuchi agrees, noting that while the situation is tough on individual growers, Lake County vineyards represent only about 1 percent of California's industry.
MENDOCINO COMPLEX
Made up of the River Fire and Ranch Fire, the Mendocino Complex was the largest recorded complex in California history, at 459,123 acres, 410,203 of which were burned by the Ranch Fire alone, according to state fire officials.
Fueled by timber and underbrush, chaparral, and tall grass, the fires collectively destroyed 280 structures, while damaging 37 others, and caused $267 million in property damage and fire suppression costs, the National Interagency Fire Center estimated.
In Mendocino County, properties in the path of the River Fire included the University of California Hopland Research and Extension Center. On July 27 and 28, the fire burned about 3,000 acres of the facility's 5,358 acres, and destroyed three research structures, two storage sheds, and spring boxes that capture water for wildlife and water storage tanks, says Pamela Kan-Rice, spokeswoman for the UC Division of Agriculture and Natural Resources. Sheep at the facility were moved to safety before the fire.
While it was a blow to current projects, scientists at the center are using the opportunity for post-fire studies in the fields of watersheds and hydrology, fire science, plant science, entomology, wildlife ecology, and other disciplines, according to the center's website.
One thing they found immediately, the scientists say, is that the fire blackened areas that had not been grazed, while grazed lands showed much less damage.
CARR FIRE DESTRUCTION
Northern California's other major fire, the Carr Fire near Redding, burned 229,651 acres in Shasta and Trinity counties beginning in late July. The fire devastated residential areas, destroying more than 1,000 homes and causing nearly $1.66 billion in insured losses and suppression costs, according to state and federal officials.
The fire burned as much as 300 acres of marginal rangeland at its southern end, but its most damaging agricultural impact was on beekeepers, says Paul Kjos, Shasta County's agricultural commissioner.
"One beekeeper lost everything he had — equipment, a warehouse, and hives," he says. Others sustained damage to nucleus hive yards used for raising and breeding queens. "Shasta County is the only county in the state with a one-mile buffer around nuke yards for the bee breeding industry, so the yards are very valuable.
"We're still talking to beekeepers to figure out the monetary impact, but they'll have somewhere in the $3,000 per year range for the next four or five years until they can get forage back in those areas," Kjos says. "Beekeepers who move their nukes into those areas are now having to provide supplemental feed because there's nothing out there."
HELP AVAILABLE
For those affected by wildfires, the USDA Farm Service Agency offers disaster assistance and low-interest loan programs to help producers recover. These programs include:
• The Non-Insured Crop Disaster Assistance Program, which provides financial assistance to growers of non-insurable crops — including native grass for grazing — when low yields, loss of inventory, or prevented planting occur because of disaster.
• The Livestock Indemnity Program, which covers livestock death losses in excess of normal mortality because of adverse weather.
• The Tree Assistance Program, which helps eligible orchardists and nursery tree growers for qualifying tree, shrub, and vine losses from disaster.
• The Emergency Assistance for Livestock, Honeybees, and Farm-Raised Fish program, which provides emergency relief for losses because of feed or water shortages, adverse weather, or other conditions.
• The Emergency Loan Program, which is available to producers with agriculture operations in a county under a primary or contiguous presidential or secretarial disaster declarations.
• The Emergency Conservation Program, which funds fence replacement and other projects to rehabilitate land severely damaged by natural disasters.
• HayNet, a hay and grazing ad service that allows farmers and ranchers to share "need hay" and "have hay" ads online.
Each of these programs has specific eligibility requirements and deadlines. Visit www.fsa.usda.gov/disaster or contact your local FSA office for additional information.
Subscribe to receive top agriculture news
Be informed daily with these free e-newsletters
You May Also Like
---