Partly sunny: Short-term forecast for California wine industry
Partly sunny: Short-term forecast for California wine industry
Jeff Bitter of Allied Grape Growers calls the California wine industry "strong and healthy."Yet the challenges are aplenty – cheaper, good quality imports; an oversupply of value grapes; crop competition from more profitable crops including almonds; rapidly changing consumer tastes; and more.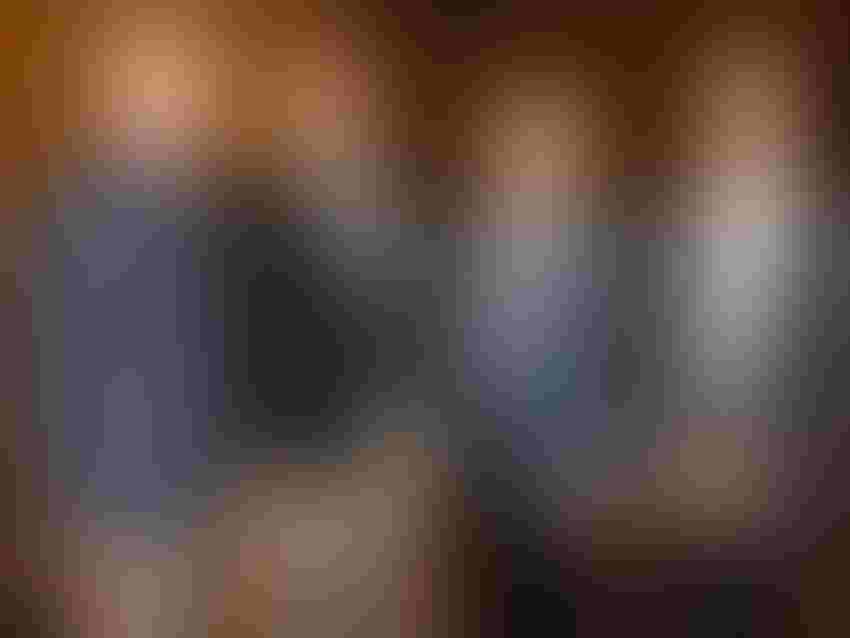 Jeff Bitter chooses the words "strong and healthy" to describe the California wine industry from vine development to the point of sale to the consumer.  
Bitter's kudos are based on several prime factors: positive wine shipment growth, billions of dollars (with a capital B) in annual economic value, and a high-quality product washing its way across consumer palates worldwide.
Yet the challenges are aplenty. Competition is lined up at the front door including: cheaper, good quality imports; competition for acreage from more profitable crops including almonds; rapidly changing consumer taste buds; and other issues.
In search of equilibrium
Equilibrium (balance) is the ultimate goal for the state's wine industry though impossible to achieve, says Bitter, vice president of operations for Allied Grape Growers (AGG), a 600 grower-member wine grape marketing cooperative based in Fresno, Calif.
Yet it drives industry toward the goal which the wine grape leader says creates success. Bitter says nearing equilibrium is largely tied to producing a steady supply of California wine grapes.
"The reality is that equilibrium is elusive," Bitter says. "It's a place where you can never arrive, yet as an industry we're always trying to get closer to balance which helps us make better decisions."
Bitter discussed the state of the California wine industry during his 2015 'State of the Industry' message at the 2015 Unified Wine & Grape Symposium held in Sacramento, and in a recent interview.
The Unified event drew 14,000 global grape and wine enthusiasts from countries as far away as Australia, Afghanistan, and South Africa.
At Unified, AGG pegged the 2014 California wine grape crush at about 4 million tons. To arrive at this figure, AGG weighed data from its annual survey of California nurseries, plus figures from the State of California including NASS and AGG's own data.
The final 2014 California crush report issued in March by NASS included 4.14 million tons of all varieties crushed. This figure is slightly below (-4 percent) the state's previous three-year grape crush average.
Trying to accurately assess state crush tonnage is a difficult task. Historically, planted grape vines have required three to four years to reach commercial production. Today, some vineyards can produce a commercial crop in two to three years.
Bitter credits the faster production window to advancements in nursery operations, vine health and training, and improved growing techniques.
2014 crop yields were not necessarily larger than in 2013, he says, yet more acres have entered commercial production over the last several years which offset yield declines.
Future grape crushes, acreage
Between now and 2017, Bitter believes the annual crush will yield tonnage in the 4.10 - 4.4 million tons statewide range, given average yields.
Looking at wine grape acreage, AGG estimates 2014 statewide acreage at 655,000 acres (555,000 bearing acres and 100,000 non- bearing acres). For 2015, AGG's projection is slightly lower at 652,000 total acres, including 562,000 bearing acres and 90,000 non-bearing acres.
Turning to wine pricing, Bitter first explained shared California wine's three basic price categories – sometimes with different names. Bitter classifies 'value-price' wines at $10 or less per bottle with grower grape prices at $1,000 or less per ton. This level represents the majority of all wine sales and grapes grown in the Golden State.
Premium wines sell for $10-$20 per bottle (mid-range) with grower receipts in the $1,000-$2,000 per acre. Luxury wines fetch $20 and higher with fruit prices at $2,000 per ton and above.
Bulldozer roar
While grape yields and prices have been fairly good for growers, change is in the air. While California growers continue to plant vines in all grape- growing regions, bulldozers continue to push out vineyards in the interior regions of the state.
Instead of replanting fields to vines, some growers are planting nut trees, mostly almonds, to hopefully boost the profit per acre.
Bitter says about two-thirds of pulled vineyards in the San Joaquin Valley (SJV) are wine grape varieties. Most value wine grapes are grown in the valley.
Almonds take root
To witness this transition, Bitter says drive from the Fresno-Madera areas south to Bakersfield. It reveals the largest path of converted ground to nut trees. Some bulldozed vineyards still have grapes dangling from vines.
In addition to higher revenue odds per acre, nut production is a less-labor intensive crop than grapes which can save money and headaches for the grower. The cost to develop an orchard per acre is about one-third less than vineyard development costs, says Bitter.
A key reason which 'value grapes' are being removed is the continued increase of imports into the U.S. This in turn has reduced the demand for California-grown value grapes.
"This is partially why there is a shipment-supply imbalance," Bitter told the standing-room only crowd. "California has a higher supply of these grapes than the current demand."
Finicky consumers
During the recent recession, many consumers with tight-fisted dollars traded down from higher priced premium and luxury wines to lower-priced value wines. In response, some growers, encouraged by planting contracts offered by wineries, responded by planting more vines for value wines.
Since the recession ended, wine aficionados are dolling out more dollars for higher price point wines, thus the oversupply of value grapes.
As wine grape growers consider pulling vineyards to replant grapes or shift to another crop, other factors considered include the age of the vineyard.
"For the grower with a 35-year-old vineyard or older, it's a pretty easy decision," Bitter said. "In the case of a 20-year vineyard, the grower should consider if taking out a vineyard a decade or more early makes long-term economic sense."
Since last fall's grape harvest, Bitter stated that more than 22,000 SJV grape acres, including 15,000 wine grape acres, have been removed.
"During the 2014 calendar year, the amount of vineyard removals tripled over the number recorded in each of the five previous years," the 17-year Allied veteran said.
"It's likely these removals will continue at this pace through this spring," Bitter said. "Growers are already looking at next year with nut trees on order for planting next spring."
He does not foresee a slowdown in vineyard removal for at least another one to two years.
Varietals: What's hot – What's not
Bitter discussed trends in planted wine grape varieties. As expected, the AGG survey confirmed that red varietals snared two-thirds of market shares (65.5 percent) last year with the balance (34.5 percent) white varietals.
AGG has surveyed California nurseries for the last six years.
Not surprising, Cabernet Sauvignon was the top wine grape vine purchased by growers (29.2 percent).
"Cabernet Sauvignon has been the number one vine sold in four of the last six years," Bitter reported. "The other two years Cab was the second most planted wine grape."
In second place last year, Chardonnay captured 17 percent of the total market. Grower nursery orders placed Pinot Grigio in the third slot (12.5 percent).
Floral wine variety plantings are down substantially. Around 2010, floral wines became a huge hit with consumers so growers planted a lot of acreage in floral varieties. Last year, about 1 percent of the vines sold were floral varieties as consumer taste buds shifted again in a different direction.
While California growers planted about 30,000 acres of wine grapes last year, Bitter sees a cooling off in plantings in the near term, perhaps 20,000 acres annually statewide (one-third less).
Future grape tonnage
Given a normal production year, AGG nursery survey numbers suggest a 4.11 million ton grape crush this year from 562,000 bearing acres with an average 7.4 tons of fruit per acre. The numbers could jump in 2016 to a 4.25 million ton crush (7.4 tons/acre). In 2017, growers could harvest 4.38 million tons from 585,000 acres (7.5 tons/acre).
"If the industry stays on this upward course, the wine grape industry could reach the 4.5 million ton plateau by 2020," Bitter predicts.
These figures include 2 percent coastal and 6 percent interior attrition rates for the next three years.
In reaction to a 'Production versus Shipment' PowerPoint slide Bitter showed to the crowd, he announced, "We are not in jeopardy of not meeting demand, assuming that wine sales remain at the same level in recent years. People might look and this and think the industry is in supply balance. In reality, we're coming into this period with excess inventory."
To equalize supply and demand, Bitter declared, "We really need a short crop. It would help relieve some of the market pressure."
Short-term varietal forecast
Looking at the future supply of grapes by variety, Bitter broke down several varietals and where he sees production headed in each price point category - based mostly on a 2 percent attrition rate.
Chardonnay - For acreage planted to Chardonnay, he predicts moderate growth in the luxury wine and premium (mid-range) market areas. In the value range, acreage could fall 1 percent this year yet increase 4 percent annually over the next several years.
"The problem with Chardonnay at the low end of the market is the current inventory," Bitter explained. "The mid-range looks promising, and people are buying wines in this category. We only have 3-4 percent projected supply growth over the next several years.
"However, there may be impact from the value segment of the market as excess wine in this category puts pressure on the mid-range."
Pinot Grigio - There is little new anticipated acreage planned for the high end market. The mid-range will likely have slow-to-moderate growth in the short term.
"The value category is the largest market for Pinot Grigio," Bitter said. "We see a substantial increase in supply by 2017."
Value-priced Pinot Grigio demand is currently strong in the South Valley at a "sustainable price" for growers, says Bitter.
Merlot - Merlot acreage is declining at the high end. Many Merlot vineyards are coming out in the Central Valley. Bitter does not see a supply increase in the value category for at least three years.
Zinfandel – The wine grape leader predicts mostly flat acreage at the high end, moderate growth in the mid-range, and little growth on the value side.
Hot varieties
As the industry moves forward, Bitter says the most two exciting varieties will be Cabernet Sauvignon and Pinot Noir.
Cabernet Sauvignon - On the Cab side, nursery data suggests moderate growth at the high end with a hot market for Cabernet Sauvignon in the mid-range.
"We see substantial, double-digit growth potential each year in mid-range wines for the next three years."
The value category also should see good growth.
Bitter predicts Cabernet Sauvignon acreage will increase 25 percent statewide through 2017.
Pinot Noir – The data portends moderate acreage growth at the high end, about 10 percent
growth in the mid-range over the next three years, and good acreage growth at the value end.
For Cabernet Sauvignon and Pinot Noir, the question is can the market support this growth and absorb the increased supply?
"I think the market can handle it," Bitter said.
Summary
Current market growth is primarily at higher price points. Bitter says now is a prime opportunity to differentiate. It is also a great opportunity to better promote California grapes and wines.
That said Bitter supports the creation of a state marketing order funded by mandatory grower assessments.
"We need to promote ourselves and convince more consumers that California wine is superior to its competitors," Bitter believes.
"If we want to differentiate our wines and move up the food chain, we need to convince consumers worldwide that California wines are worth a few extra dollars."
The 2016 Unified Wine & Grape Symposium is scheduled for Jan. 26-28 at the Sacramento Convention Center in Sacramento.
Subscribe to receive top agriculture news
Be informed daily with these free e-newsletters
You May Also Like
---