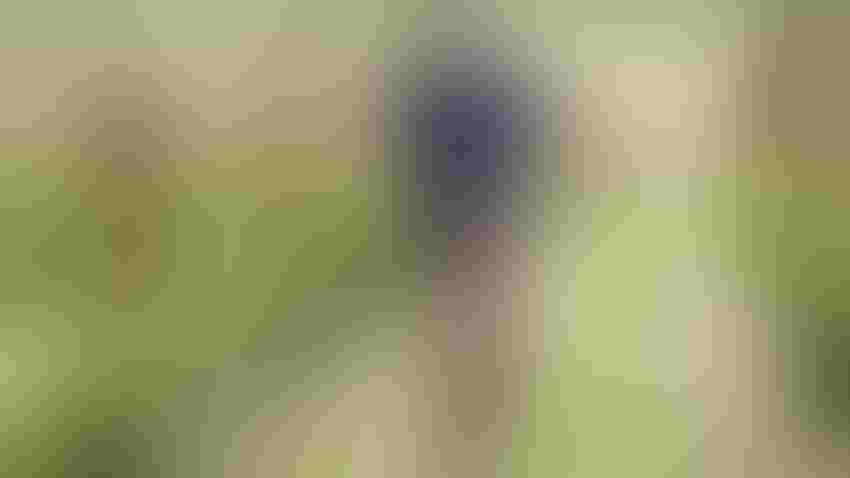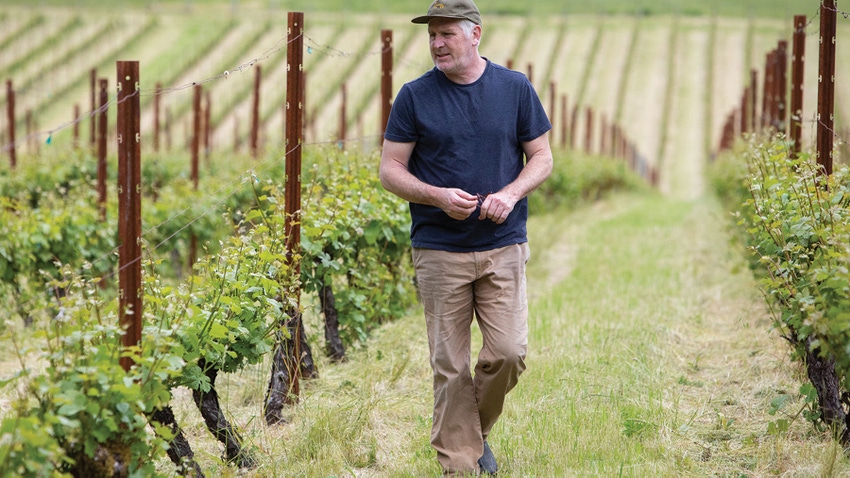 Tyson Crowley, president of Oregon's Deep Roots Coalition, checks his own vineyard.
Crowley Wines
It's a familiar story of either too much or too little. For California farm fields, the previous lament dealt with drought while current concerns involve a plethora rather than a paucity.  Weather Service estimations are that some 78 trillion gallons of water fell during the winter 2022/spring 2023 atmospheric river deluges.
A small group of winegrape growers in Oregon's frequently wet northern Willamette Valley says it's good that discussions are focused on water supplies for the vineyards --- but there may be another way to grow that doesn't require human-provided irrigation.
"We can't improve on nature," says the Oregon Deep Roots Coalition that has been espousing dry farming for decades now, a concept their current leader, Tyson Crowley, says is becoming a more common conversational topic among grape growers in California.
"Some prominent producers in California (notably John Williams of Frog's Leap in Rutherford), concerned with inertia involving irrigation problems-solutions-future, are starting to embrace the idea of dry farming to the point where we're talking about doing an outreach event for interested Napa growers, a DRC-commissioned tasting event," says Crowley.
Wine Enthusiast magazine noted recently that the concept of dry farming centered around "sustainability and terroir" by halting irrigation once new vines bore fruit.
"There are a lot of layers in winemaking, like the goal to articulate the sense of place where the wines come from.  If you remove a critical component in this process — like natural precipitation — that can alter that," Crowley said. "In terms of getting a pure sense of place through wine, we don't really get that if we manipulate irrigation source and supply through irrigation, you've basically altered the idea of terroir.
"The conservation component is also huge. In Willamette Valley, water deprivation is not a major problem, but to use water resources to produce wine instead of food crops seems wasteful, going against sensibility in terms of responsible farming."
A half-century old
That view of irrigation goes back almost half a century when DRC co-founder John Paul of Cameron Winery in Dundee began to champion growing vines with only nature-provided rainfall that forces grapevine's roots deeper in their search for more of the liquid. The inference is that irrigated vines are different from dry-farmed vines in that they are closer to the surface where they produce larger crops, but with reduced quality.
Bearing the sobriquet — The Prince of Pinot — the owner of Crowley Wines implements his ideology by dry farming his own 25 acres that produce 3,500 cases annually.
Crowley says his group's mission this year will be to network with other groups and organizations that are starting to think about water supplies in the future throughout Oregon, in Washington, and California.
"Our group started out as a promoter of quality wine and grew into more of an educational entity with a message that wines are better without irrigation," he said. "But irrigating wine grapes has become kind of normalized and not doing so once the new vines bear fruit challenges those beliefs.
"That said, we're promoting the idea that dry farmed wines create a territorial terroir that defines a legacy for Oregon."
Subscribe to receive top agriculture news
Be informed daily with these free e-newsletters
You May Also Like
---