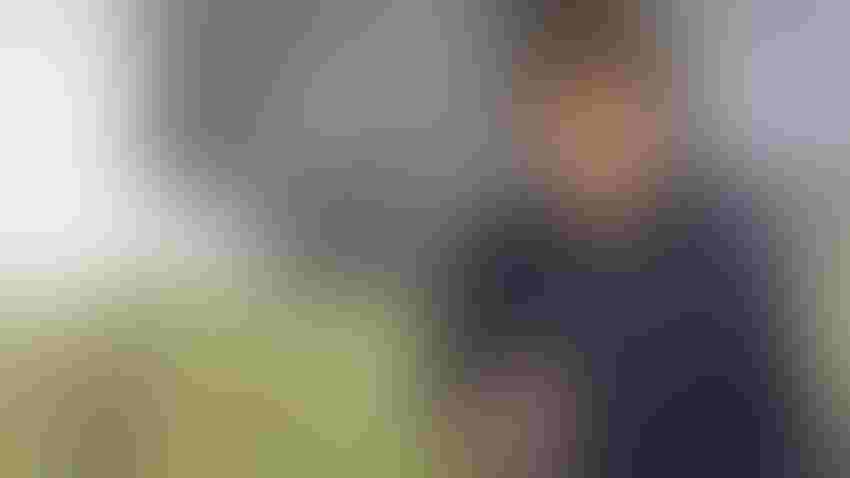 Christopher Chen, University of California's Integrated Vineyard Systems Adviser for the North Coast, braves a rainstorm to check vineyard status.
Christopher Chen
Mention climate change in vineyards and Christopher Chen wants into that conversation.
The University of California's Integrated Vineyard Systems Adviser for the North Coast region has been in his element recently, monitoring three years of drought brought on by La Nina conditions that suddenly went haywire before morphing into El Nino characteristics.
When we spoke in mid-March, he said, "We got about eight inches of rain last night on top of a foot of snow last week with more rain predicted. Our vines were still mostly dormant (less than 5% bud break at the time) and if this weather continues, especially the cold, it could be worrisome."
With some growers doing pre-bud-break sprays for fungal pathogens, grower level of activity was picking up. "Every night it gets down to 40 degrees — not too cold, but not a lot of heat accumulation — so the grapes aren't really pushing yet," he said. "By mid-to-late April, we should be in the middle of it."
Chen worries that the rains and record snowpack could cause growers to minimize the impact of ongoing drought. "A lot of people forget about drought when California has a year like this — but it always comes back. This is going to be one of the first vintages in the last decade where we may not have drought conditions in Northern California as we have adequate water now to grow the grapes we want to grow."
With the regional season of frost running until mid-May, matters of frost protection still need to be watched and current water availability helps in that regard.
"Frost risk is always a concern, but with the excess water we've had, some growers are utilizing overhead sprinklers without having to worry about running out of water nearing harvest as might happen in a drought year with heat waves," Chen said.
Overhead frost protection is losing favor to wind machines in the north region as growers prefer stirring up the air and taking advantage of temperature inversions. To be considered, however, is the price of propane and diesel to run the fans.
From a vineyard perspective, there seems to be a bit more overall optimism this year. "There's not a lot of pulling up of grape vines, perhaps only a slight decrease in acreage over the last few years, but not a ripping-out of large swaths," Chen said.
Mechanization increases
With both labor availability and cost considerations, Chen has observed "growers switching from hand management to mechanized practices — things like mechanized pruning, leaf removal, and harvest itself," he said. "It's hard — and expensive — to meet labor demands. If things can be mechanized, growers are recognizing that and moving toward it."
So what's the advice for North Coast growers this season? Says Chen: "The main thing I tell growers is to continue farming like we're in a drought because we're going to be in a drought again soon. I don't think people should be planting vineyards that require more water just because we have more water this year.
"And just because labor availability is decreasing and personnel costs are rising, I'm not saying everyone should mechanize, but if you're headed in that direction, continue on that path."
And, he adds, "Because of all the extra liquid we've received, in terms of vineyard management this year, look out for invasive pests and pathogens, especially the fungal type."
Subscribe to receive top agriculture news
Be informed daily with these free e-newsletters
You May Also Like
---