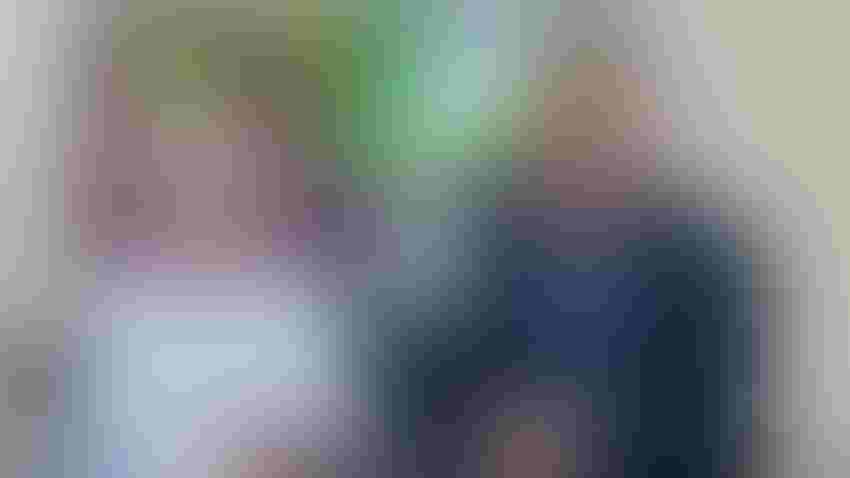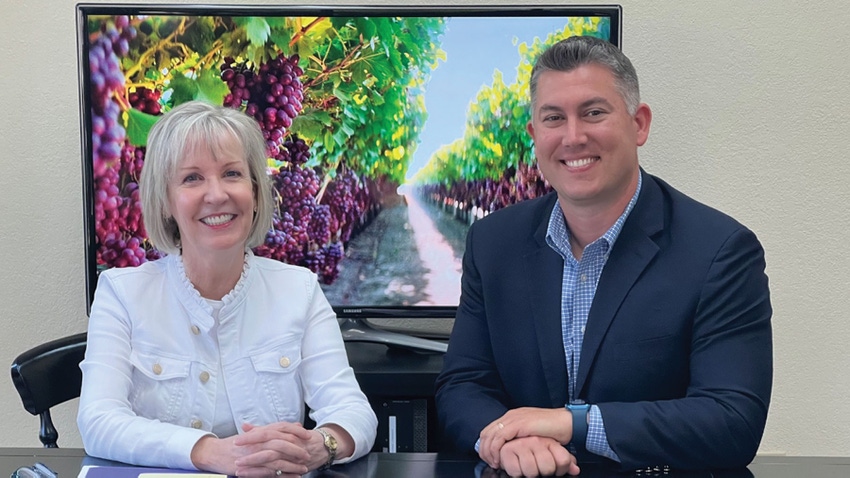 California Table Grape Commission President Kathleen Nave with her successor, Ian LeMay.
California Table Grape Commission
Kathleen Nave, who has served in the California Table Grape Commission's president since 1999, will retire in 2025 and be replaced by California Fresh Fruit Association president Ian LeMay, she told Western Farm Press.
CTGC plays a prominent part in the table grape industry where domestic per-capita consumption now exceeds ten pounds. The state, producers of almost all (99%) table grapes grown in the U.S., represents a crop value of $2.13 billion.
"The world in which table grape growers operate is a different world today than it was when I got here 36 years ago," she said. "Many of the factors in which table grapes are grown, picked, packed, and shipped have changed — although the family base of the industry itself is still there as is the commitment to quality and local communities and the workforce.
"Every spring the vines start to grow again and every summer we start a harvest, so some things stay constant, but how we do them changes," she said. "Growers are amazingly adaptable, forward looking and forward thinking. It's just that the things they have had to adapt to are not things anybody could have envisioned."
LeMay, a former aide to Rep. Jim Costa, D-Calif., joined the CFFA staff in 2015 – a year after the organization changed its name from the California Grape and Tree Fruit League – and has been its president since 2019.
Nave remembers a work day before computers and cell phones. "When I got here there was a word processor system on the table and the highest tech thing was a fax machine," she said. "Life is about a constant series of changes and success is measured by how you meet those changes and the challenges they bring."
Nave is serving out a final year that is expected to be a banner one for fresh grapes, as both the CTGC and the Mexican table grape growers' association are predicting a more-than-decent year. AALPUM in Mexico is estimating that the harvest there, which peaks from May into late July, will reach a new high in volume.
U.S. harvest
Then it's time for U.S. West Coast product to take center stage with growers in both Coachella Valley and the San Joaquin Valley working to achieve expectations that the 2023 crop will be higher than last season's yield.
"While grapes continue to be available year-round from a variety of sources, this year has been a bit choppier with timing and volume," Nave said. "Mexico was behind timewise this season as was Chile, and California is also running late in both Coachella and San Joaquin."
Still, optimism abounds that while the seasonal hourglass got started later than usual and may end up a bit later than usual, all will turn out well by the end of the year.
"By end-of-harvest, the Coachella Valley crop is expected to be slightly larger than it was last year before we turn our attention to San Joaquin Valley.
"This year's marketing campaign is aggressive," said Nave. "Our aim is to increase California table grape demand in both domestic and export markets."
With Coachella underway and San Joaquin gearing up, this year's challenges remain unknown aside from the season getting underway later than usual."That happens periodically and everyone knows how to deal with that," Nave said. "We're all geared up and ready to go, expecting a 3 million box jump over last year for a total yield of 96.9 million 19-pound boxes. There's a lot of demand for the 90 different varieties of California product we produce and retailers are anxious to get started."
Subscribe to receive top agriculture news
Be informed daily with these free e-newsletters
You May Also Like
---