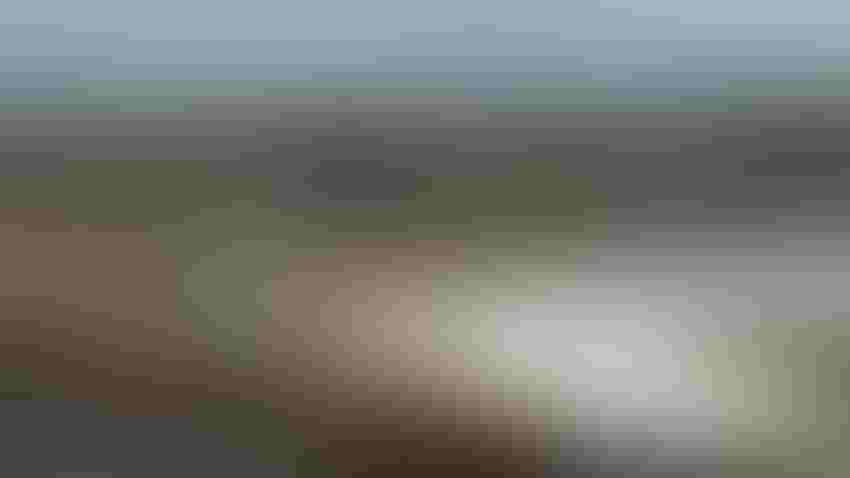 Rain floods a vineyard near Paso Robles, Calif. Gov. Gavin Newsom recently issued an order easing use of floodwaters for groundwater recharge.
Daniele Zaccaria/UC Davis
Learning on the road or in the field isn't anything new for farmers. Those who grow things gain experience from others who have already walked that path - with one of the latest endeavors being a UCCE seminar on Vineyard Water Management.
Several speakers from University of California, Davis and UC Cooperative Extension San Luis Obispo covered different aspects of the subject, a timely presentation that followed Gov. Gavin Newsom's executive order to put the current abundance of floodwaters to positive use through groundwater recharge.
"This order helps us take advantage of the intense storms produced by atmospheric rivers and increase local stormwater capture efforts with fewer restrictions," Newsom said via press release.
While that action was taking place, experts were addressing issues of water use efficiency, biostimulants, applications of satellite and inversion data, and Irrigation Scheduling Methods and Tools for Wine Grape Vineyards as presented by agricultural water management specialist Daniele Zaccaria.
"We had a good turnout because it was pouring rain and our wine grape grower attendees - who rely on groundwater with lots of restrictions - couldn't do anything in the field, so they came prepared with lots of questions," he said.
"Everything in the way of water estimation, determination, application, has to be more accurate now, more precise to maintain the existing acreage in both yield and quality."
In his dissertation, Zaccaria covered methods of scheduling, irrigation based on weather, and soil moisture. "If I was a high-value crop grower, I'd use a combination of these techniques," he said. "I'd be using sensors and scheduling tools to help forecast with more accuracy in determining water requirements and application. You've got to find some way to determine vineyard water use and then apply more, or less, water to maintain the proper stress levels for quality purposes."
The timing of the morning-long water talk was spot-on. "On the way home, I noticed lots of recently flooded vineyards," Zaccaria said. "It was early in the 2023 season, during dormancy, so I don't think there will be a great risk, but if this volume of rain continues into bloom time or fruiting season, it could be a different story because the flooding would then mean a lack of oxygen in the soil.
Grapes a sturdy crop
"Normally grapes are a sturdy crop that can stand either water deficits or water excesses in a good way, but a lot depends on how much rain in what location with what type of soil and what type of root stock," he said. "Grapes have been grown everywhere in the world for millennia, so their genetics allow for fluctuation between drought and flooding."
Responding to the governor's latest groundwater recharge efforts, Zaccaria said: "One goal was to profit from the recent irregular rains - what he called 'a variable pragmatic condition' - to capture as much as possible through either natural or artificial recharge, hopefully earlier in the season because there's more potential for increasing infiltration if you improve storage efforts.
"Big changes normally happen after some catastrophic damage, but we don't have to wait for that. We do have to work on better water management during normal years, not catastrophic years."
Like the general unpredictability of Mother Nature, "Water doesn't always come when it's needed in semi-arid climates like California, so I think we have to be better prepared to better manage any excess water."
As to what will happen next, he said: "I think this should be a regular year…but on the wet side. We might have more pest infestations needing control efforts because of the excess water. Most grapes are planted on well-drained soils and because the preponderance of the rain came early, I think this will be a normal season."
Subscribe to receive top agriculture news
Be informed daily with these free e-newsletters
You May Also Like
---