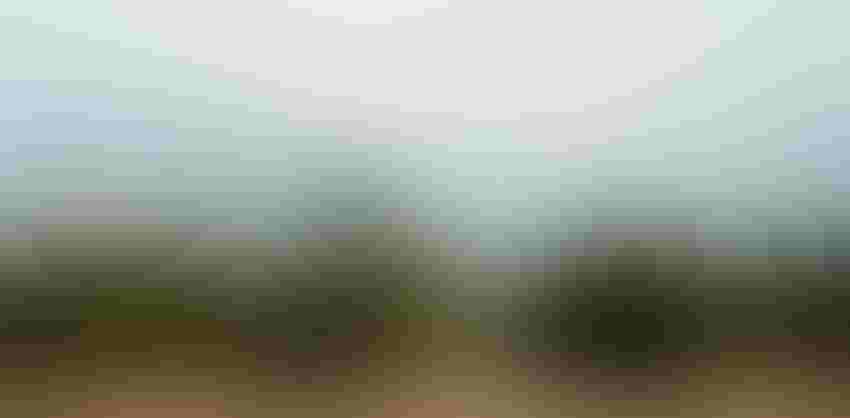 Wineries with smoke-exposed grapes should use care when processing them so as not to introduce any element that can add additional smoky character.
Ezra Shaw/iStock/Getty Images
As wildfires have sent smoke into vineyards in some parts of California, experts are reassuring growers and consumers that measures can be taken to reduce the effects of smoke taint in grapes.
While smoky skies have affected many farms' operations, including almond growers who report it has slowed their harvest, grapes are more vulnerable to smoke than most other agricultural products, in that their skins are permeable. Free volatile phenols created by burning wood become part of the grape itself, University of California advisors note.
Anita Oberholster, Davis, Calif.-based UC Cooperative Extension viticulture and enology specialist, says wineries with smoke-exposed grapes should use care when processing them so as to not introduce any element that can add additional smoky character.
However, she notes, the compounds responsible for smoke taint are naturally present in grapes at low levels, and they are also part of the pleasant aroma compounds that are released into the wine during barrel aging.
"At low levels, it adds complexity to the wine," she and UC-Davis' Karen Block explain on the university's Viticulture and Enology website. "It is only at very high levels that it will be seen as a fault or taint that can decrease the quality of the wine."
In fact, after the 2013 Rim Fire, one winery — Yosemite Cellars at Groveland, Calif. — produced a "Rim Fire Blend," which was successful. However, wine drinkers' palettes differ in terms of their smoke sensitivity.
SMOKE TAINT RESEARCH
Fires last fall in California's wine country prompted several research projects by university scientists, including an effort by Oberholster and others to examine the lingering effect that lingering smoke from the October blazes had on wine quality. That research is still ongoing.
Most of last year's crop had been harvested by the time the fires started, and researchers didn't expect the smoke to be a problem for wineries. Fermenting wines will be protected by released carbon dioxide, and finished wines should be sealed to protect them against any smoke that may enter the winery, Oberholster and Block note.
However, this year's most severe fires spread just before or at veraison, when grapes soften and change color. The risk of smoke taint increases with continual or repeated exposure to heavy smoke, so wineries are advised to test their grapes to determine potential risk.
Should smoke taint be found in a resulting wine, several treatments can lessen the severity. For instance, there are "fining" agents that reduce the amount of smoke-derived volatile phenols, and give wines less intense smoky characters. But those agents lack specificity, meaning they will also remove desired compounds and negatively affect wine quality, the scientists caution.
Also, defoliation of grapevines following smoke exposure can reduce the severity of smoke taint in grapes and wine, because studies have shown that smoke-derived volatile phenols can be absorbed via the leaves and move into the fruit.
ECONOMIC IMPACT
In any event, the UC scientists say they don't expect a significant economic impact on northern California wine regions because only a small percentage of wines may have been affected by fires and smoke. And even in those areas, heavy winds may have blown some of the smoke away.
And even if some of this season's grapes were affected by smoke taint, there is no carryover to the next season, experts say.
To read their full report, visit https://bit.ly/2x0gXzK
Subscribe to receive top agriculture news
Be informed daily with these free e-newsletters
You May Also Like
---