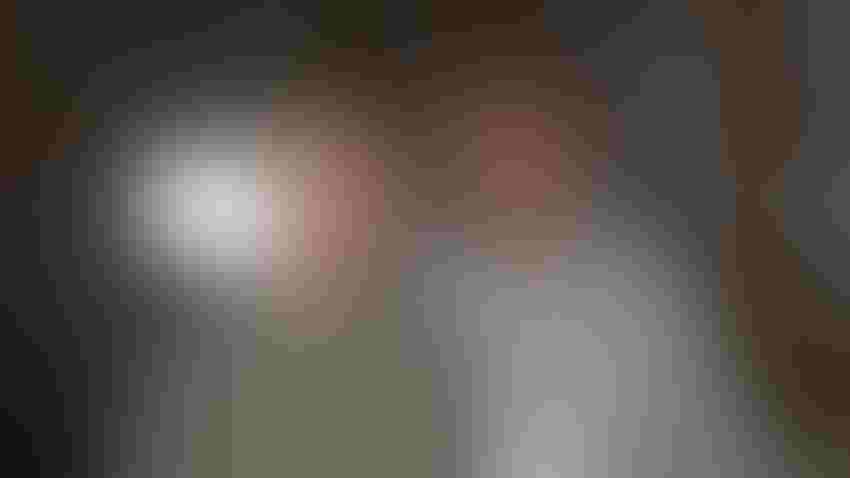 SATISFY ALL STEPS: Megan Hackman VanLiew and her brother, Victor Hackman, make sure all safe handling practices are used when packing watermelons from their fields for the wholesale business.
Photos by Tom J. Bechman
Your farm likely doesn't have a food safety manager position, but this farm does. Food safety is more than just something they try to do at Hackman Family Farm Market, Vallonia, Ind. "It drives a lot of what we do on the farm all year long," says Megan Hackman VanLiew.
VanLiew works with the wholesale watermelon operation at the farm and manages food safety for the entire farm. Tom Hackman, his wife, Ruth, and family — including VanLiew; her brother, Victor; and her sister, Jacquelyn, and her husband Klayton Jasinski — operate Hackman Family Farm Market, the wholesale watermelon operation, and a corn, soybean and livestock farm.
Richard Beckort, Extension ag educator in Jackson County, Ind., explains that specific federal regulations about handling produce dictate things all melon and vegetable producers must do. Things such as using food-grade grease instead of regular grease for machinery involved in the melon or vegetable operation are now standard. In addition, Beckort notes that growers like the Hackmans who want to sell wholesale to specific buyers often must adhere to additional guidelines specified by the buyer.
Above and beyond
"We want to sell to companies like Kroger, Walmart and Costco, so we make sure we meet whatever guidelines they require for food safety," VanLiew says. "Much of it typically relates to safe handling practices.
"The biggest threat people worry about with melons is E. coli contamination. We follow all recommended practices to avoid contamination."
Victor Hackman assists when watermelons come into the packing shed. The melons are sorted by size and cleaned with a dry brush cleaning system. Produce that has a rough surface, like cantaloupe, require a wet system for cleaning.
"We follow safe handling practices because we want to sell to certain buyers, and they require it," he says. "But we also don't want to get anybody sick. We want to deliver a product that is safe when someone buys it at the store."
Impacts other farm operations
The Hackmans once fed out several hundred head of cattle per year. That's not happening right now.
"You have to be careful about where livestock like cattle are raised in relation to where you grow and pack produce like watermelons," VanLiew explains. "Separation of watermelons from livestock is one of the things we had to do if we wanted to qualify to sell to certain buyers on the wholesale market."
It meant cutting back on the herd and changing the operation. They still raise beef cattle, but in different ways than they did before.
One thing some wholesale buyers require is an independent annual audit of the produce operation by a third party.
"It's pretty intense and it's primarily about ensuring that we are using best practices in handling and sanitation," VanLiew says. "We learn from it. The bottom line is that it is one of those things that you must do if you want to be approved to sell to certain buyers. So, we do it."
FAMILY MEETINGS MATTER: Jacquelyn Hackman Jasinski (center) and her parents, Ruth and Tom, tell visitors at the Purdue Farm Management Tour how important family meetings are to their business.
Family meetings a big deal
The Hackman family gets together often because they enjoy each other's company. But about once every three months, and more often, if necessary, they get together for a more formal reason. If it's a family meeting, it's usually to discuss matters related to running their farm, retail market and wholesale watermelon business.
"These meetings are really important for us, and we don't take them lightly," Jacquelyn Hackman Jasinski told visitors on the Purdue Farm Management Tour this summer. "We want everyone to know what is going on with the farm business, including spouses. Several of us work in specific areas within the business, so it's good to know what is happening outside of what we do."
These family meetings are more than just review sessions, Ruth Hackman explains. If something is bothering someone, it's the time to bring it up, she says.
"Dad may get the final vote, because he functions as our CEO, but everyone gets their say," Jasinski says. "These meetings are where we hash things out and all try to get on the same page as much as possible. They're a big part of how we do things."
Subscribe to receive top agriculture news
Be informed daily with these free e-newsletters
You May Also Like
---