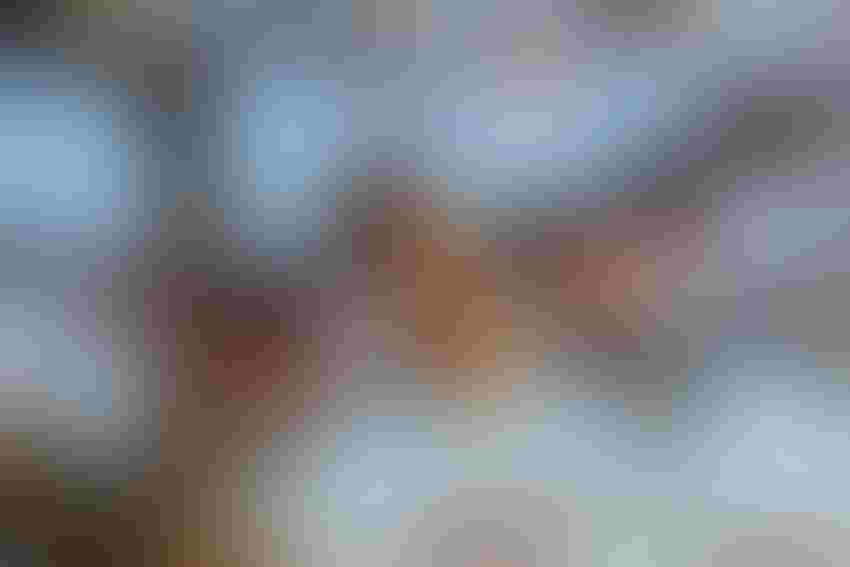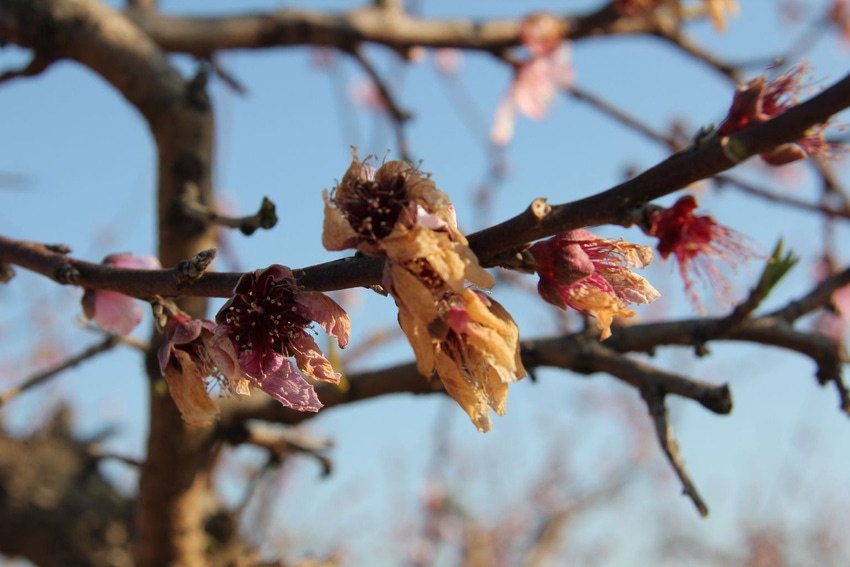 Freeze-damaged peaches at TItan Farms in Ridge Springs, S.C.
Titan Farms
A devastating March freeze dealt a severe blow to South Carolina's peach crop. South Carolina Department of Agriculture reports the state will have just 10 to 15 percent of its normal peach production this year.
This marks the worst South Carolina peach crop in 10 years, since the Easter freeze of 2007 destroyed 90 percent of the crop with close to $1 billion in crop damage across the region. The Easter freeze hit April 6 and 7, 2007.
"Peaches are a signature crop in South Carolina and this weather anomaly has devastated peach farmers," said Hugh Weathers, South Carolina commissioner of Agriculture. "However, as South Carolina farmers have shown again and again, they are resilient and with the help of allied industry partners, they will survive this devastating blow."
Chalmers Carr, owner of Titan Farms in Ridge Springs, S.C., the state's largest peach producer, estimates that 100 percent of his early varieties were wiped out by the freeze. He said some of the later season varieties may be salvaged and he expects to have 20 percent of his normal production this year.
"We will have some peaches in July and August, but we don't have a true handle of what to expect. At this point, we're saying no more than 20 percent of our normal production will be available. At least we will have some fruit to offer our customers and we will be able to keep our labor busy," Carr said.
Following the record warm February, South Carolina experienced two more weeks of nice temperatures in March which meant the peach trees were at 100 percent bloom when the freeze hit on March 15.
"With a record warm February our bloom came out very early and very quick," Carr said. "In the 22 years I've been doing this, we've never had any variety in full bloom in February. This year, we had 26 of our varieties that were in full bloom in February. That's half of our varieties and the rest of the varieties were quite advanced as well."
Carr said one of the hardest blows of the freeze is the impact it will have on Titan's migrant H-2A workers who will now be out of work. "With our vegetable crop, we'll go from our normal 600 employees to 200 employees. That's quite a reduction," Carr said.
"On the Monday after the freeze, we had 270 H-2A workers here, and I met with all of them. I was standing on a raised platform in the packing shed talking to them and I was already pretty emotional because I hated to tell them that some of them would lose their jobs," Carr said.
"I asked the group how many of them were here in 2007 when we had a similar freeze and more than 80 percent of the hands went up which means they've been with me for more than 10 years so they had experienced this kind of loss before," Carr explained.
"We had to send 130 employees back home to Mexico. These workers had planned to work until the first of September, but they were very understanding and realized this was out of our control. Everyone that went home did so on a voluntary basis saying they will take this year off, spend some time with their families and they will be ready to come back next year. That was a true testament of the kind of people we have working with us."
Without a doubt, the March freeze dealt a real blow to South Carolina, the nation's second largest peach producer, just behind California.
Juan Carlos Melgar, assistant professor of pomology at Clemson University, notes that South Carolina's largest peach growing region, the Ridge area south of Columbia to the Georgia state line was hardest hit. Three days of freezing conditions with one day in the teens and two days in the low and mid 20s killed 90 percent of the flowers and fruitlets.
"At post-bloom, temperatures below 25 degrees Fahrenheit kill the embryo of the small fruitlet, and most varieties in the Ridge had already bloomed. Thus, commercial production will be minimal in South Carolina this year" Melgar said.
Damage to the upstate peach crop was also devastating but there were some areas where temperatures stayed at 25 degrees Fahrenheit and peach trees were not in full bloom yet. Peaches in the Upstate were about 10 days behind peaches in the Ridge.
The later varieties that haven't flowered yet may be salvaged, but Melgar said the lack of chilling hours will hamper production this year on these varieties. "The problem with the late bloomers is they are typically high chillers. With the warmer than normal winter we had, these trees did not accumulate the chill hours they need," he said.
Melgar notes that all of the early maturing varieties in both upstate and the ridge are severely damaged. Normally, peach trees bloom in the middle of March, between March 10 to 20. "This year, we had varieties that started blooming in mid-February. Blooming was very irregular," Melgar said.
As for blueberries in North Carolina, Bill Cline, blueberry specialist with the North Carolina State University Cooperative Extension Service, estimates damage at 30 to 40 percent overall, mostly in the early varieties.
"Eighteen percent of our berries are the cultivar Star and they took a really big hit. They were a big chunk of what we lost," Cline said. "Anything in the green berry or open flower stage was really wiped out."
However, Cline noted that the later season cultivar Legacy survived the freezereasonably well. Flower buds on Legacy were not as advanced when the freeze hit. Cline noted that in the last week of March the Legacy bushes looked quite good compared to earlier-blooming cultivars.
"When you're first looking at a freeze-damaged field, everything looks scorched. You think you've lost it all. Then you come back a week to 10 days later and the fields are whitened up again because the blooms that weren't damaged come out," Cline said.
"Legacy is one of those cultivars that is just really productive," Cline said. "It's a beautiful berry and typically ripens the first week of June. We often say that if Legacy would ripen two weeks early for us, we wouldn't plant anything else. This year, Legacy may well mature two weeks early because everything is so early this year."
In fact, all blueberry cultivars are about three weeks early this year because of the abnormally warm February. "The risk window has moved up on everything. On the upside, what fruit makes it through is going to ripen earlier than normal."
 However, Cline cautions that we are not out of the woods yet. A late April freeze is still possible. "There will still be some sleepless nights for blueberry farmers, he said.
About the Author(s)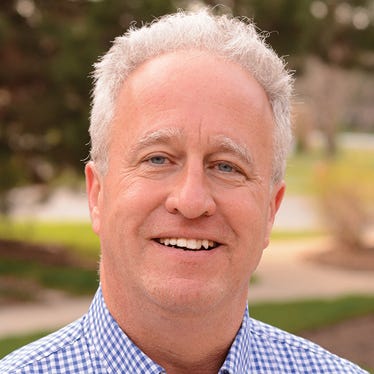 Associate Editor, Southeast Farm Press
John Hart is associate editor of Southeast Farm Press, responsible for coverage in the Carolinas and Virginia. He is based in Raleigh, N.C.
Prior to joining Southeast Farm Press, John was director of news services for the American Farm Bureau Federation in Washington, D.C. He also has experience as an energy journalist. For nine years, John was the owner, editor and publisher of The Rice World, a monthly publication serving the U.S. rice industry.  John also worked in public relations for the USA Rice Council in Houston, Texas and the Cotton Board in Memphis, Tenn. He also has experience as a farm and general assignments reporter for the Monroe, La. News-Star.
John is a native of Lake Charles, La. and is a  graduate of the LSU School of Journalism in Baton Rouge.  At LSU, he served on the staff of The Daily Reveille.
Subscribe to receive top agriculture news
Be informed daily with these free e-newsletters
You May Also Like
---