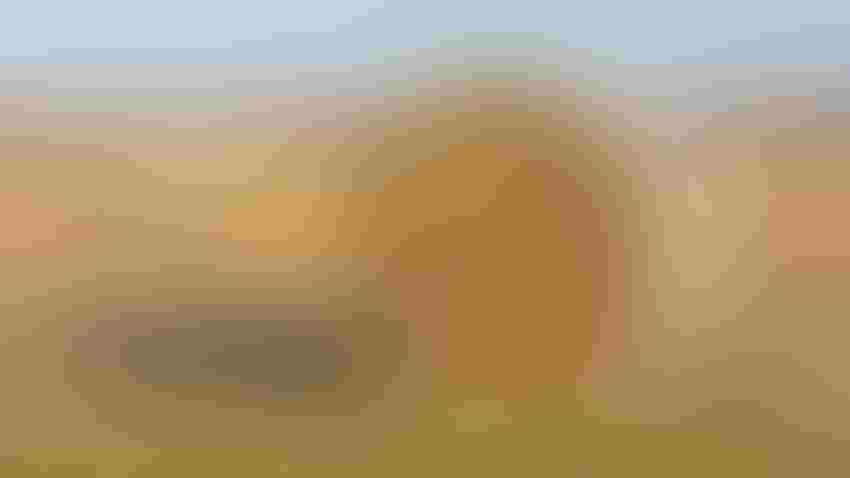 STRETCH FORAGE: Cornstalks offer one way for farmers to stretch their limited hay supply this winter. However, it will require cattle producers to develop a nutritional plan, including supplements.
JJ Gouin/Getty Images
Hay is hard to come by for Missouri livestock producers. Just how limited is the supply moving into winter?
The USDA Missouri Crop Progress and Condition Report in early October deems about 70% of the state short or very short in terms of hay supply, and what is available may have quality issues that force farmers to look at alternative options for feed this winter.
Gene Schmitz, University of Missouri Extension livestock specialist, reports that the quality of spring grass hay this year was "extremely poor" across much of the state. He says farmers are turning to alternative forage sources, which include baled cornstalks. However, there is a question of quality in that type of feedstock.
"Baled cornstalks are a completely different feedstuff than grazed cornstalks," he explains. "Baled stalks do not offer the opportunity for cattle to glean grain from fields, and therefore a lot of the feed value of cornstalks are lost."
Schmitz points out that baling often results in lower quality and a large amount of waste because the stalk is baled up along with the more nutritional leaves and husks.
Lessons learned from 2018
During the 2018 drought, farmers also looked to cornstalks for winter feed. Schmitz says he found a wide range of nutritional value from cornstalk tests.
For instance, crude protein ranged from 2.6% to 6%. Total digestible nutrients (TDN), an estimate of energy value, ranged from 31.6% to 45%.
With such a large swing in numbers, farmers must consider that baled cornstalks as a forage will affect winter feeding programs for beef cows and create a plan. Schmitz offers these suggestions:
Test your bales. Because of the variability in nutritional content and potential nitrate issues, producers should collect samples for nutrient analysis. "Forage analysis identifies the nutrients needing to be added to the diet, which prevents feeding the wrong nutrients or the wrong amount of a particular nutrient," Schmitz explains. "Nutritionally, inappropriate diets will be very expensive this year because of the cost of various feedstuffs and the length of time conserved feeds will be fed."
Assess feed intake. Cow consumption of baled cornstalks will be low, Schmitz says, with some estimates being 1.2% of body weight on a dry matter basis. "Our expected intake of hay less than 52% TDN is 1.8% of body weight. So right off the bat, we have an issue with total feed intake."
Know energy needs. Schmitz points out that based on 2018 cornstalk bale data, a farmer can expect a dry, second-period cow to receive 48% of her energy requirement and 33% of her protein requirement, if only being fed cornstalk bales. "Obviously, additional energy and protein are needed for this animal," he notes, "especially as she gets closer to calving time."
Add protein supplements. Schmitz suggests in the above example that a supplement mix of 4 pounds of corn, 1.5 pounds of dry distillers grain and a half-pound of soybean meal, or an equivalent mix, to meet energy and protein needs fed at a rate of 6 pounds per head per day.
Add minerals. Supplying only protein in the form of lick tubs, and protein blocks, Schmitz says, will not provide enough energy to meet the nutritional needs of the animal. Additional mineral supplementation is also needed to meet nutritional requirements for this animal. If farmers skip mineral supplementation, they run the risk of poor performance, including weight loss.
Reach out for help
For Schmitz, baled cornstalks have a place in winter feeding programs this year, but only to stretch hay supplies, not as sole forage supply. "Be aware that a high level of waste will probably occur," he adds, "and adjust feed amounts accordingly."
MU Extension can assist with collecting forage samples, interpreting forage sample results or developing winter feeding programs.
Subscribe to receive top agriculture news
Be informed daily with these free e-newsletters
You May Also Like
---