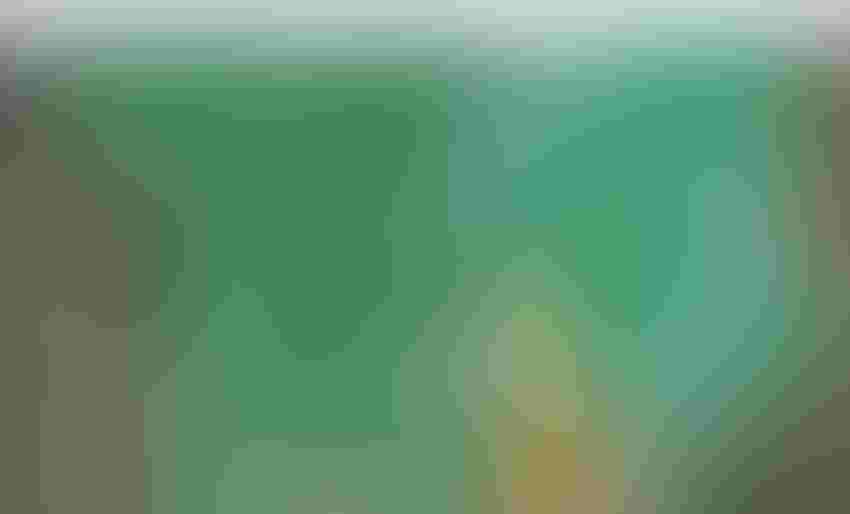 Brian Alexander says he really likes the powerful mapping capabilities of PastureMap.
PastureMap/Brian Alexander
I was one of the first subscribers to PastureMap about four years ago and have been on it ever since.
At that time, I read an article somewhere that got me turned onto it. I thought "This is the tool I've dreamed of."
When I came out of the navy in 2006, Dad had a pasture map on the wall and that was good, but once you wrote something down on it, that was it. I tried spreadsheets but wasn't good enough with them to create the grazing chart on them, with such things as movements and forage inventories.
I used Google Earth a lot in those years. It gives you a top-down perspective, and you can draw fences and water and infrastructure, but it's not always up to date. Then about 2014 I saw PastureMap.
I really need a ranch map that I can see and manipulate. It's how my brain works.
My current map on PastureMap has all the gates and water points, but I can remove them or put them back with a couple clicks of the mouse. The program also has various pasture layers (Go to "list" on map.) I like to have rest days up on the map most of the time. It shows me how much recovery I have on the pasture.
I like to use the grazing chart just like a paper grazing chart. I plan ahead, make moves and make adjustments. It takes seconds to make changes on a digital chart, whereas if I was using pen and paper and colored markers like everyone else it could take me hours.
This past summer I committed to do a strip-grazing experiment and I knew PastureMap would be critical for helping me get and track the fences in exactly the right places. I got to where I was doing all the mapping on the smartphone because it was more accurate than what I was doing on the PC. Also, I would be sitting in the pasture, looking at the forage and the cattle and move the fence where I actually decided I needed it. Then I could match the fence line in PastureMap to the actual fence and vice versa.
As an add-on, you can get a better GPS receiver that works on Bluetooth with your phone if you don't think the GPS in your phone is accurate enough. But in fact I tried that, thinking I wanted it really close and I couldn't see any difference.
Anyway, to summarize, you have the ability to map temporary fences and paddocks and to save them or delete them.
Also, you can measure fence perimeter very easily using the "measure fencing" button. I like that and it's very useful. For example if you only have 600 feet of polywire on your reel and the fence is longer, you know you need to get a different reel. That's a big timesaver and it reduces frustration.
In making some changes this summer, I accidentally "retired" all my fencing subdivision fences this summer. Called tech support and asked if they could get them back. They were able to and also, I told them we really need a confirm button on that retired command, which they did four days later. The tech support people are great.
In recent months they also added  grazing "cells" function to help with managing different ranches or ranch divisions. In my case I'm often managing three to four properties, separated by roads, with different herds on each one.
When I had to take Dad to the hospital but was doing that strip-grazing experiment, I wasn't really prepared for being away from the ranch. So I knew I needed to get some help, so I got two young ladies here to agree to help me while I was gone, but they needed some help to know what I had been doing and what I wanted to do. I called my PastureMap tech support person and said I need you to add two people to my team. They were able to do that in short order and so I was able to set up moves and know they could accomplish that. The two young ladies had a plan and a visual representation of the plan right on their phones.
On the move mapping, you can actually assign a planned move to one of your team members. The program will send a notification to that team member on the day and time it needs to be done.
With the herd management tab, PastureMap automatically updates herd consumption by dry matter intake based on animal weight and numbers. The numbers you get out of it depend on the numbers you put in it, of course. It can be garbage in, garbage out, or it can be very useful.
PastureMap has integration with several other herd management software programs. You'll still do most of your herd management work in whatever software you're currently using, but PastureMap can display a lot of that data, using the magic of APIs (application programming interfaces).
I don't get any kickbacks or anything like that, but I believe it's a really good product that can help people and that's why I talk about it and share information about it. It helps you spend less time in the office, so you can spend more time in the pasture.
To learn more about PastureMap and its pricing go to https://pasturemap.com/. PastureMap charges flat annual fees, depending on which of the two levels you choose.
Alexander ranches west of Medicine Lodge, Kansas.
Subscribe to receive top agriculture news
Be informed daily with these free e-newsletters
You May Also Like
---