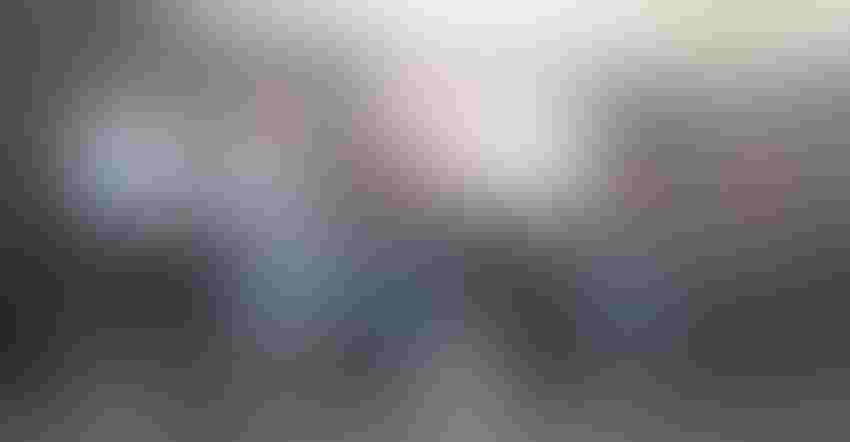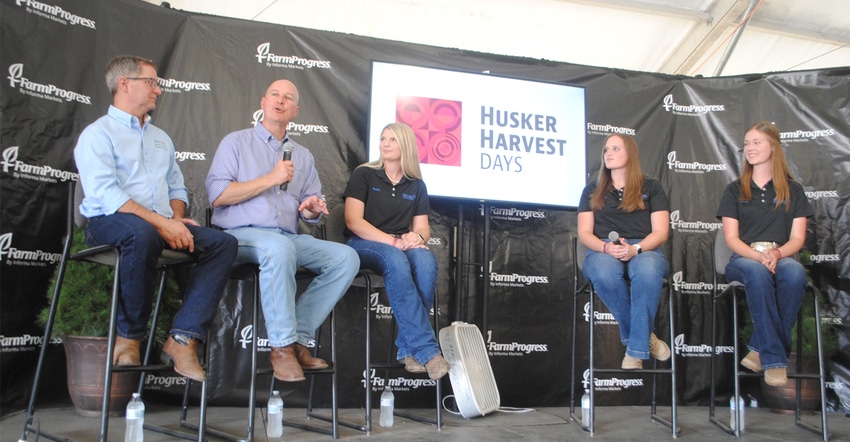 WHAT THE FUTURE HOLDS: Gov. Pete Ricketts (holding microphone) and Nebraska Department of Agriculture director Steve Wellman (left) answered questions during the Nebraska Farmer Hour on the Hospitality Tent Stage at Husker Harvest Days in September. Nebraska State FFA officers Faith Miller (next to Ricketts), Elizabeth Wilkins and Jaylea Pope asked the questions.
Elizabeth Hodges
There is a teacher shortage nationwide, but as Nebraska FFA continues to expand and grow, the shortage — specifically of ag teachers — is also part of those growing pains.
"We need to keep telling the story of agriculture in Nebraska," Gov. Pete Ricketts said during a Nebraska Farmer Hour interview in September at Husker Harvest Days in Grand Island.
During the interview on the Hospitality Tent Stage, the microphone was given to members of the Nebraska FFA State officer team, as they interviewed Ricketts and Steve Wellman, director of the Nebraska Department of Agriculture.
Addressing ag teacher shortage
"You are the future of agriculture," Ricketts told the FFA officers. He said that there are about 55,000 job openings in agriculture, and only about 34,000 graduates to fill these positions. There is a demand for young agriculturalists to get involved in agriculture, and it all starts with programs such as FFA because of the hands-on experiences the organization provides, Ricketts noted.
State FFA Vice President Jaylea Pope, Shelton FFA, explained that there are nearly 12,000 members in the state. "We can't have FFA without the instruction the classroom," Pope said, "so what does that look like from a legislative standpoint with agriculture education in Nebraska?"
Ricketts said, "We are short. So, the big thing we've been trying to do is actually just recruit more people here in general. We do it through the Good Life is Calling campaign, where we spent $10 million telling the Nebraska story."
This campaign includes working with teachers who are out-of-state to get their temporary three-year teacher's certificate in Nebraska. This allows the ball to get rolling, and these teachers can start contributing to the state right away.
Creating leaders
"How can we as state officers help our youth and our members develop these skills that are needed?" asked State FFA Vice President Faith Miller, Mullen FFA.
Ricketts explained that agriculture is a very entrepreneurial industry, and every farmer or rancher has their own business. Overall, developing business skills will be important as youth are preparing to enter the agriculture industry. By bringing this innovation to the table, it can make agriculture more sustainable long term, he said.
State FFA Vice President Elizabeth Wilkins, Ainsworth FFA, asked, "What are the qualities that you look for and what we need to see in Nebraska agriculture?"
Ricketts noted that FFA students bring a great work ethic to the table. "The cornerstone of why we have such a great work ethic here in Nebraska is because we're an agricultural state," he said. "With this great work culture, stemming from this great work ethic, it creates a workforce that can't be matched."
The future
Pope asked Ricketts, "What legacy do you hope to leave and where do you see the future of Nebraska agriculture?" He said that he isn't too worried about the legacy he will leave behind, but he is proud of what his team has done by overcoming different crises such as the flooding in 2019 and the COVID-19 pandemic in 2020. He credits the work of overcoming this to not only his team, but also the people of Nebraska as they were part of the effort.
As far as the future of agriculture in Nebraska, Ricketts sees a bright future. "The world keeps growing. Those people need to be fed, and I can't think of a more noble mission than feeding a growing world," he said.
There are still going to be challenges that Nebraska agriculture will have to overcome in the future. Ricketts added, "If you want a team to overcome challenges, you will want the team here in Nebraska."
Learn more about Nebraska State FFA officers at neffafoundation.org.
Hodges writes from Julian, Neb.
Subscribe to receive top agriculture news
Be informed daily with these free e-newsletters
You May Also Like
---