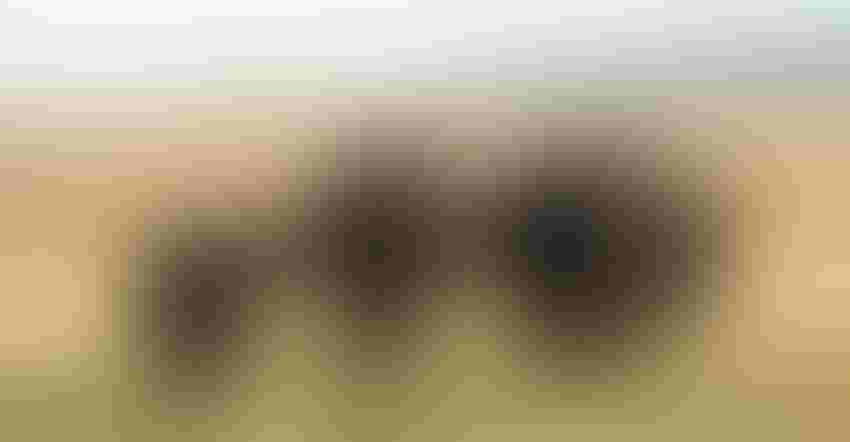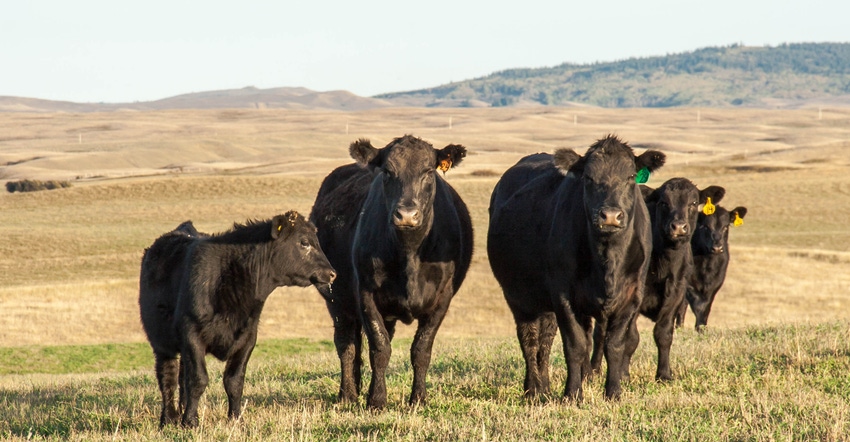 LINGERING EFFECTS: The cost of roughing cows through their pregnancy not only affects the coming year's calf crop, but also frequently lingers into future production cycles.
Ragles/Getty Images
When visiting farmers with beef cow-calf enterprises during times when feed prices are high or hay is in short supply, a few will usually make a comment about roughing the cows through the winter. "Roughing the cows through" usually means the cows must "make do" with the feed on hand or that which can be obtained cheaply. This feeding strategy often results in the cows losing weight through the winter and having a less-than-ideal body condition score of 5 to 6 at calving.
Long-term costs
In the short term, this appears to reduce costs and save money. However, if we look to the future, the impact of roughing the cows through the winter affects the bottom line much differently than the initial appearance of savings.
Cattle with poor BCS produce poorer-quality colostrum and less milk during lactation. Calves born to cows with less-than-ideal BCS are more likely to be weaker at birth, more susceptible to illness due to lower quality and quantity of colostrum, and have lower weaning weights due to poor milk production. Therefore, the cost of roughing cows through their pregnancy not only affects the coming year's calf crop, but also frequently lingers into future production cycles, as described in the following paragraphs.
The goals for a cow-calf operation should be a calving interval of 365 days for each cow, and a reasonably short calving season (30 to 45 days), resulting in a uniform calf crop. Uniform groups of feeder calves tend to attract more interest and higher prices from buyers.
To achieve a 365-day calving interval, the cow's postpartum interval (time from calving to when she begins cycling) should be about 60 days for her to be rebred in 80 to 85 days. Research trials examining the effects of cows coming through the winter too thin at calving time show how poor body condition can negatively influence calving interval. Most herds will likely have a wider range in body condition due to age, herd social order, genetics, etc., and as a result will have less calf crop uniformity.
The table below shows the influence of BCS at calving on postpartum interval and why 5 is the target BCS for mature cows at calving.

The next table compares the relationship between a cow's BCS at calving and total income. As BCS decreases, pregnancy rate and weaning weight both decline. This can lead to a severe reduction in income.

Roughing the cows through winter may look good upfront, but the examples shown here indicate that the long-term costs are real. When overwintering cows, options to save money may include grouping the cows with similar nutritional needs and supplementing accordingly for that group. An example of grouping is putting first- and second-calf cows into a separate group, as they are still growing themselves in addition to producing a calf.
In addition, test your forages so you know what you have, and then purchase the additional feed you need, rather than guess and not spend your money as efficiently as possible. Depending on your forage quality, some cows will need little, if any, supplementation, and others may need more.
Halfman is the Monroe County Extension agriculture agent. This column is provided by the University of Wisconsin Division of Extension Livestock Team.
Subscribe to receive top agriculture news
Be informed daily with these free e-newsletters
You May Also Like
---