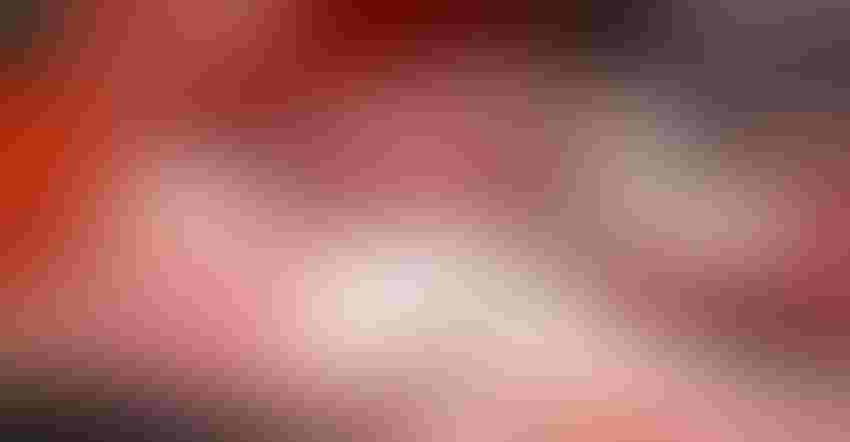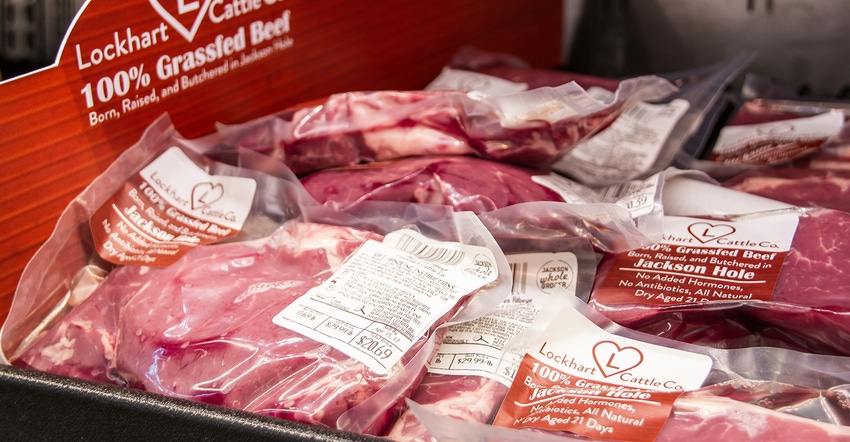 MEETING REQUIREMENTS: The Lockhart Cattle Co. of Jackson, Wyo., capitalizes on demand for transparency in the handling and source of their beef by selling direct to the consumer.
By Melissa Hemken
There's money in knowing what consumers want, and every business on the food chain crunches numbers for their truest prediction. Restaurants and supermarkets, and increasingly ag advocacy groups, heavily track consumer shopping behavior.
For restaurant menus and prepared foods, it is important to know during which meals consumers eat meat: Datassential's Flavor consumer rating tool reports 53% consumed meat or poultry for dinner, and 32% had it for lunch. Just 7% ate meat or poultry for breakfast, and 8% chose a meat snack. This information, and more, is used to prepare and market food in the ways consumers want to eat it and then sent out to appropriate media channels to encourage purchases.
Season Solorio, executive director of brand marketing and communications with the National Cattlemen's Beef Association, says that in 1992 when NCBA initially launched the campaign, "Beef. It's What's For Dinner.," it was mainly marketed through television and print media. Since 2014, NCBA has spent its beef checkoff funding entirely on online marketing.
"Consumers now read less traditional print media and watch less traditional TV," Solorio explains. "I can attest that at my house we stream TV and read most of our news on social media platforms."
Decisions at the meat case
To help consumers easily find creative ways to prepare meat, the North American Meat Institute developed the MyMeatUp phone app. "There's an interest — especially among millennials — in trying dishes from different places around the world," says Michael Schumpp, director of public affairs and member communications at the North American Meat Institute.
Millennial consumers, ages mid-20s to late 30s, are the fastest-growing group in terms of purchasing power because they are raising kids. The free MyMeatUp app — downloaded 16,500 times since its 2017 release — explains meat cuts, and cooking methods for each cut of meat.
The options for new meat cuts can bewilder a consumer, and there are always new ones: The National Restaurant Association names shoulder tender, oyster steak, Vegas strip steak and merlot cut as up and coming in 2018.
"The app helps younger people be confident when shopping for meat products," Schumpp explains. "Information is the biggest barrier, because people don't know how to cook the different meat cuts."
MyMeatUp also contains a vocabulary guide to common labeling terms such as organic, all-natural and grass-fed. The app includes all meat types, but does not address price differences between, for example, beef and pork.
For price-conscious consumers, the MyMeatUp recipe for Blackberry Jalapeño Spareribs may beat Five-Pepper T-bone Steak when they see the price point difference (Spareribs are $2.27 per pound, while T-bone steak is $7.22 per pound, according to the USDA Agriculture Marketing Service as of March 2).
NCBA doesn't educate consumers about price differences, either. Solorio says that NCBA channel intelligence data show that consumers are willing to pay high prices for beef, though.
"Millennials haven't gone through as rough of times as maybe their parents, or their grandparents," Solorio theorizes. "So for them, even though beef prices were at an all-time high in the past couple years, they didn't see the high prices as too far of a stretch. They continued to eat beef and told us that they felt like beef was worth the price."
Meat transparency
For their Top 14 food trends for 2018, Whole Foods and The Specialty Food Association ranked transparency in how food is grown, raised and manufactured as 10th, falling between superfoods and sugar alternatives.
That consumers want to know where their meat originates showed up in North American Meat Institute's survey data, too. In response, the institute released an updated MyMeatUp version in early 2018 that includes a "Where does my meat come from?" feature.
App users can enter the USDA establishment number from the USDA-inspected meat package label while at the grocery store. This pulls up the name and type of establishment where each meat product was processed and packaged.
"Transparency is one of the biggest concerns for consumers," Schumpp says of tracing meat from plate to pasture. "Future app updates may provide additional product-specific details, but there are not currently plans to add information about where an animal was born and raised.
This is because there isn't a mass-scale system to track an animal from its place of origin to the packaged meat it becomes in the supermarket. Many live animal traceability programs — like NCBA's — curtail disease transmission, but these systems aren't used for consumer knowledge. Electronic identification (EID) ear tags could be used to fully trace meat from animal to retail, but the animal's ear doesn't stay with its carcass at the meat processing establishment.
With the USDA establishment number available to track packaged meat, there is an information divide to solve.
Because of traceability challenges in the conventional meat market, many consumers find the transparency they seek by purchasing food directly from farmers and ranchers. Another model, with potential for large-scale implementation, is the Performance Food Group's trademarked DNA TraceBack technology. The company uses it to show consumers that their boxed beef brand, Braveheart Black Angus Beef, contains majority Black Angus genetics. TraceBack can also track each meat cut back to the animal from which it was sourced.
The Black Angus brand remains strongly recognized by consumers, but the National Restaurant Association ranks heritage-breed meats in their top 20 trends of the year. Heritage-breed livestock — which the Livestock Conservancy defines as established or continuously breeding population in the U.S. since 1925 that are noncommercial — are mainly raised on small ag operations with environmentally sustainable or organic practices. This allows consumers to know exactly where the animal was born, how it was raised, and the people who were involved.
The meat of it
Research by NCBA shows consumers also like the transparency that comes from knowing the people behind their beef. To meet this desire, NCBA staff hit the road in summer 2017 to film ag producers for their "Rethink the Ranch" video series (which has had nearly 1 million views since October 2017).
NCBA's Solorio says beef producers can help make ag transparent by sharing their stories. "A great way to learn how to engage consumers is through our Masters of Beef Advocacy program," she says. "We've got over 10,000 graduates across the beef industry that are confident advocates."
Farmers and ranchers start the food chain, and consumers end it. Processors, manufacturers and distributors are food stops along the chain. Predictions, assumptions and facts swirl the whole length. Everybody agrees millennials are the most influential consumers, and they currently drive the rise of snacking as an eating style.
Their purchases of performance snacks high in protein drove jerky sales to top $1 billion in 2017, and the market is expected to grow 4.2% annually through 2022, according to Project NOSH (natural, organic, sustainable and healthy). Datassential reported that 53% of consumers prefer beef jerky, with 50% hungry for jerky chips and 22% eating jerky trail mix. The Center for Generational Kinetics, funded by Amplify Snack Brands, found 89% of millennials consumed one or more better-for-you (read: healthy) snacks in one week; 64% said they looked for a product with the fewest ingredients; and 79% said they trust a packaged snack more if they can understand everything on the ingredient list.
Consumers want their beef to taste great; meal preparation to be simple and easy; and packaged beef products with the least processing possible, low in sodium and with natural ingredients. They want to know how the cattle were handled, where the cattle spent their lives and who raised them. This is the next challenge for the beef industry, as it works to bridge those information gaps in the food chain.
The measure of beef advocacy
It's difficult to track the success of consumer education efforts by beef checkoff contractors, such as NCBA and the North American Meat Institute. The advocacy organizations can't link their marketing directly to beef sales because they don't sell meat products under, for instance, the "Beef. It's What's For Dinner." brand. But with the relaunch last year, NCBA implemented campaign measurements from pre- and post-campaign consumer surveys.
"We measure the self-reported attitudinal behaviors of consumers toward beef," explains Solorio. "We want to know, 'Did we change beef consumer perceptions or ideas?' Specifically, one of the measurements that we took before we relaunched 'Beef. It's What's For Dinner.' was of the percentage of consumers that said they trust the people that raise beef."
She notes that between October and December 2017, the organization saw an almost 10% increase of trust within its core audience, ages 20 to 44. "Over the next three months, six months, and a year, we will track to see if that trend line goes up. We want to learn what it really takes to change consumer perception and maintain those changes long term," she says.
Schumpp says it's hard to solidly identify which marketing effort is most effective: "It's a combination of how it all works together. I do think being active on social media is probably one of the most beneficial, because we're able to directly communicate with consumers in unique and novel ways by sharing fun memes and GIFs."
Hemken writes from Lander, Wyo.
Subscribe to receive top agriculture news
Be informed daily with these free e-newsletters
You May Also Like
---