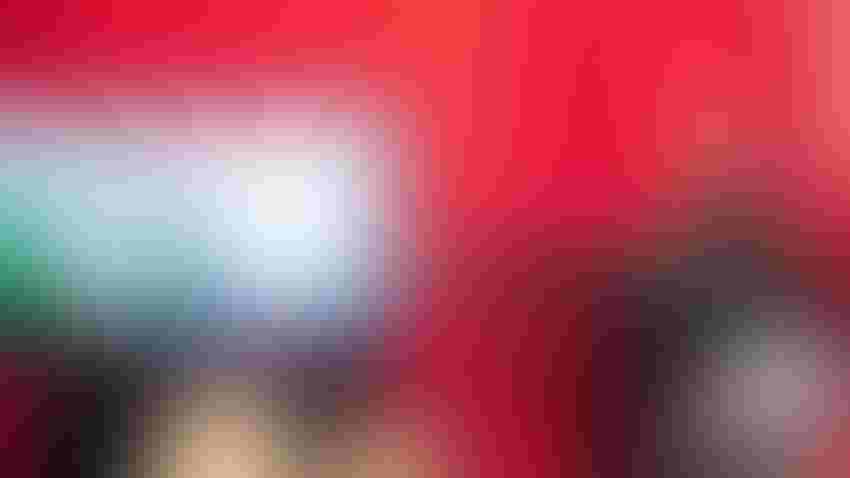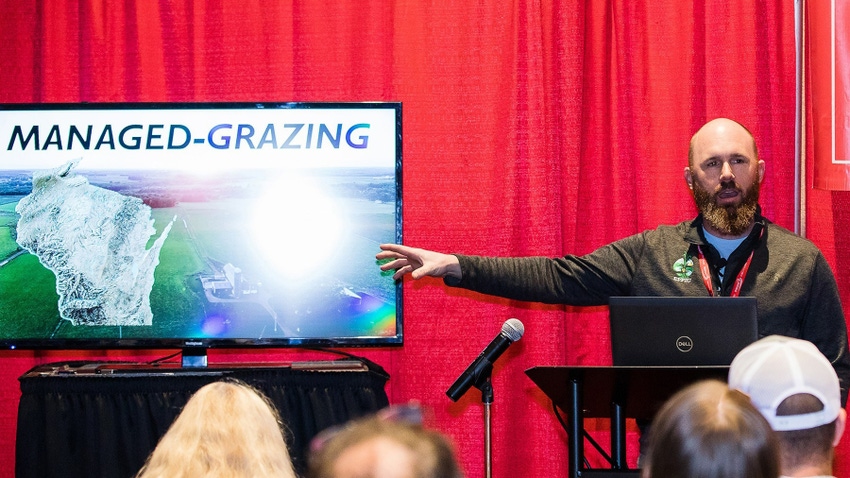 OUT TO PASTURE: UW Extension's Jason Cavadini focuses on managed grazing that manages the forage and land in a way that allows animals to perform well while also keeping the land productive for a long time.
COURTESY OF PDPW
According to Jason Cavadini, University of Wisconsin Extension grazing outreach specialist, to figure out the "future of grazing," we first need to take a step back and look at the past. Cavadini says while grazing is not a new concept, it is a new opportunity for some farmers.
"It's kind of interesting to even use the phrase 'future of grazing' just because it's not a new thing at all. In fact, it's probably one of the most ancient practices we talk about in agriculture," Cavadini says. "But as we look at some of the challenges that we're facing in agriculture, whether you talk about farms going away or resource concerns, grazing does tend to be a good solution for all of them."
There is a key distinction between the kind of grazing that most people have memories of from their childhood generations ago and what Cavadini is talking about. His emphasis is on managed grazing to manage the forage and land in a way that allows animals to perform well while also keeping the land productive for a long time.
Well-managed grazing
Not all grazing is created equal, Cavadini notes. To be an economic and environmental solution, a grazing system must be managed, and that means following a handful of key principles.
"This is not your grandfather's grazing," he says. "Poorly managed grazing can be as detrimental to the soil as any other disruptive practice. However, well-managed grazing is the missing link that completes the carbon, nutrient and biological cycles that most of our agricultural soils are lacking."
He recommends starting with a solid forage base of grass and legumes.
"Develop a 30-day to 40-day rotation schedule to allow for leaving 4 to 6 inches of residual. It's not much different than a cutting schedule. Everything comes back to what is left behind," Cavadini says.
When half of the forage is taken off, roots continue growing normally. However, when 70% of the plant material is removed, half of the above-ground growth will stop growing for two weeks. If 90% of the material is taken off, all above-ground growth will stop growing for about 17 days.
"We yield more across the whole system if we leave more residual," he explains. "Deploying an effective cutting or clipping strategy also helps keep plants in a high-quality vegetative state."
To help achieve the desired removal rate, keep livestock on a particular pasture for a short duration. Cavadini advises a high stocking density per paddock but a low stocking density for the whole farm so animals can be moved more frequently. When all these practices are used appropriately, an extended grazing season from the middle of May into November can be achieved.
Cavadini specifically points to heifers as a group that can be relatively simple to graze. He recognizes it may not be feasible for some farms to put fencing back in, sacrifice productive land and deal with concerns of animals not growing as well. Some farmers he talked to also admitted a lack of knowledge about grazing.
He notes livestock integration does not necessarily mean converting a farm to pasture. While it's hard to beat a perennial system for potential soil health gains, there are other ways to get started with grazing, including grazing cover crops and crop residues.
Mobile fencing
"Another ironic statement is talking about technology and grazing," Cavadini says. "But we really do have things to look forward to, and [they] are a large reason why managed grazing is now different than it was a few decades ago."
One key technological advancement is mobile fencing, he says.
"Farmers have a lot more flexibility to manage their animals and land than ever before. But it doesn't stop there for fencing, as virtual fencing is also on the horizon. This type of fencing will allow farmers to graze their animals with little to no fence with the use of GPS collars," he explains.
According to Cavadini, there are more people in Wisconsin doing grazing research now than there were 10 years ago.
"There is more of a push because of the benefits that we know of that grazing has both economically and environmentally," he says. "Grazing stimulates biology and improves soil health in a way harvesting cannot."
Subscribe to receive top agriculture news
Be informed daily with these free e-newsletters
You May Also Like
---