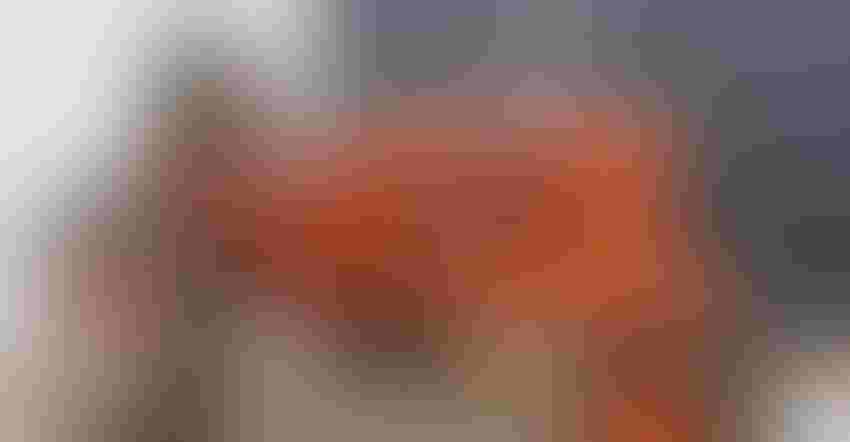 UP TO THE TASK: In addition to a narrow front end, Drew Hendrickson's WD Allis-Chalmers has four forward gears and one reverse gear.
The bond of heritage that links to an earlier farming era signifies why a 1950 model WD Allis-Chalmers is Drew Hendrickson's favorite tractor.
"My great aunt and uncle, Ruth and Raymond Rust, who operated a 30-cow dairy in West Prairie, purchased the new machine from Mueller's Inc. in Viroqua for $1,830," says Hendrickson of Viroqua. "It replaced a small two-cylinder John Deere and was primarily used to pull a 12-foot drag, disk, bale hay and unload the small manure spreader."
The WD features two-clutch power control and power-shifted rear wheels. Its dual-clutch system uses a foot-operated dry clutch to disconnect the PTO and driveline from the engine.
A hand-operated wet clutch allows the PTO to operate while the tractor is slowed or stopped. Besides the narrow front end, the WD has four forward gears and one reverse gear, hydraulics, 540 live PTO, 3.3-liter four-cylinder engine, drawbar, steel seat, belt pulley, fenders, hand and foot clutch, a rating of 26 hp on the drawbar and 34 hp on the pulley, electric or hand starter, and was later fitted with a homemade snowplow. A total of 146,125 WD tractors were manufactured in West Allis between 1948 and 1953. After Raymond passed away in 1967, Ruth used the WD to rake hay, pull wagons and do other chores.
To keep the tractor in the family, Hendrickson, a custom operator who does subsoiling, bales round and square bales, and plants corn, soybeans and small grains, purchased it for $800 at his great aunt's auction in 2004. He replaced one of the fenders that was smashed, the amp and temperature gauge, removed the generator, and added a 12-volt alternator. The tractor was sandblasted and repainted for $1,200 but still has the original rims and tires.
"This is my favorite tractor because it came from my grandad's sister and was fun to drive because I loved the popping purr of the engine. With the narrow front end, it had excellent maneuverability and was easy to get on and off," Hendrickson adds. "Although it mainly sits in the shed now, I plan to enter it in the antique tractor division at the Vernon County Fair. At the family reunion last summer, it was parked on the front lawn. That occasion was the last time Aunt Ruth saw the WD, and she just smiled."
Persinger lives in Milwaukee. To have your favorite tractor featured, send in a photo of yourself with your tractor, along with a 150-word write-up about the tractor to: Wisconsin Agriculturist, P.O. Box 236, Brandon, WI 53919.
Subscribe to receive top agriculture news
Be informed daily with these free e-newsletters
You May Also Like
---