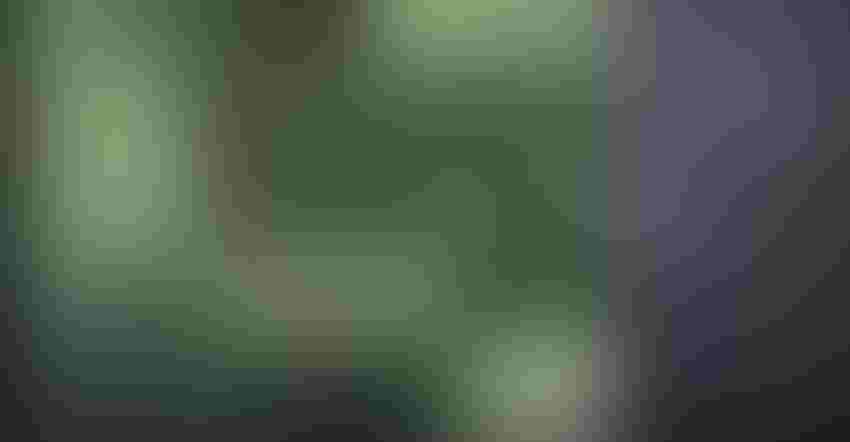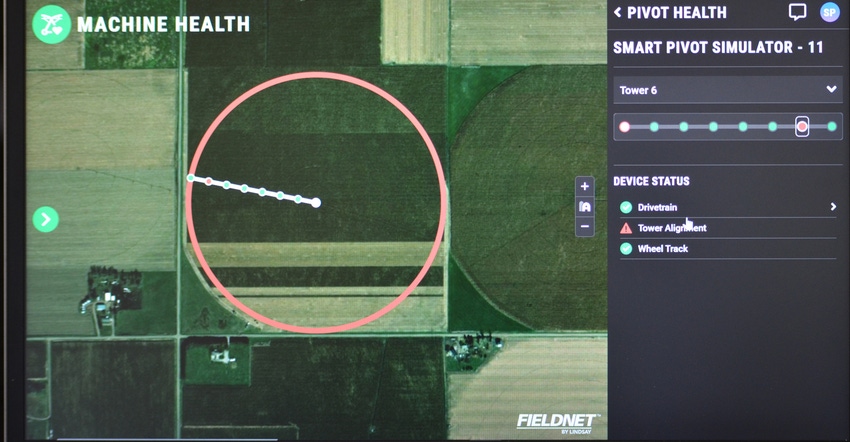 SIMULATOR: Reece Andrews, senior product manager with Lindsay Corp., demonstrated the capabilities of the new Smart Pivot with a simulator at Husker Harvest Days in September.
Curt Arens
It's getting much closer to reality. The Smart Pivot, manufactured by Lindsay Corp., based in Omaha, that can diagnose its own health status — and even correct some of those problems on its own — is about a year away from being commercially available. That's the word from Reece Andrews, senior product manager for Lindsay.
At Husker Harvest Days in September, Andrews told Farm Progress that "beta" versions of the Smart Pivot have been tested and challenged by Lindsay engineers this past growing season in Nebraska. By next year at this time, Andrews hopes this new product will be available for growers to buy.
There are many applications that a pivot could have as it rolls through the growing crops — such as monitoring crop health, for instance — but in grower surveys going back to 2011, irrigators told Lindsay that they wanted a pivot that could alert them when something goes wrong, like slippage in mud, a flat tire or some other anomaly such as a failed motor or gearbox.
A tower alignment fault in the middle of a field during irrigation season is a big deal. If an irrigator gets that text alert, they don't know which tower is causing the problem, or what the problem is.
"From the FieldNet platform, the Smart Pivot can tell me that there is an alignment fault on tower No. 6," Andrews said. "Normally, you would know that there is an alignment fault, but you would have to drive out to the service road and check seven or 10 towers for the problem. With the Smart Pivot, it tells you exactly where the tower fault is."
Learning exercises
Andrews said that Lindsay data scientists are putting the Smart Pivot through learning exercises. Certain types of anomalies can be attributed to a low or flat tire. Others could be a motor current issue.
"Maybe the one tower had to work hard, and then went back to normal as it passed through slick soil or a deep wheel track," Andrews noted as an example. "If the issue is slow and steady, the problem could be a flat tire."
Andrews said the company can monitor vibration on the towers. "So, the problem could be U-joints by the motor, which are kind of a mechanical fuse. If they break, you don't break anything else."
If there is a certain recognition to the vibration, from the labor standpoint, you could probably send out someone with a U-joint.
Other issues would require perhaps an electrician, or a tire repair technician with a flat or low tire. The Smart Pivot diagnostics could help narrow down the issue through this kind of learning.
Avoid failure
"Even with that kind of capability, and we get to a failure, we wonder if we could avoid the failure in the first place," Andrews said. "In the case of a tower alignment issue, maybe the other towers slow down and wait for one tower to get through a muddy spot or ridge in the field."
Scientists also are testing to see how reliable the wireless sensors are, how the signal works in a canopy of 10-foot-tall corn, and how they hold up in all kinds of field conditions.
"The first commercial release of the Smart Pivot will have the top things growers have verbally said they wanted," Andrews said. "Precision tower control, tower fault alert and motor current monitoring are first, and tire pressure monitoring will be an option."
The release of the first Smart Pivot commercially could come as early as next year at Husker Harvest Days. Learn more at lindsay.com.
About the Author(s)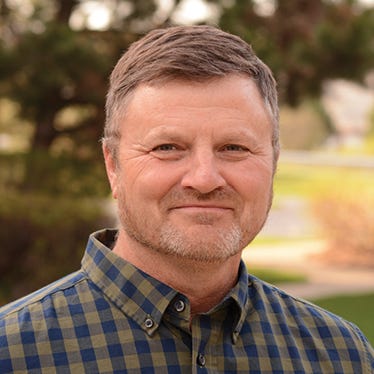 Curt Arens began writing about Nebraska's farm families when he was in high school. Before joining Farm Progress as a field editor in April 2010, he had worked as a freelance farm writer for 27 years, first for newspapers and then for farm magazines, including Nebraska Farmer.
His real full-time career, however, during that same period was farming his family's fourth generation land in northeast Nebraska. He also operated his Christmas tree farm and grew black oil sunflowers for wild birdseed. Curt continues to raise corn, soybeans and alfalfa and runs a cow-calf herd.
Curt and his wife Donna have four children, Lauren, Taylor, Zachary and Benjamin. They are active in their church and St. Rose School in Crofton, where Donna teaches and their children attend classes.
Previously, the 1986 University of Nebraska animal science graduate wrote a weekly rural life column, developed a farm radio program and wrote books about farm direct marketing and farmers markets. He received media honors from the Nebraska Forest Service, Center for Rural Affairs and Northeast Nebraska Experimental Farm Association.
He wrote about the spiritual side of farming in his 2008 book, "Down to Earth: Celebrating a Blessed Life on the Land," garnering a Catholic Press Association award.
Subscribe to receive top agriculture news
Be informed daily with these free e-newsletters
You May Also Like
---