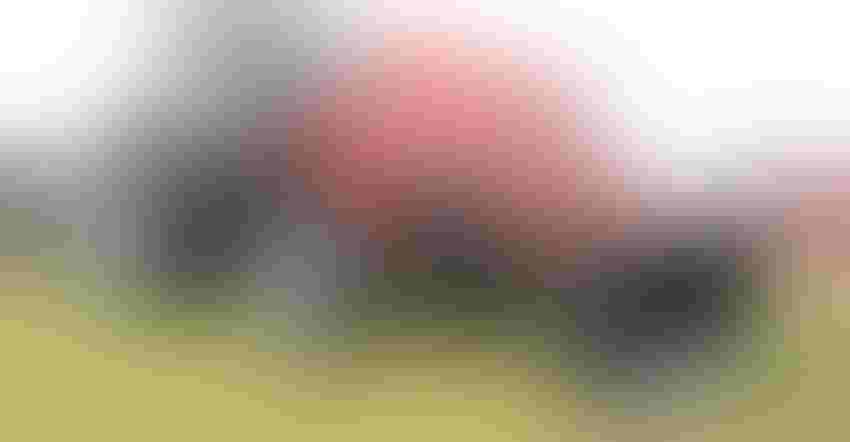 DRIVE LINE UPGRADE: For 2020, the Massey Ferguson 5700 Global Tractor gets a new higher-spec transmission option that also comes with a suspended cab.
Willie Vogt
First introduced in 2016, the 5700 Series models from Massey Ferguson rounded out the company's global tractor platform. For 2020, the series gets an option upgrade that potential buyers have requested.
"We've had the 5700 global series for some time now with a 12-by-12 transmission, and we've had a lot of success with it," says Zach Cagle, marketing product specialist, midrange and high-horsepower Massey Ferguson tractors. "The biggest feature with the new models is that we put a Dyna-4 transmission in it. So, we're putting a premium transmission into a midspec economy tractor."
He explains that with the optional transmission comes cab suspension, a feature that will be welcome in this class — which includes two machines at 100 and 110 engine hp.
The Dyna-4 transmission is a 16-by-16-speed power shift, offering smooth shifts through the range without clutching. And Auto-Drive is included, which makes it more convenient to run the machine during transport or fieldwork by speed-matching the transmission to the job. Essentially, the transmission will shift automatically at 1,500 rpm in Eco mode for transport and light applications, which can enhance fuel efficiency.
A Brake to Neutral feature allows the operator to bring the machine to a halt simply by depressing the brake pedal.
There's also a creeper gear option that provides 32-by-32 gear performance with speeds as low as 0.6 mph.
The machines come with a combination power shuttle and power control lever on the left side of the steering column, allowing the user to change direction, change gears and declutch the tractor with the left hand.
Cagle notes the tractors are solid performers as loader tractors, and they're factory-ready for loader install.
Horsepower sweet spot
The two new models in the 5700 Series, introduced during Sunbelt Ag Expo, are at a size Cagle says is suited to a range of work. "This is the perfect hay tractor, utility tractor, ranch tractor — feeding cows for any general task around any beef cattle operation," he notes. "You look at a typical row crop farm; they would have a utility tractor in [this range] as well."
Power shift transmission availability isn't broad in this midspec price range of tractor, Cagle says. "In the past, in the industry, to go to a powershift transmission, you had to go to a pretty high-spec tractor like a 5700S Massey. With this tractor, we're coming in with a heavy, durable tractor at an economy price."
The engine is the Agco Power 4.4-liter, four-cylinder model that has powered the 5700 Series from the start. Cagle notes that this tractor does require diesel exhaust fluid for operation, but it doesn't have a diesel particulate filter — which, he adds, "is a big deal."
Cagle says that dealers are excited about this new machine with its feature set. The first machines will be delivered to dealer lots later in 2019, with broader availability of machines in the first quarter of 2020.
Other features include three hydraulic remotes and a 540E/540/1000-rpm PTO. And the machines come with radial tires standard, too.
You can learn more at masseyferguson.us.
Subscribe to receive top agriculture news
Be informed daily with these free e-newsletters
You May Also Like
---