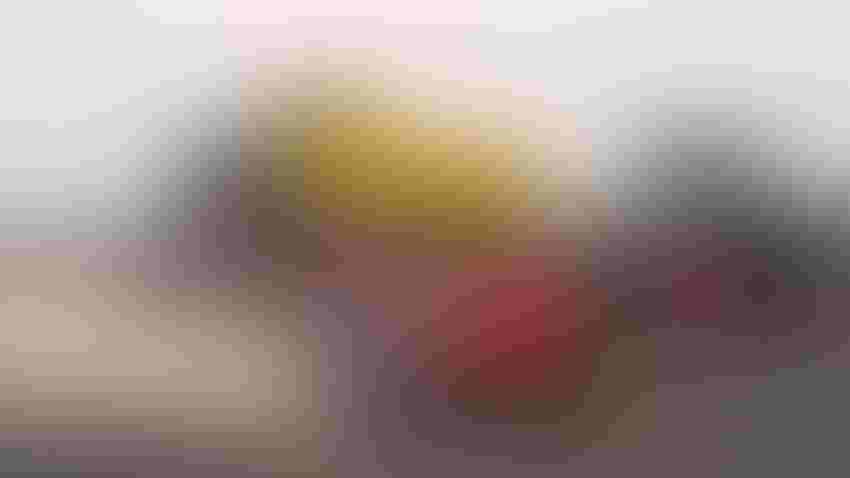 HIGH-CAPACITY PLANTER: The new Tempo K high-speed planter brings high capacities for growers in North America. An exclusive seed metering unit takes full control of seed delivery, preventing vibrations and slopes from affecting seed placement.
Courtesy of Vädersta
Väderstad's new Tempo K high-speed planter builds on the proven success of the Tempo concept, but with larger capacity and other adaptations to meet the needs of North American farming operations. Every component on the Tempo K is engineered to ensure the exact same start for all seeds no matter the speed or field condition.
Its advanced, yet simple design provides unmatched precision to maximize the potential of the planted crop.
The Tempo K borrows design elements from the popular Wil-Rich 10K planter bar, which was acquired by Väderstad in 2021. To maximize capacity, it features a 150-bushel central seed hopper with optional twin 750-gallon liquid fertilizer tanks for a total liquid capacity of 1,500 gallons. It also comes standard with tracks for enhanced flotation.
"The Tempo K is an excellent example of our commitment to the North American market," said Oskar Karlsson, director planter product management for Väderstad.
"The Tempo concept has proven itself over many years in Europe and even holds the world record for number of corn acres planted in 24 hours," he says. "Now, we're launching the Tempo K with industry-leading capacities and a track system, making it extremely practical for use here.
"I think North American farmers will come to appreciate the simple design concepts and unmatched precision capabilities. And we're standing behind this product with North American manufacturing and an extensive parts plan to keep our customers running."
Grower benefits
To deliver superior precision, the Tempo K uses an exclusive seed metering unit, PowerShoot, which takes full control of seed delivery from the meter all the way down to the soil. It prevents vibrations, slopes or other external factors from affecting seed placement.
Väderstad's PowerShoot technology is used to guide the seed precisely into the furrow. Without the need of complex seed tubes with extra motors and belts, the PowerShoot system simply uses positive air pressure to direct the seed from the meter to the ground, allowing the Tempo K to provide exact seed placement at high speeds.
Because each seed meter on the Tempo K has its own electric drive, the planter is capable of individual row shutoff to eliminate double planting on headlands. Hydraulic weight transfer and row unit down pressure systems are standard to ensure consistent seed depth for even emergence.
Väderstad's E-Control, an iPad-based control system, is used to monitor and adjust settings on the Tempo K in real time. This user-friendly system wirelessly connects to the planter and offers remote setup and calibration. Users have full access to download the most recent software updates, free of charge, to ensure the system is always up to date.
Options for operations
Furthermore, a variety of options are available on the Tempo K to meet the needs of different farming operations and tillage practices. This includes multiple row cleaner and closing wheel systems.
Väderstad will begin taking orders for the Tempo K in spring. Units will initially be available in a 24-row configuration with 30-inch row spacing. Further on, Väderstad will extend the Tempo family for North America, including additional widths and row spacing alternatives. Seed discs are available for a wide variety of crops, as well as blank discs for custom applications.
Source: Väderstad
Subscribe to receive top agriculture news
Be informed daily with these free e-newsletters
You May Also Like
---