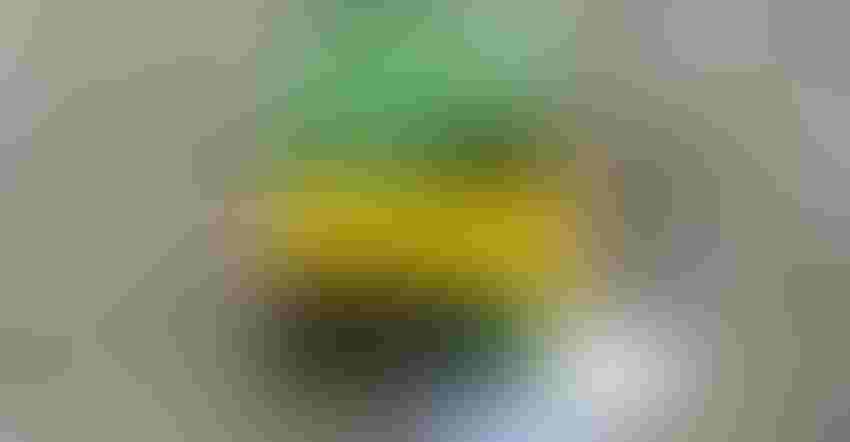 GETTING PARTS TO CUSTOMERS: Leaving parts in a designated place outside the store was an innovation this dealer developed during the early days of the COVID-19 pandemic.
Tom J. Bechman
In the old days, if something broke during busy seasons like planting and harvest, farmers just hoped their dealer had the part. Technology makes it less likely they must rely on hope alone today, although current transportation issues globally can still result in spot shortages.
Chad Passman, public and industry relations manager for North American agriculture for John Deere, addresses questions related to technology and changes in how companies work to get parts in customers' hands efficiently in this interview:
Is technology helping dealers make changes that streamline finding, organizing and delivery of parts? Technology helps John Deere and John Deere dealers service and support equipment more efficiently to avoid downtime. In fact, Expert Alerts can be enabled by the customer. It allows dealers to proactively predict likely failures before they occur. The dealer can inform the customer before a more costly issue arises, and many times, fix the issues before it creates unnecessary downtime. 
Once the dealer detects an issue with the machine and with the customer's approval, a tech can go remotely into the machine and possibly address the issue without a service call. In most cases, the dealer can determine what parts are needed and if the customer should stop immediately or can keep running, allowing for the repair once the machine's day is done.
Related: Automation means less time at parts counter
How else has parts stocking and service changed over the years? Here is one way. Dealers are proactive with customers, offering and signing them up for inspections in the off-season for a machine. These inspections, in some cases, take up to two days. Through these inspections, the dealer can compare the customer's machine specifications to new and share with the customer what parts need replacing or could fail in seasonal usage.
For the customer who does not have their machine inspected and repaired, the dealer still knows those machines and possible failures are out there. They take this knowledge and stock these parts to be proactive with availability for customers who elected to not get an inspection. With a combine, for example, we may not be able to prevent the machine from going down during harvest, but we can be ready to put them back in the field as soon as possible.
What steps has John Deere taken to mitigate significant delays in the transportation sector, related to delivering parts? Deere strategically prebooks logistics capacity to help ensure the company has the necessary cargo space available when needed. Plus, we pull resources from all areas to expedite order fulfillment, and reorganize shipping containers to optimize available space, as well as lease extra shipping container cranes to expedite unloading. Deere also expanded its over-the-road fleet and partnered with other companies to utilize the rail system. We can also utilize corporate aircraft to assist in transporting parts and materials.
When a customer asks for a part that a dealer does not have, it triggers a huge domino effect. Dealers can check inventory at all their locations and all dealer locations in the U.S. and Canada. Dealers can place next-day delivery orders that leverage all of John Deere's distribution centers across the U.S. and Canada. If inventory is not available, it places an emergency order, which is produced and delivered as quickly as possible to meet the customer's need.
About the Author(s)
Subscribe to receive top agriculture news
Be informed daily with these free e-newsletters
You May Also Like
---