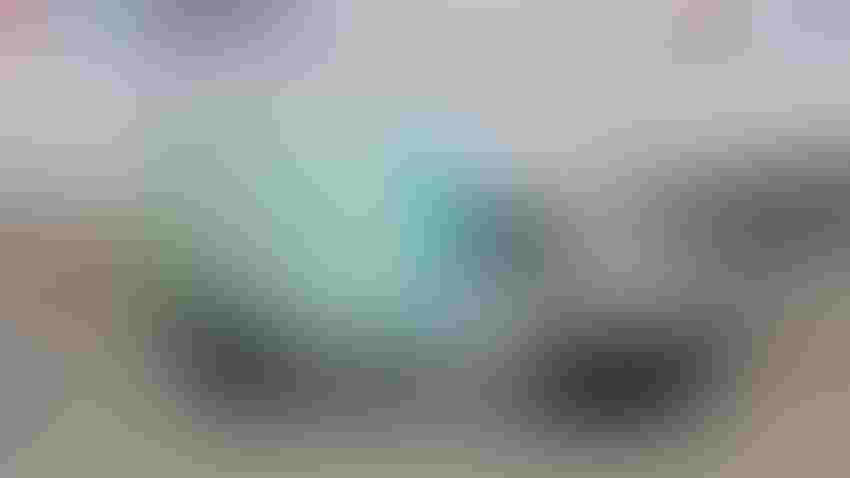 AGTECH VAN: AgTech Tour 2023 is crisscrossing the country this summer and fall, demonstrating the capabilities of new irrigation products and services that are bound to revolutionize how you look at your pivot. This AgTech Tour van will be stopping at Valley dealers across the nation.
Courtesy of Valley
One of the most common autonomous machines traveling through crop fields these days is the center pivot.
This isn't a new idea. The pivot has been around since the early 1950s, but the evolution of this machine and the technology that can be employed in the field through the pivot have a real effect — not only on the crops growing in the field, but also on the efficiency with which farmers are able to use natural resources and other inputs.
When Valmont Industries companies — Valley and Prospera — kicked off their AgTech Tour 2023 in April from the Valmont headquarters in Omaha, the company revealed the capabilities of new products and services that can be retrofitted onto existing pivots that will revolutionize how farmers look at their irrigation systems.
Among the diverse portfolio of AgTech from Valley and Prospera are Plant Insights, which monitors crop health; Irrigation Insights, which detects pivot-irrigation issues; Remote Management, which takes control with smart farm solutions; Scheduling, which helps with irrigation planning and optimization; ICON Control Panels; and Machine Diagnostics to help detect and manage machine health.
Crop health
One of the most exciting of those capabilities is Plant Insights, says Josh Dixon, group president at Valley. He tells Farm Progress that the unveiling and commercial placement of these new tools in the field this season is a part of the evolution of the company from its roots as an irrigation company to a new view as a land management company.
Plant Insights involves mounting cameras and hardware on the pivot. "We will retrofit the system on our pivots, and it can be installed on competitive pivots too," Dixon says. "It will provide insights into agronomy, pests and diseases. As the pivot travels around the field, it is collecting data.
"The pivot can run day or night, wet or dry, to complete the passes necessary based on how you want to monitor the health of your crop. The pivots are out there, standing sentinel all year around, so we have the ability to leverage the pivot even in the off-season, checking ground moisture content from sensors."
There is still a need for crop scouts out in the field. Plant Insights technology enables crop scouts to cover more ground and provide additional value-added services, Dixon says.
"We see this as an enabler and a land productivity toolkit," he adds, "that can help reduce inputs, reduce waste and maximize profitability."
Plant Insights has already gone through extensive testing under different environments all over the U.S. Dixon says it is also being tested in Southern Hemisphere climates such as Brazil, Australia and South Africa, where they can get two and a half harvests per year in tests.
The tests have shown that Plant Insights can diagnose insect and disease pressure issues in the field up to two weeks before it would be visually detected by crop scouts or other means, he adds.
The time is right for this kind of technology, Dixon says. High-quality cameras are available at a more reasonable price than ever before. The system is also cellphone driven, in that technology now offers cellphone or satellite internet connections across most of farm country.
Finally, machine learning algorithms have been developed to allow machines to solve problems. Prospera, a Valmont company, develops agricultural technologies that manage and optimize irrigation and crop health to conserve resources and improve yields. This data empowers better decisions. Together, they help improve agriculture, transforming food productivity while doing more with less, and contributing heavily to this portfolio of in-field, pivot-delivered tools, Dixon says.
"We see a strong need for this technology," he says, "as farmers are allocating their investment dollars to make technology work for a greater return. Our expertise in irrigation for over 77 years allows us a depth of perspective as we know agriculture and we listen to our growers' needs."
Getting irrigation right
Irrigation Insights, another service offering, pinpoints irrigation issues in the field. "With satellite coverage and multispectral cameras, we can look at the pivot running in the field," Dixon says. "We want the pivot operating at maximum efficiency all the time. This can tell if there are plugged nozzles, ponding in the field, if there is a problem with a tower and which number of tower it is. This information is designed to go back to the farmer and the dealer through the Insights app for actionable response."
At only $2 per acre, this is an investment in technology to improve your water management practices and crop health, he says.
Similarly, Machine Diagnostics technology uses physical interpretive sensors to monitor amperage and temperature on motors, if there is an issue with the tower box or an alignment issue, for instance.
"If the pivot is out of alignment, we want to get into preventive maintenance, using machine learning algorithms, based on information we get from the tower box, motor and pivot to flag issues" before they become a problem, Dixon says. "If there is a tire that is low on pressure, growers want to know before it becomes critical, as no one wants the pivot to stop in the middle of the growing season."
AgTech on the road
The AgTech Tour 2023 will set a course for hands-on tech interaction with growers at Valley dealers throughout the country. The tour is set to begin May 25 in New Jersey and then head into Maryland and Delaware. It will continue in the south-central states such as North Carolina, South Carolina, Georgia, Florida, Alabama, Mississippi and Tennessee in late May and early June.
By late June, the tour will be in the Midwest in Indiana, Michigan, Ohio and Illinois — before turning north into Minnesota in early July, followed by North Dakota, Montana, Idaho, Washington, Oregon, Utah and Colorado, along with Farm Progress Show in Decatur, Ill.
You can see AgTech in Nebraska from Sept. 12-14 at Husker Harvest Days, before the tour goes back to Colorado and closes out October and November swinging through Kansas, Oklahoma and Texas.
The entire life cycle of technology will be represented on this tour with proven, in-field ROI delivery. Growers won't want to miss the Plant Insights giveaway during the AgTech Tour, where three growers will benefit from a Plant Insights system giveaway — along with a free one-year subscription by registering at a local Valley dealer event.
Growers can view the entire tour schedule and also sign up for the giveaway by visiting agtechtour.com.
Subscribe to receive top agriculture news
Be informed daily with these free e-newsletters
You May Also Like
---