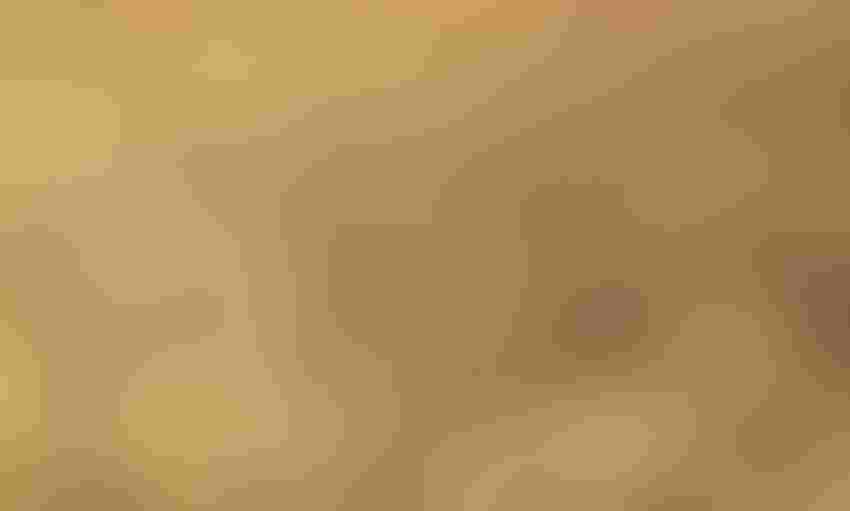 Almond trees were damaged by frost, which resulted in nutlet drop.
Katherine Jarvis-Shean
Some almond growers experienced frost damage from recent freezing conditions, say University of California experts.
"There's really a lot of damage," says Katherine Jarvis-Shean, UC Cooperative Extension orchard systems advisor for Sacramento, Solano, and Yolo counties. "The earlier varieties really took a hit. Some trees even dropped their nuts due to frost damage. It's pretty bad in some orchards."
Frost damage to trees and other plants typically happens on cold, clear nights. Cold air is heavier than warm air, and it settles into the low areas of an orchard or field. Frost-protection measures should be undertaken as freezing temperatures approach, since orchards can be colder than forecasted, say UCCE advisors.
When freezing temperatures are forecast, some growers turn on their irrigation systems, as moisture can help warm the soil, thereby providing a measure of protection to trees. Under some circumstances, helicopters may be used to push warmer air at the ceiling of the inversion layer down into the orchard.
 "November to March is roughly the frost window," says Jarvis-Shean noted, "but generally, damage occurs in November before trees have 'hardened off' and gone fully dormant — more a problem for walnuts than almonds — and/or in February to March for almonds because they are no longer dormant,"
Bruce Lampinen, UCCE almond and walnut specialist, measured temperatures in an almond trial at Davis, and notes that "Feb. 20 and 24 were the coldest days. It was very problematic because that's when the trees were in full bloom." At full bloom, temperatures below 28 degrees F. can cause crop loss.
The freezing temperatures occurred throughout the Sacramento and San Joaquin valleys, but damage was not as severe in some areas. Lampinen says that when he went to the UCCE Nickels Soil Laboratory at Arbuckle, "I couldn't find any damage there."
Phoebe Gordon, UCCE orchard systems advisor for Madera and Merced counties, says, "From what I've seen and heard, the damage has been variable. Some orchards weren't hit that hard, and others were hit very hard. I think it depended a lot on micro-climate and what stage the trees were in. They become more susceptible to frost damage as they transition from dormant to full bloom, and to nut set. I don't think we'll really know until 'June drop' is finished what the final load is." 
Dani Lightle, UCCE orchard systems advisor in Glenn and Butte counties, says, "Almonds were right in the middle of full bloom when the frost happened. Most of the orchards in my area seem to have escaped. We didn't seem to cross the threshold to where there was heavy damage. Of course, there are exceptions, but by and large we came out better in the end than we thought we would."
She explains how freezing temperatures affect almond trees. When they are in the pink-bud stage, they can withstand cold weather better than when flowers have emerged; and bloom stage is more resistant than at petal fall, which is more resistant than at nut set.
"As almonds get further along in the bloom period, they become more susceptible to cold," Lightle says. "Because of that, the varieties that bloom the earliest were most likely to take the biggest hit. They were at the right physiological stage to be more susceptible to damage.
"Nonpareil is the most valuable variety, and it seemed to escape most of the damage. There are some orchards that were exceptions. It doesn't seem like damage to Nonpareils is as bad as we initially thought."
Advisors offer recommendations to almond growers who experienced frost damage in their orchards.
"For orchards that were hit hard, growers should pull back on their nitrogen," Gordon says. "Mature trees need only about 20 lbs. to 30 lbs. of nitrogen to support their growth, and the rest goes into the crop.  Over-fertilization makes nuts more susceptible to hull rot, which can lead to branch dieback, and less fruiting wood in future years.  For crops that had some damage, but look like they have a decent load, make sure to do your July leaf-sampling. If levels are adequate or above adequate, you can cut back on your post-harvest fertilization.
"Irrigation should not change, since that is driven by leaf area and canopy coverage," Gordon says. "Keep the leaves on your trees in good shape, of course, since trees will still be putting on growth —maybe more growth, since all those carbohydrates won't be directed to the fruit and laying the groundwork for next year's crop."
For growers who experienced frost damage, Lightle says, "At this point, we say you're essentially farming for next year. Just get caught up on nutrients and irrigation so you can come back for a strong bloom and strong crop next year. That's about all you can do."
Subscribe to receive top agriculture news
Be informed daily with these free e-newsletters
You May Also Like
---