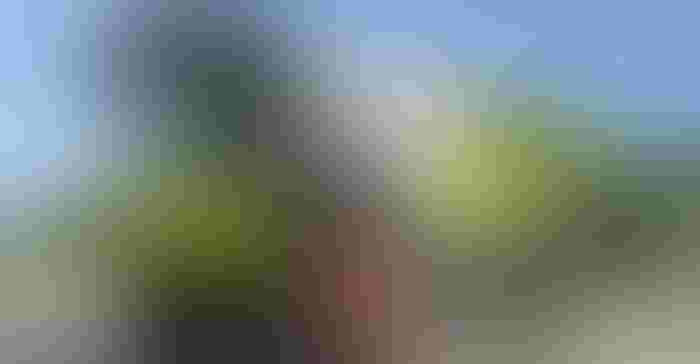 Until the very recent past, Claas of America was considered a short-line company in the United States. The business, which has a strong global position, has been working its way into the North American market over time, with forage harvesters and a range of hay tools.
The company has also made combines; but those products — like the Dominator — got a foothold overseas, where the more conventional design was better suited for the high-yield wheat markets of Europe. When the Lexion combine launched into the U.S. market in 1999, it came in different livery than the Rollants and Jaguars in the line, because the new harvester was to be distributed as part of the Caterpillar ag line.
That yellow-and-black color scheme stuck around even as Cat left the ag market. Meanwhile, Claas continued to build its product line, enhancing the Lexion and even introducing the first Class 10 combine to market.
Meanwhile in Europe, the company had purchased the Renault farm equipment line, putting the Claas name on tractors for the first time. Claas had also designed and built the Xerion tractor, but those French-made tractors helped pull the company into what would today be "long-line" status.
Long-line, not full-line
"We call ourselves long-line because we are not a full-line company," says Eric Raby, Claas of America president and general manager, sales. "We don't have tillage or planting equipment in our line."
But for 2019, Raby and his team have pulled the U.S. lineup of machinery together under a single "seed green" color palette. In addition, the company is officially launching the Axion tractor to the U.S. market. These are machines that are most suited for the hay and forage making part of the business, but offer horsepower ranges up to 440 engine horsepower in two model series — the Axion 800 and Axion 900.
The new Lexion 7000 Series and 8000 Series combine lines also debut this year, and are available to market as of this writing. Check out the slideshow to learn more about the new products Claas will have on hand this fall. And there's more coming from the company later this year. To learn more about all these machines visit claasofamerica.com.
Subscribe to receive top agriculture news
Be informed daily with these free e-newsletters
You May Also Like
---