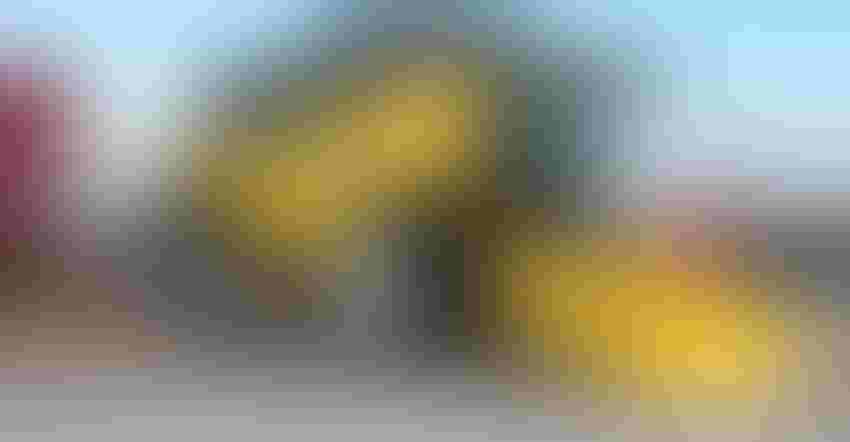 HAPPY BIRTHDAY: The New Holland twin-rotor combine tech turns 45 in 2020. The new combines for that model year get a range of new features including enhanced crop harvest management with the IntelliSense system. It's a far cry from that first TR70.
Willie Vogt
We don't often discuss a new machine launch in this column. The aim here is to pique your interest in new ideas or jog your brain to see things in new ways. Yet for this installment we're marking the beginning of a harvest revolution.
In 2020, the combine industry will mark its 45th year with rotary harvest technology at work in the field. The company that can claim first-to-market status for rotary tech is New Holland, which launched its TR line of twin-rotor machines in 1975. Two years later International Harvester rolled out the first Axial Flow combine. Today, of course, both brands are owned by CNH Industrial, and each can claim significant market share in global markets.
You think back on the 1970s a bit. It was a heyday of agriculture, where demand for new technology and rising productivity offered a lot of opportunity. And launch of rotary technology back then to change the way farmers threshed grain was no small feat. For New Holland, then known as Sperry New Holland and part of a conglomerate that owned everything from Univac computers to farm equipment, it was a risk.
New technology adoption in the 1970s was different than it is today where it seems there's new technology at every turn.
And back then the idea of a rotor doing the threshing work was revolutionary. Of course, today the use of some type of rotary system is the basis for all major harvesters as the machines have gotten bigger and crops yields have ballooned. The rotary approach offers significant advantages for threshing in a more compact footprint.
Marking the anniversary
For New Holland, what better way to mark the anniversary but to launch the latest version of its CR combine series for 2020. We caught up with Luiz Miotto, marketing manager for combines and headers in North America for the company to discuss this latest model.
"We're launching some enhancements for the unit for next year," he says. "For the CR7.90 here [at Husker Harvest Days] we have new engine power. We're talking about rated power as 420 horsepower and peak power at 460 horsepower."
That's a long way from that first TR70 launched in 1975 where horsepower ranged from 145 to 168 hp. And that's nothing compared to the top end CR8.90 Revelation combine that will feature the Cursor 13 engine, a 13-liter model that can top out at 571 hp. You've come a long way…really.
These new combines don't look much different on the outside these days. Instead these new machines have a lot more tech inside for auto-adjustment during operation.
The 'set it and forget it' tech that's becoming more common is part of this series of machines too with software, sensors and cameras working to "see" the grain and adjust the combine in-field, on-the-go faster than a human can as conditions change. The result should be more grain in the tank, less on the ground and a higher quality grain sample. New Holland calls its system IntelliSense.
Miotto explains that the new system is "extremely simple to use. So it is just pressing one button to engage the system that will be on throughout the season." For 2020, the system adds barley as a preprogrammed crop for automatic harvesting, joining corn, soybeans wheat and canola profiles already offered in the machine.
Slick cab
All that tech is great, but the company isn't forgetting the operator. The new cab gets a darker interior the company says will reduce driver fatigue during night operation. Miotto adds that the new operator station has more of an automotive feel and includes added features like two USB ports and modern cab climate control.
We're thinking that if you picked someone up from 1975 who just bought a TR70 and dropped them in this cab they might not know they were in a combine. It's a big change.

COMFY RIDE: Said to reduce operator fatigue, this new interior for New Holland CR series combines has a more automotive feel, darker colors and added features like USB ports and improved heat and air-conditioner controls.
Celebrating a birthday can be fun. New Holland passed on the balloons and cake and instead brought customers some serious enhancements. Learn more at newholland.com.
Subscribe to receive top agriculture news
Be informed daily with these free e-newsletters
You May Also Like
---