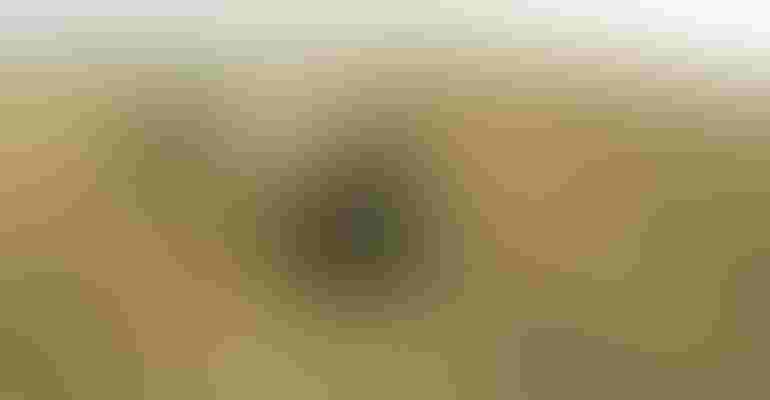 FUTURE OF HARVESTING? This autonomous tractor is offloading a combine using the Smart Ag system during beta testing on a farm in 2018.
Smart Ag
Smart Ag introduced the concept of an autonomous tractor pulling a grain cart at the 2018 Farm Progress Show in Boone, Iowa. However, due to weather conditions and a few glitches here and there, it didn't do much actual demonstrating a year ago. A new and improved version is ready to roll, and spokespeople say they intend to have it operating so 2019 Farm Progress Show visitors can see its potential in Decatur, Ill., Aug. 27-29.
"We will be participating in the Ride 'n' Drive display area at the show," says Tim Norris, Eastern regional business director for Smart Ag. "We also plan to do an actual harvest demo with a Calmer Corn Heads demo machine."
Smart Ag calls this driverless grain cart "AutoCart." After unveiling the concept in August 2018, the company did beta testing on 12 farms across the Midwest last fall.
"We learned a lot though our testing, and we were capturing data the whole time these autonomous tractors with grain carts were in use," Norris says.
1 fewer driver
The concept itself is simple: Program a tractor so it can pull a grain cart alongside a combine, catch the grain as the combine unloads, take it to a waiting truck on the edge of the field and offload it, and return to catch the combine again.
And do it all without a driver in the cab of the tractor pulling the grain cart. Other companies, including John Deere, are also looking at the concept, and have demonstrated various aspects of it in the recent past. 
Since fall, the organization that issues ISO standards released two related to this type of operation: ISO standards 18497 and 25119, Norris says. "These standards both pertain to highly automated vehicles for agriculture and the mining industry," he says. "Because those standards were issued and because safety is our main priority, we decided to do another round of beta testing this fall."
Originally, Smart Ag had hoped the system's software would be ready for commercial launch in 2019. "We have since redesigned the system to meet ISO standards and planned field tests this summer with cucumber harvest in Michigan," Norris says. That's in addition to demonstrations at the Farm Progress Show and beta testing on real, operating farms again during the 2019 harvest.
"Our plan now is 12 more beta test sites on farms all across the U.S. this fall [and] then commercially launch the system in April of 2020," Norris says.
What you will see at the Farm Progress Show is a glimpse of the future. "Our goal is to be the autonomous platform of the future," he says. "AutoCart is just the beginning for us. We want to follow up with other products, including AutoTill, AutoApply, AutoPlant and AutoHarvest in the future."
Subscribe to receive top agriculture news
Be informed daily with these free e-newsletters
You May Also Like
---