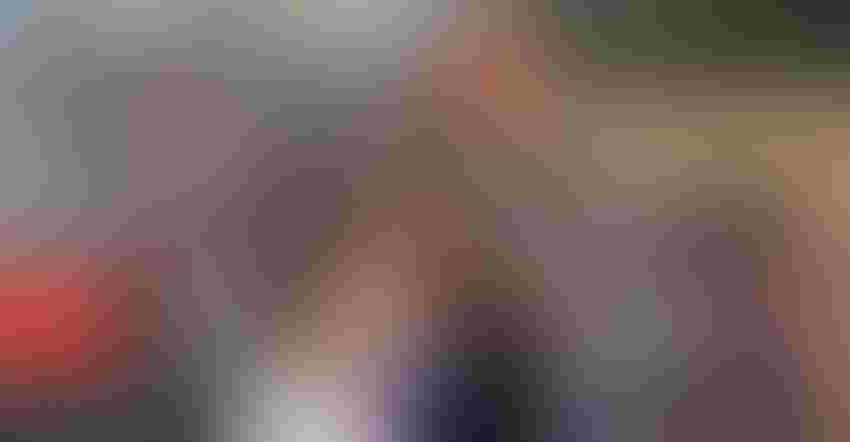 NEW EQUIPMENT: "What we've come to expect as the normal is pretty unbelievable," says Matt Jungmann, national events director for Farm Progress. "Being the kickoff for the farm show season, the Farm Progress Show gets more than our fair share of extra hype for these product launches."
The collective eye of U.S. agriculture is trained today on Boone, Iowa, as the 2018 Farm Progress Show opens its three-day run.
"All systems are go for a great show," says Matt Jungmann, national events director for Farm Progress. "The site looks phenomenal, and the exhibitors have really brought their A game. Our visitors are going to have no shortage of quality products to check out."
The show is the largest outdoor farm show in the U.S., and it's become a hallmark for farmers to kick tires, see what's new and check out field demos — all just before the 2018 harvest season kicks off. It's also the place where equipment manufacturers introduce their best new products.
Field demonstrations, long the hallmark of Farm Progress Shows, will take place every day. Combining starts at 11 a.m., and then you can check out tiling demonstrations at noon and tillage at 2 p.m. on all three days.
"The crop is in great shape for us to be able to run field demonstrations," Jungmann says, adding that the 360 acres of corn was entirely in the ground by April 28. All corn is 78- to 80-day hybrids planted for early harvest at the show.
After field demos, check out the expanded Ride 'n' Drive area. "We've never had interest in Ride 'n' Drives like we've had this year," Jungmann adds. You can drive the new Dodge Ram, the new Chevy truck, a Case tractor, the Deere tractor and more.
New this year to Boone: tiling demonstrations. Timewell Drainage Products and Hol Drainage have designed a drainage system for the northeast 220 acres. They'll do a third this year, a third in 2020 and a third in 2022. Six Timewell contractors will install 3-inch tile on 40-foot lateral spacings.
"It's taken a lot of coordination between Timewell and Hol Drainage, plus several other Timewell contractors and the host farmers, Central Iowa Expo and Farm Progress. Everybody's doing their part to make this a really cool feature. And it's good for the site, too, for handling Mother Nature's possible impacts," Jungmann adds.
Check out cattle handling demonstrations every day at 10 a.m. and 2 p.m. at the southeast corner of the grounds. The entire southeast quadrant is full of livestock equipment, and Iowa State University is providing cattle for demonstrations.
What else to know?
• Admission is $20 for adults, $10 for ages 13-17 and free for ages 12 and under. Discounted adult tickets are available online.
• Show hours are 8 a.m. to 5 p.m. Tuesday and Wednesday, and 8 a.m. to 4 p.m. on Thursday.
• Handicap parking is available on the edge of the exhibit field in the north parking lot.
• No more golf cars are available for rent, but mobility scooters are available on a first-come, first-serve basis. You can bring your own golf car, but you cannot bring anything that idles (four-wheeler, side-by-side, etc.).
• Food and beverages are offered for sale at the food courts located throughout the grounds.
• Find a map of the grounds here.
• Hosted by Wallaces Farmer, the Farm Progress Show will be held in Boone, Iowa, Aug. 28-30.
Subscribe to receive top agriculture news
Be informed daily with these free e-newsletters
You May Also Like
---