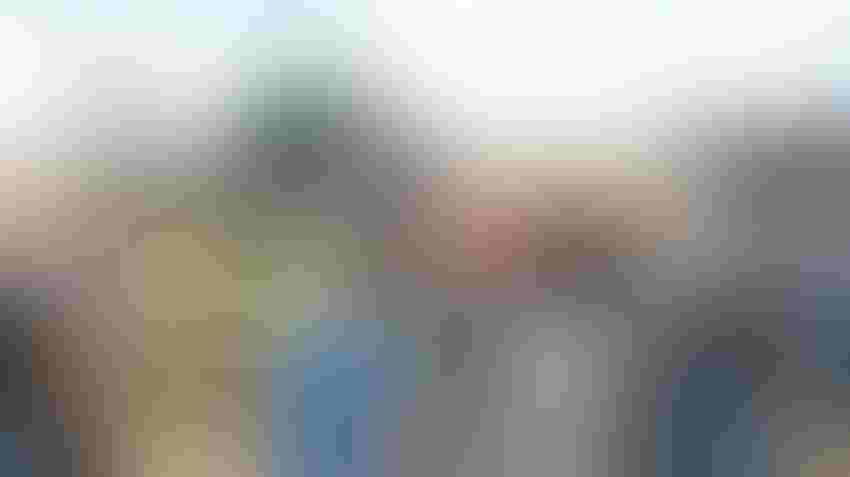 INTEREST GROWS: Head to the tiling demonstrations early to get a prime spot to watch. Crowds continue increasing for this demo as interest in tiling rises.
Holly Spangler
If you thought tiling demos drew a crowd before, chances are you haven't seen anything yet. There isn't a single practice in agriculture as hot right now as tiling.
Why? Farmers says it's because tiling gives one of the best return on investments in agriculture today. Year in and year out, yield maps continue to back up the benefits of tiling, and the message is reverberating in farm country.
Tiling demos have been an important part of the Farm Progress Show at Decatur, Ill., for several years, and the trend continues this year.
In past years, tile has been installed during the show on land owned by David and Dawn Brix, one of the host families. This year, it is on land adjacent to them, farms owned by the Voorhees and Padrutt families. But as the manager who oversees field demos, David Brix will still be the one making sure it comes off without a hitch.
"We will be tiling about 40 acres this year in a field located to the northeast of the exhibit grounds," Brix says. "It's just to the east of where field demonstrations for corn harvesting and tillage will operate each day."
High-tech installation
The field also will be pattern-tiled, Brix reports. Members of the Illinois Land Improvement Contractors Association will provide the equipment and labor to install the tile, using GPS laser-guided technology.
Mains and then laterals will be installed. Each lateral has 4-inch-diameter plastic drainage tile installed on 50-foot centers.
If you haven't installed tile yourself, watching these land contractors work with modern surveying equipment should prove interesting, Brix says.
Tiling demonstrations will commence each day at noon. The crew will continue until about 1:30 p.m., wrapping up in time for people to get to the tillage demos, which begin at 2 p.m.
Volunteers installing the tile will spread out the workload so visitors have something to see for every day of the show.
Brix says visitors should pay attention to the safety crew who are wearing orange vests. They will provide instructions on where you can safely watch the action.
Members from the Illinois Land Improvement Contractors Association will be on hand to answer questions about drainage and tile installation.
The 2023 Farm Progress Show is Aug. 29-31. Learn more at FarmProgressShow.com, and check out the digital edition of the official program.
Subscribe to receive top agriculture news
Be informed daily with these free e-newsletters
You May Also Like
---