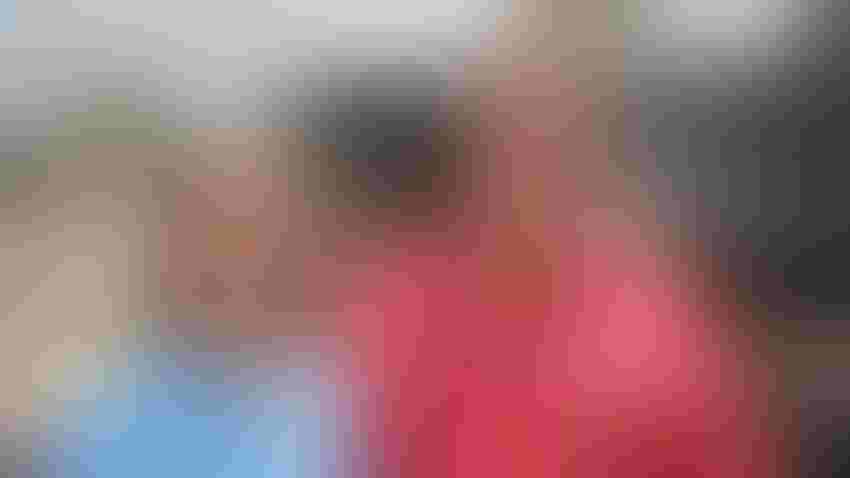 POWER BEHIND SCENES: Pam and Mark Wint of Columbus, Ind., have helped light up the Farm Progress Show for 41 years.
Tom J. Bechman
You're going to do what? Build an 80-acre city in a cornfield? How are you going to provide electricity?
Can you imagine discussions that went on among the people charged with providing electricity to early Farm Progress Shows? Even over the last 20 years, with shows on semipermanent sites, providing enough power is a huge challenge.
Mark and Pam Wint of Columbus, Ind., know a lot about meeting these challenges. Since 1982, Mark and Pam have been involved with the Farm Progress Show as electricians. This year, they are transitioning duties to Dylan England as they scale back toward retirement.
Their stories illustrate just how big a challenge it is to provide power to such a unique event.
The Wints answer some questions posed by Farm Progress:
How did you get involved in the show?
Mark: I was a young electrician in 1982, and Claas was opening their facility near Columbus. The guy in charge of their display at the 1982 Farm Progress Show in White County, Ind., insisted I help him. They weren't sure how to build a display. I helped, and Helmut Claas himself was so impressed that he told his staff, "Give everybody who helped a three-year contract."
So, in the early days, you worked with exhibitors as clients?
Mark: Yes. The late Ray Bowerman was in charge of the Farm Progress Show exhibit for J.I. Case. I started working with Ray the year of the merger. It was interesting when pieces of two companies were thrown into one display for the 1985 show in Knightstown, Ind. He used us at other shows besides Farm Progress, and he kept telling everyone to hire us. Our connections really took off.
Pam: Even with all we did for Case IH, we were still part-time through the '80s and '90s, helping exhibitors who contracted for our services. We still contract with exhibitors today, although we also do some work for Farm Progress, like wiring the Varied Industries Tent.
We began to take on more of a role with Farm Progress when the show moved to permanent sites, beginning with the Decatur, Ill., show in 2005.
What does it take to set up for a show?
Mark: We haul 16 gooseneck-type trailers filled with materials and equipment to the site. At one time, Pam and I both drove out; then we would hook one pickup behind the other and drive home together. We start about four weeks before the show. Then we go to Husker Harvest Days in Nebraska working for clients, so it's a long show season.
Does the local utility supply electricity directly to the site for you?
Mark: With semipermanent sites, yes. What we need is contained inside what they call pedestals, and we run electricity from them.
Is there always enough electricity to power everything at the show?
Pam: Sometimes a client may have to run a generator if they're doing more than just running lights.
Mark: The Varied Industries Tent was historically known as a large power consumer. So, that was built into the plans when both semipermanent sites used today were laid out. We did add a generator one time there because one exhibit was using three-phase power.
Generators are regularly used at the Pioneer and Bayer exhibits. They're large, power-hungry, air-conditioned displays.
What is one of the most unusual things to happen at a show?
Mark: A couple decades back, one of the Bushes [as in president] was coming to the show. We weren't in charge of the VIT tent yet, and it was borderline on keeping everything going. Not long before he was to arrive, the lights went out. He was supposed to walk through the VIT tent, and it was pitch dark. Some Farm Progress people asked me to help. I hightailed it over there, hopped the fence and began working at the box.
Next thing I know, I had a gun in my face! It was a Secret Service guy, and he read me the riot act. I was in a restricted space … you know the drill. Somehow, I stalled until I got the lights on, then I hopped out of there! Last I saw, he had a big scowl on his face. But to everyone else, I was a hero!
Why have you worked on FPS for 41 years?
Pam: It's the people. We really love the people we've met and the good times we have.
Mark: Yes, it's the people. Good people come to farm shows, and good people make them happen behind the scenes.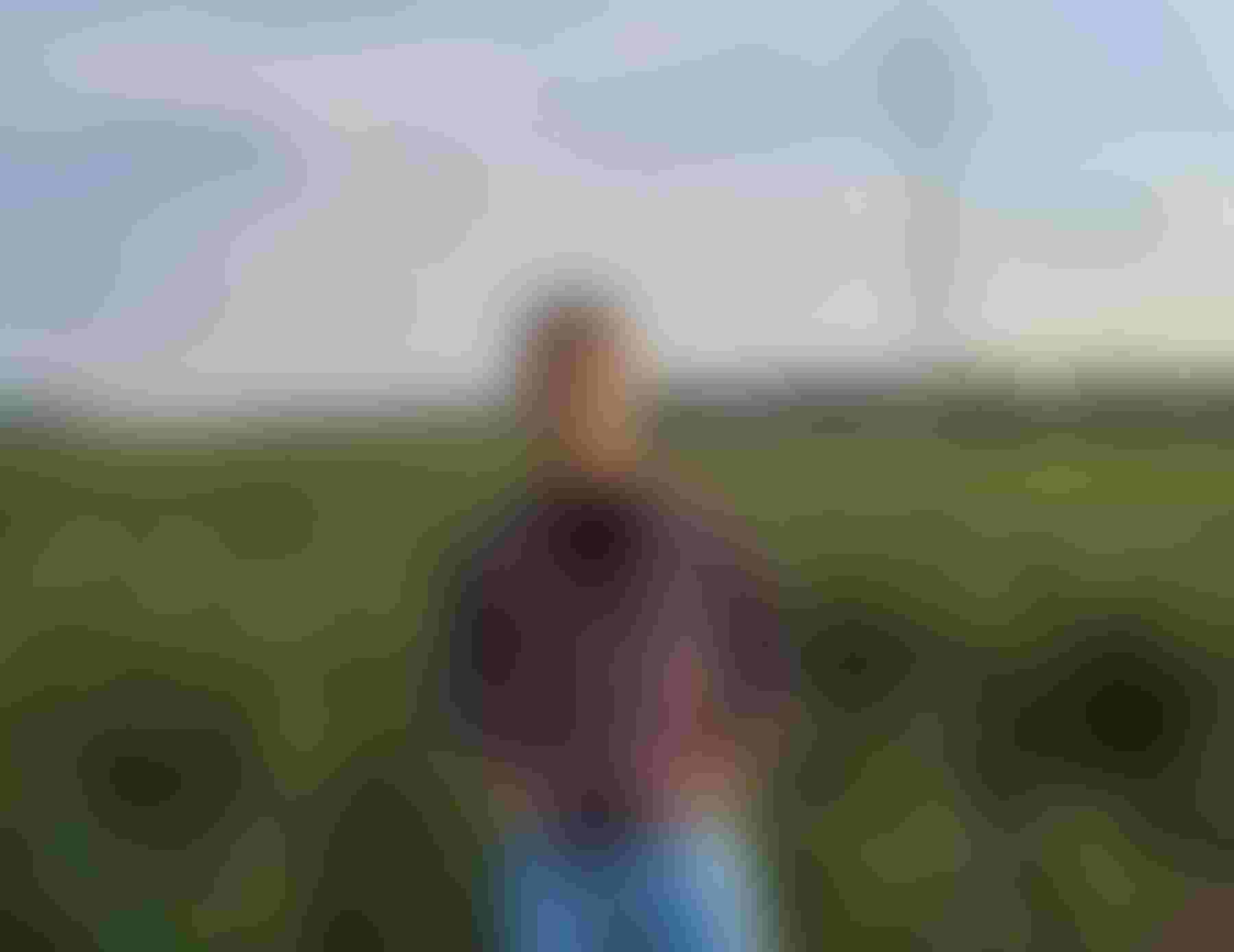 NEW POWER MAN: Dylan England begins the transition of becoming the primary electrician for the Farm Progress Show this year. (Courtesy of Dylan England)
Meet the new 'source of show power'
Dylan England of Columbus, Ind., says he's eager for his chance to work with exhibitors and staff at the Farm Progress Show as an electrician. Here's his interview:
How did you get associated with the show? I was introduced to it by Mark Wint in Decatur, Ill., in 2021. Mark was kind enough to offer me an opportunity to work with him there shortly after I returned home from the U.S. Navy.
What is your background? I am from southern Indiana. I played football and wrestled for Columbus North High School in Columbus, Ind. Through football, I met and became good friends with Mark and Pam's nephew, Will, who ultimately introduced me to Mark and Pam.
What do you do when not working at the show? I am generally at home working in the electrical industry and doing odd jobs on the weekends. I've established a business, England Electric LLC. I enjoy being outdoors, traveling and spending time with my family and close friends.
What do you hope to accomplish? Mark and Pam will leave big shoes to fill. I only hope to be half as great as they have been. My goal is to keep what they have worked so hard to build throughout the course of over 40 years moving forward for another 40 years. When the time comes, I want to provide an opportunity for a future generation to keep it going just like Mark provided for me. 
The 2023 Farm Progress Show is Aug. 29-31 in Decatur, Ill. Learn more at FarmProgressShow.com.
Subscribe to receive top agriculture news
Be informed daily with these free e-newsletters
You May Also Like
---