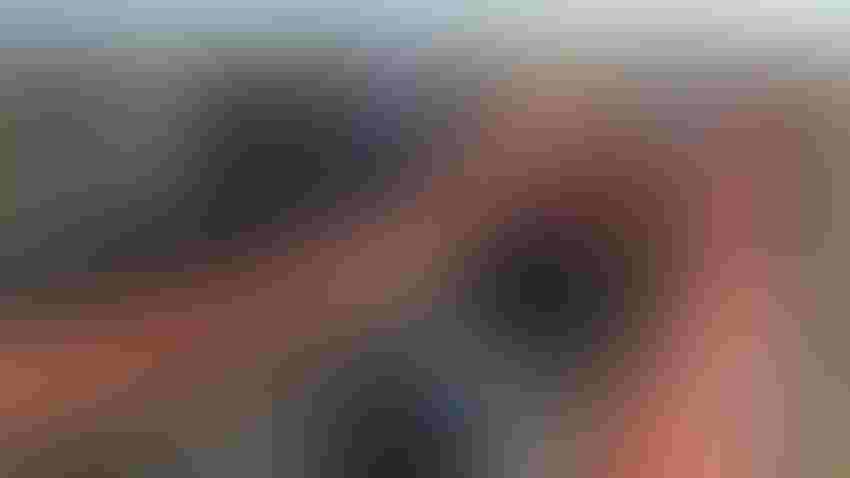 PRACTICE MAKES PERFECT: Contest organizers provided a practice pit at the Farm Progress Show so FFA members could get acclimated before judging the actual contest pits.
Tom J. Bechman
The tradition of holding a soils judging contest at the Farm Progress Show continued at the 2023 show in Decatur, Ill. Some 75 FFA members from Illinois descended on the show site to evaluate four contest pits, plus a practice pit.
Jeff Smith, Decatur, retired advertising representative for Farm Progress, helped revive the contest at the 50th anniversary show near Henning, Ill., in 2003. "They held soil judging contests at the first few shows when the Farm Progress Show began, and we wanted to bring it back to increase the educational value for FFA members who are interested in soils and attend the show," Smith says. "We've held a contest every time the show has been held in Decatur, beginning in 2005."
The 2023 edition featured the largest participation ever, with over 120 students competing from Indiana and Illinois combined. Sixteen schools fielded around 30 teams combined for the contest. Illinois FFA members competed against other Illinois FFA members for bragging rights and cash awards, provided to the winners by Farm Credit Illinois, one of the contest sponsors.
Learning experience
Gary Steinhardt, Purdue Extension soils specialist, has headed up the team selecting and evaluating pits since 2003. This year, he was joined by Scott Wiesbrook, with the Illinois Natural History Survey; Randy Staley, an independent soil consultant from Clay City, Ind.; and Ron Wamsley, a former ag teacher and recently certified soil scientist from Rensselaer, Ind.
There are both timber and prairie soils located on the land included in the Farm Progress Show site at Decatur, Steinhardt explains. "This year, we really wanted to focus on more typical Illinois soils, and we were able to do so," he says.
That doesn't mean each pit had over a foot of black topsoil, Wiesbrook adds. He notes that one pit had 20 inches of black topsoil, but another pit in the same field only had 5 inches of black, prairie topsoil remaining. "You can get soil erosion in these locations, too," he says. "That particular pit was moderately eroded."
The contest also featured four drainage classes, from poorly drained to well drained. Again, all contest pits were located within the same field.
The big winners
Farm Credit Mid-America Services and Farm Credit Illinois sponsored the contest, providing cash awards to the winners in each state. Illinois farmers are served by Farm Credit Illinois.
Here are the team winners for the Illinois side of the contest:
Cambridge FFA, Advisor Trenton Taber

St. Elmo FFA, Advisor Mandy Totten

Williamsfield FFA, Advisor Kent Riggs
The top three individuals in the Illinois soil judging division at FPS also received cash awards from Farm Credit Illinois. Here are the winners:
Emily Downing, Cambridge FFA

Kyla Doubet, Williamsfield FFA

Jolene Blacker, Cambridge FFA
Thanks to both Farm Credit associations for sponsoring awards. Congratulations to everyone who competed and made the 2023 Farm Progress Show soils judging contest the largest contest yet.
Subscribe to receive top agriculture news
Be informed daily with these free e-newsletters
You May Also Like
---