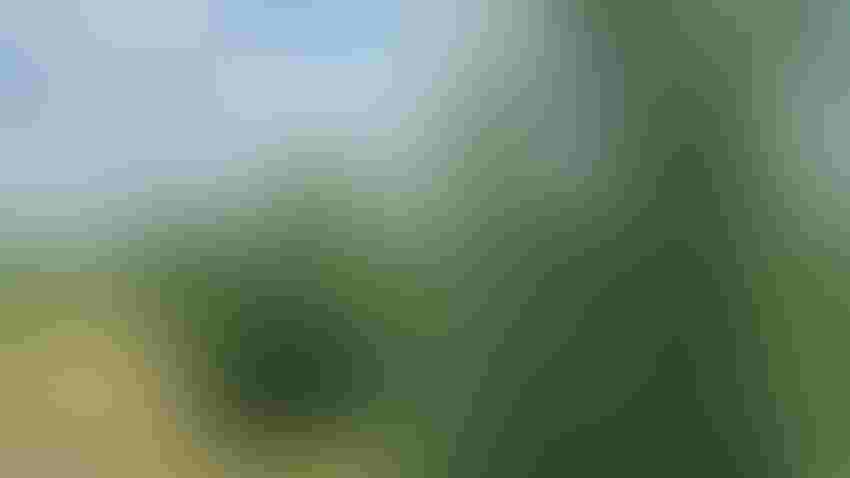 FIRST TIME: This year's Farm Progress Show will feature the first hemp plot ever planted at the show site.
Phil Montgomery
by Allison Lund
A hemp plot has been planted at the showgrounds for the 2023 Farm Progress Show in Decatur, Ill. This will be the first year that hemp has been planted at the show in its 70-year history. The 14,000-square-foot plot will feature grain and fiber hemp plants.
Phil Montgomery and his wife, Amanda, of AM and PM Hemp Farm helped design, plant and maintain the plot. Their goal is to show visitors how useful and productive the hemp plant can be.
"The focus is on education for both the public and farmers, and also legislators and anybody else," Montgomery says.
There will be five or six different varieties of grain and fiber hemp plants on-site. Having the plot on the grounds allows for more delicate care, Montgomery says. He adds that their team will also bring in CBD hemp plants to have on display. Those plants will be grown off-site due to their more demanding care requirements.
"It's not cohesive or easy to grow them there without us being there," he adds. "But we're going to have all three different kinds of hemp on display for the event."
Learning about how these different types of hemp grow is one aspect of the display. It is a chance to learn about the three kinds — grain, fiber and CBD — and how they can differ. Some uses for hemp will also be shared at the show.
"There's wood out there that they make out of hemp; there's insulation and animal bedding," Montgomery says. "Lots of different things can be made out of the hemp plant."
Visitors can walk through the plot and get up close to the plants. Hemp experts will be at the show to answer questions and share resources.
Montgomery hopes that visitors can see what the hemp plant can do as a crop.
"Whether you want to grow it, whether you want to learn about what the products are useful for, whether you're looking at it from the educational side or the investment side, there's lots of different aspects that you can look at from this industry," Montgomery adds.
To see the hemp plot, head to Lot 1228. The 2023 Farm Progress Show is Aug. 29-31. Learn more at FarmProgressShow.com.
Lund is a Farm Progress intern.
Subscribe to receive top agriculture news
Be informed daily with these free e-newsletters
You May Also Like
---