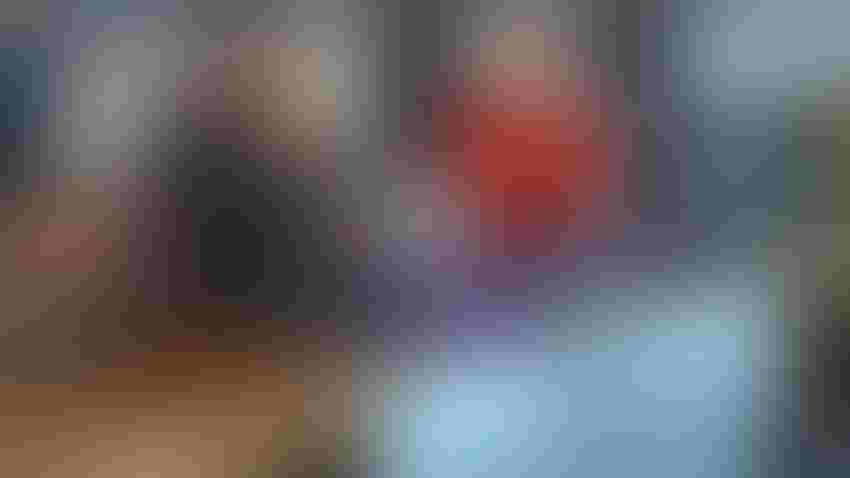 TOYS? These 1/16-scale Ertl tractors are equipped with 30,000 to 50,000 rpm engines and pull sleds on a wood track up to 24 feet long.
Holly Spangler
Farmers are famous for collecting toy tractors, but adding a motor and pulling a sled — just like the full-size tractor pulls? You can see it for yourself at the Farm Progress Show in Decatur, Ill.
The National Micro-Mini Tractor Pullers Association will hold a pull each of the three days of the 2023 show, pulling one class an hour starting at 9 a.m., 10 a.m., 11 a.m., then 12:30 p.m., 1:30 p.m., 2:30 p.m. and 3:30 p.m. Look for the pulls on Lot 99W, located on the southwest corner of the grounds.
NMMTPA member Todd Coulter says the organization has pulled at state and county fairs, local festivals, and the Illinois Farm Progress Show. "This is the largest venue we have participated in for several years," he says.
So what is a micro-mini tractor pull? Think 1/16-scale Ertl toy tractors, equipped with 30,000 to 50,000 rpm engines and a series of gears to reduce that to 300 rpm. They run on a wood track mounted on a tabletop, measuring 2 feet wide by 24 feet long. They're mounted with rubber tires or silicone-coated foam tires.
"It's a hobby where if you really enjoy tractor pulling and can't afford the big tractors, these are more affordable," Coulter says.
On each of the three days, they'll run Pro-Stock, Super Stock, 2WD and 4WD trucks, unlimited, and semi classes. Coulter says all are modeled after big tractors and trucks, and have similar rules for hitch heights, engine sizes, etc.
"It can get pretty loud! They'll know where we are," he says, laughing.
Getting started
Coulter got his start with micro-mini tractor pulls through his son's 4-H project in Indiana, where he and his son built a tractor. Today, five or more counties in Indiana have it as a project area where the 4-H'er begins with an electric motor to learn the gear ratio, traction control and weight distribution, and then progresses to fuel-powered engines, adding complexity and new challenges.
Coulter says NMMTPA members are made up of mechanics, engineers, farmers, retired folks and a few younger kids, too.
Most tractors start as an Ertl toy — bought off the shelf and then cut up. Coulter says you can buy decals online, and you can build a frame for tractors with 1-inch-square aluminum tubing. Very few have mufflers, and he knows of one tractor that runs with four engines, bought online or through hobby stores.
Tires can be harder to find, because they have to be a certain density. Many NMMTPA members make their own silicone-coated foam tires, and a couple of members make their own Case IH, Massey Ferguson and John Deere hoods using a small metal bender.
But tires are the secret sauce.
"The trick to the whole thing is how you work your tires," Coulter explains. "It's how you prepare your tires for getting traction."
Also: physics. Hitch height and weight placement matters, and you'll see people taking notes for sled weight, hitch height, weight placement, temperature and even humidity.
Don't underestimate the micro-minis. Coulter says the tractors in the unlimited and semi class weigh 6 and 7 pounds and have pulled up to 800 pounds of actual weight on the sled.
NMMTPA started in 1978 in Dyersville, Iowa, and today has chapters and events in 13 states and Canada. If you're interested in getting started with a tractor or truck, visit the NMMTPA site for a list of local representatives who can get you connected and pulling in no time.
The 2023 Farm Progress Show is Aug. 29-31. Learn more at FarmProgressShow.com.
Subscribe to receive top agriculture news
Be informed daily with these free e-newsletters
You May Also Like
---