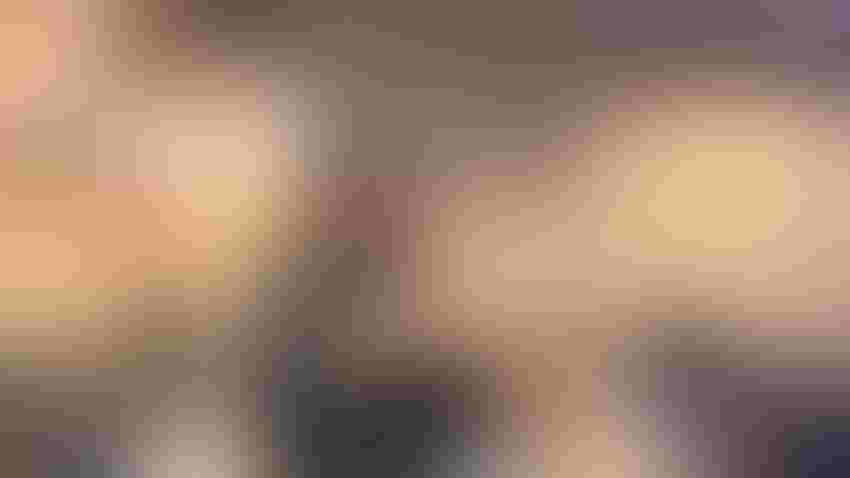 Don't pay anybody. Kara Boyd, program director for the National Black Farmers Association, warns conference attendees about fraudulent companies who are preying on farmers who could be eligible for compensation through the federal Discrimination Financial Assistance Program.
Pam Caraway
The site of the second largest domestic slave market in the Deep South was a little under three miles, or about eight minutes by car, away from the 33rd Annual National Black Farmers Association Conference, recently held in Natchez, Miss. 
For many who attended the conference, the juxtaposition aligned with their experiences. They are generations removed from slavery, but only days away from prejudice. 
John Wesley Boyd, Jr., wasn't a slave. He is a survivor of racial prejudice. 
"I was spat on. He spat tobacco juice on me," the president of the National Black Farmers Association recalls of one encounter with a U.S. Department of Agriculture representative in the 1980s. 
That was the indignity heaped on a pile of discriminatory acts that ultimately cost Boyd his farm. 
"You never get over being treated that way," Boyd said. "Discrimination tears apart family. When you lose your farm, you don't just lose the farm." 
Boyd, however, ultimately gained. He gained a will to do battle. And at this 33rd annual conference, he was doing battle for minority farmers and against those who would defraud them. 
Financial Assistance Program 
The battle for minority farmers is to help them apply for compensation through the Discrimination Financial Assistance Program, which was authorized in Section 22007 of the Inflation Reduction Act that President Biden signed into law last August. The deadline to file the 40-page application is Jan. 13, 2024. 
The program was established under Section 22007 of the Inflation Reduction Act, which provides $2.2 billion in financial assistance for farmers, ranchers and forest landowners who experienced discrimination in USDA farm lending programs prior to January 2021. The maximum amount any individual can receive is $500,000, but the final awards will depend on the number of eligible applicants and the consequences of the discrimination. Those who are eligible can either apply online, submit paper forms via mail or deliver completed forms to their local program office. 
Boyd urged conference attendees to apply. 
"Just because you've been knocked down, spat on … don't give up," John Boyd told the crowd of about 150 farmers. "Sometimes we can't get the blessing because we don't take the first step. I worked to bring all these changes, now we need people to apply." 
The NBFA's battle against fraudulent actors in the discrimination program focused on education and providing technical assistance. Black farmers, the Boyds said, are bring targeted by unscrupulous lawyers and organizations that ask applicants to pay for representation and demand a percentage of any compensation they might receive. 
Over and over, the Boyds hear from potential applicants who paid such organizations. 
"Don't pay anybody to represent you. This is not a lawsuit," Kara Boyd said. "This is a government program. Applying to this program is free." 
"It's very important that we take time to read, and that we understand, and that we follow the directions," said Kara Boyd, John Boyd's wife and the program director for NBFA. Over and over during both days of the conference, the Boyds emphasized that the Discrimination Assistance Program is not a lawsuit and applying for compensation is free. 
"You have no need of a law firm," John Boyd emphasized. 
Technical Assistance Offered 
Instead, the conference included technical assistance for applicants and presentations from USDA and the Natural Resources Conservation Services, AgrAbility, and the Windsor Group, the organization contracted by USDA to provide professional services to applicants. 
To learn more about the Discrimination Financial Assistance Program or receive assistance in English or Spanish, visit www.22007apply.gov, email [email protected] or contact the national call center at 1-800-721-0970 from 8 a.m. ET to 8 p.m. PT, every day except federal holidays. Those who communicate with sign language can use the 711 relay service to call. Information about the program, resources, recent office openings and local events across the country is also available through the DFAP's weekly e-newsletter.   
NBFA invited agency representatives to the conference to help repair the relationships Black farmers have with USDA. 
In the 1980s, John Boyd said, "people didn't see you the same way." At the conference, he said, agency representatives came to say: "Come see me now." 
John Boyd's first public battle in 1983 was to get "negro" removed from federal application forms. The Discrimination Financial Assistance Program may not be the NBFA's final battle. But John Boyd sees this as an opportunity to travel down the right fork in the road. 
He said, "It's time to mend fences and make this a win-win situation." 
Subscribe to receive top agriculture news
Be informed daily with these free e-newsletters
You May Also Like
---