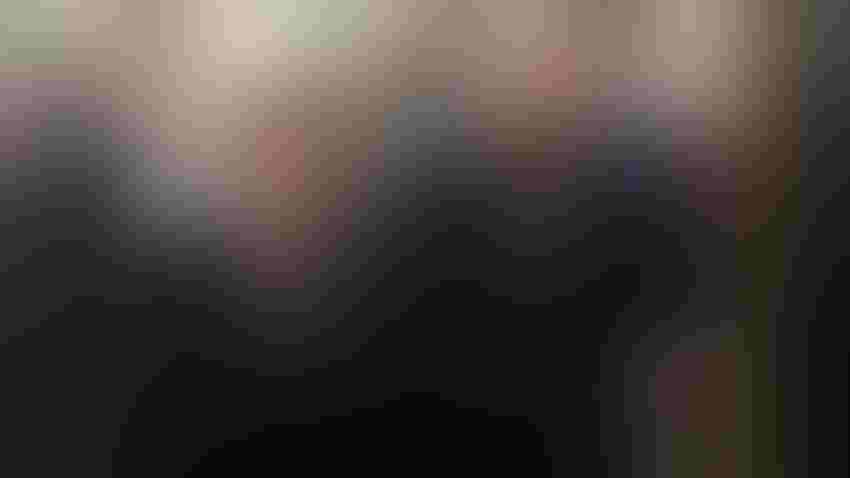 Debbie Stabenow, D-Mich., and Pat Roberts, R-Kans., head to the floor of the Senate in 2019. Stabenow succeeded Roberts as chair of the Senate Agriculture Committee in 2021 and is now leading the charge on the next farm bill.
Getty Images/iStockphoto
Senator Debbie Stabenow, D-Mich., didn't grow up on a farm, but the small town of Clare, Mich., where she was raised was surrounded by farms, including the dairy farm operated by her relatives.
"I saw how hard they worked every single day, rarely taking a day off," said Stabenow, chairwoman of the U.S. Senate Committee on Agriculture, Nutrition and Forestry. "My first real job was at the local Dairy Phil where I learned to fill a cone with soft serve ice cream."
That's how Stabenow began a speech on the floor of the Senate in which she addressed the need for Congress to enact a new farm bill to replace the 2018 law that expired Sept. 30. The text of the speech, which covered issues ranging from crop insurance to conservation spending, ran three pages.
Plan programs
She cited the American Rescue Plan in which Congress invested in new telehealth programs to help bring health care providers to people in rural areas where more than 190 hospitals have closed in recent years as one of the ways the federal government is trying to help strengthen rural communities.
Other programs have helped broaden high-speed Internet services, improved supply chain efficiencies and tried to reduce the impact of climate change events that resulted in 18 separate billion-dollar weather disasters which cost nearly 500 lives and a total of $175 billion in damages in 2022. There have been 24 billion-dollar disasters in 2023.
"It's important to note that, when we invest in rural America, we aren't just investing in the families that live there, as important as that is," she said. "We're investing in all of us because every one of us depends on our farmers and rural communities.
"We have the opportunity and the responsibility to build on the investments we've already made. The farm bill is the next opportunity to truly revitalize rural Am erica."
Stabenow's speech was set against a backdrop in which Congress has failed to pass any of the appropriations bills for the fiscal year that began Oct. 1 or bills like new farm legislation or requests for aid for Israel or Ukraine or additional funding to stop illegal immigration.
New House Speaker Mike Johnson, R-La., has said he wants to pass a 2023 farm bill by Dec. 31 when the crop year ends for most commodity title programs and the acreage allotments and parity loan rates in the permanent 1938 and 1949 farm bills take effect.
He also has said Congress can pass the fiscal 2024 appropriations bills before Dec. 31, something it failed to do in the nine months before Kevin McCarthy was ousted as Speaker of the House in early October.
Appropriations bills
Both the House and Senate have passed agricultural appropriations bills out of committee this year, but the House failed to approve the bill by a vote of 237 to 191 after 27 Republicans joined Democrats to vote against it. Some opposed the bill because of its substantial spending cuts in farm programs.
The Senate voted 82-15 to pass its bill, which would provide $26 billion to fund USDA and the Food and Drug Administration for the 2024 fiscal year. The legislation is part of a larger spending bill that would fund military construction and the Departments of Transportation, Housing and Urban Development and Veterans Affairs.
The "minibus bill," as it is being referred to (in contrast to an omnibus spending bill for the entire government), must now go to the House where it faces an uncertain future because of its spending increases.
Farm organizations, including those representing rice, cotton and peanut farmers, have been calling for additional farm program spending to increase reference prices for those crops in the 2023 farm bill. (Reference prices in the 2018 farm bill were based on research conducted more than 10 years ago.)
Speaker Johnson has rice and cotton acres in his district in northwest and central Louisiana, but it's unclear whether he supports the funding increases that would be needed to raise reference prices. Many of the Republicans who supported his bid to become speaker have said they want to cut all government spending.
In her speech, Senator Stabenow said Senate Majority Leader Chuck Schumer has "committed to finding several billion dollars in additional resources through bipartisan efforts outside the farm bill. It's almost unheard of to get a commitment to add new money to the farm bill – I remember not long ago when Senate leadership told us to cut $23 billion from the farm bill."
Hearings and listening sessions
She said that since she and Senator John Boozman, the ranking member from Arkansas, began working on the farm bill in April of 2022 the Senate Ag Committee and its subcommittees have held more than 20 hearings and farm bill listening sessions across the country.
During those hearings, every group representing farmers said strengthening crop insurance was their no. 1 priority and asked for more options to make it more affordable, she said. Crop insurance currently covers 130 crops and is expanding to more crops and regions, which is important in Michigan where farmers grow more than 300 different crops.
Stabenow said colleagues on both sides of the aisle agree that "conservation programs are a vital part of risk management for farmers today. "You don't need to explain to farmers what climate change is – they see it in their orchards, pastures and fields every day. Farmers want to make their operations more resilient in the face of the climate crisis."
While Stabenow said conservation programs are in greater demand than ever, some members of Congress have been saying money included for climate smart agriculture programs in the Inflation Reduction Act of 2022 should be used for commodity programs.
"The success of a farm bill is always based on finding bipartisan solutions to the problems we need to address and bipartisan ways to address funding priorities," she said. "In this farm bill, that means protecting critically needed conservation funding and keeping nutrition funding in the Nutrition Title."
Passing a new farm bill won't be easy, she said. "Unfortunately, it looks like this will take longer than I would like. But it would be irresponsible to allow vital programs in the farm safety net to lapse and revert to Depression Era policy. Given the chaos in the House, I know an extension will be necessary.
"But let's be clear. It would be equally irresponsible to take our focus off a multi-year farm bill that provides stability and certainty for our farmers."
Subscribe to receive top agriculture news
Be informed daily with these free e-newsletters
You May Also Like
---