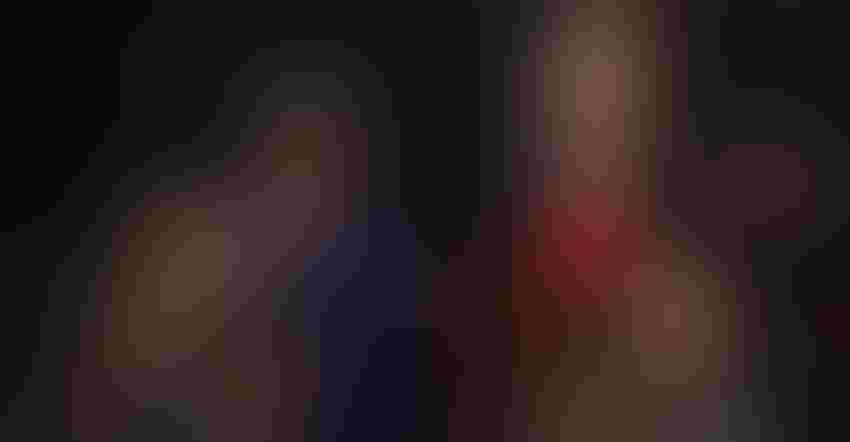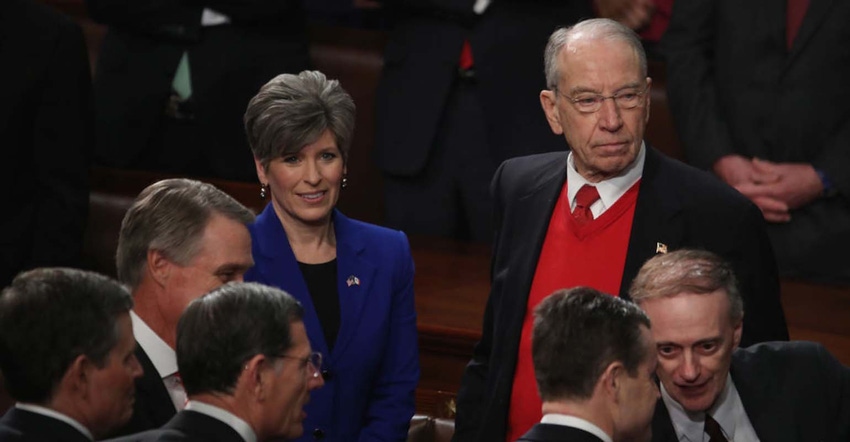 Sen. Jodi Ernst (R-IA) and Sen. Chuck Grassley (R-IA) talk prior to the State of the Union address in the chamber of the U.S. House of Representatives Jan. 30, 2018.
Mark Wilson/GettyImages
by Jennifer A. Dlouhy, Mario Parker and Jennifer Jacobs
Donald Trump's meeting with senators warring over the future of a program designed to boost biofuels ended without a breakthrough Tuesday, prolonging a clash that could undermine the president's political appeal in Pennsylvania and Iowa.
"Just left WH mtg" on the Renewable Fuel Standard, Senator Chuck Grassley, a Republican from Iowa, tweeted after the one-hour White House summit. "Same discussion again. No deal made."
White House officials now plan to consult with top ethanol and oil industry leaders on Thursday, said people familiar with the discussion who asked not to be named discussing internal deliberations. But the administration is not expected to present them with a detailed plan for biofuel policy changes, after several possible options provoked discord at the session Tuesday.
"The President has been clear in his commitment to the RFS and his support for our farmers and energy workers," the White House said in a statement after the meeting. "He understands there are differing views on this issue, and looks forward to continuing the discussion."
The meeting illustrated growing White House concern over the Renewable Fuel Standard, a 13-year-old requirement that refiners mix biofuel, including corn-based ethanol, in gasoline and diesel. Administration officials have been weighing policy moves that could help lower oil companies' compliance costs, following the bankruptcy of the largest refiner in the Northeast.
The Renewable Fuel Standard is viewed as a zero-sum game in the nation's capital, because almost every change to benefit one stakeholder disadvantages another.  It's politically fraught, pitting corn farmers in Iowa against laborers in Pennsylvania refineries. Even before the meeting, farm groups warned the White House that any move to undermine the mandate would be seen as a betrayal in the Midwest.
Grassley specifically singled out one proposal for criticism Tuesday, dismissing a plan to cap the price of compliance credits that refiners use to prove they have fulfilled annual biofuel quotas. That would destroy the RFS program, Grassley tweeted, adding that it would not represent a promised "win-win" solution and instead "would destroy ethanol demand."
Besides Grassley, the other Republican senators meeting with Trump on Tuesday included Joni Ernst of Iowa, Ted Cruz of Texas and Pat Toomey of Pennsylvania. While Ernst and Grassley have fought proposals they see as weakening the biofuel mandate, Cruz and Toomey have argued the current policy threatens the viability of refiners.  
"Any action that seeks to weaken the RFS for the benefit of a handful of refiners will, by extension, be borne on the backs of our farmers," the National Corn Growers Association, the American Farm Bureau Federation and four other agricultural groups said in a letter to president.
Grassley highlighted the political stakes in the meeting Tuesday, by spelling out the votes Trump received in corn- and soybean-growing Midwestern states, according to a person familiar with the discussion. Discussion also turned to a close special election contest to fill an open House seat from western Pennsylvania, which some oil industry advocates have warned could be affected by the biofuel dispute and the bankruptcy of refiner Philadelphia Energy Solutions LLC.
Just as the meeting was set to convene, the Senate confirmed Bill Northey to a top Agriculture Department post. For months, Northey had been ensnared by the biofuel clash, as Cruz stalled his nomination over the issue.
Refiners' concerns focus on how they prove they have satisfied annual biofuel quotas: using tradable compliance credits known as renewable identification numbers.
Renewable identification numbers tracking 2018 ethanol consumption rose 3.4% to 61 cents apiece according to broker data after the meeting.
Administration officials have been considering changes the government could take on its own -- without intervention from Congress -- including approving an environmental waiver that would allow E15 gasoline that contains 15% ethanol to be sold year-round. 
Other options include allowing renewable identification numbers that are tied to exported biofuel to count toward compliance with domestic quotas and EPA selling new ethanol waiver credits as a way to suppress costs. 
During Tuesday's meeting, Trump and the senators discussed pairing the export policy change with the RVP waiver to unleash year-round E15 sales.
Administrative moves to cap RINs prices and allow year-round E15 sales would be vulnerable to legal challenges and would be less durable than legislative changes. 
"While the regulatory reforms being advanced are no doubt well-intentioned, the key ones are highly susceptible to legal challenges, which are inevitable and which will create only more uncertainty," said Stephen Brown, vice president of federal government affairs at Andeavor, a Texas refining, marketing and logistics company, ahead of the meeting.
Some oil industry leaders are lining up behind a legislative overhaul being drafted by Senator John Cornyn, a Texas Republican. 
"We think the best way to address it is through comprehensive legislation," said Frank Macchiarola, a group director with the American Petroleum Institute. "But we're certainly appreciative that the administration is engaging in this issue." 
To contact the reporters on this story: Jennifer A. Dlouhy in Washington at [email protected]; Mario Parker in Chicago at [email protected]; Jennifer Jacobs in Washington at [email protected]
To contact the editors responsible for this story: Jon Morgan at [email protected]
Elizabeth Wasserman
© 2018 Bloomberg L.P
Subscribe to receive top agriculture news
Be informed daily with these free e-newsletters
You May Also Like
---