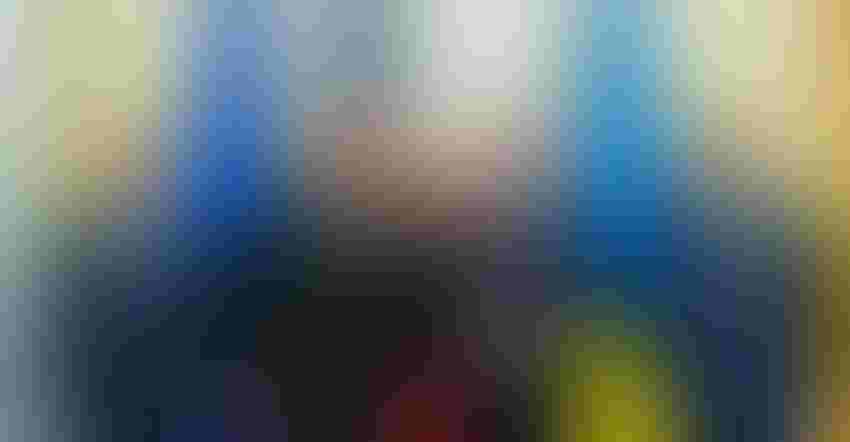 FOOD SHORTAGES: Left to Right EU Commissioner for Agriculture Janusz Wojciechowski, Agriculture Secretary Tom Vilsack, Henryk Kowalczyk, Deputy Prime Minister and Minister of Agriculture and Rural Development, Poland and Mykola Solskyi, Minister of Agriculture, Ukraine in Warsaw, Poland on May 16, 2022, for continued discussion on food security and agricultural supply chains in Eastern Europe.
USDA photo by Olaf Kuziemka
Agriculture Secretary Tom Vilsack has been in Europe since May 12 to meet with G7 leaders to discuss global food security challenges created by Russia's war on Ukraine. As part of the G7 Agriculture Ministers Meeting, leaders signed a communiqué that included a condemnation of the invasion by Russia to Ukraine as well as a condemnation of the use by Russia to use hunger as a weapon and Russian soldiers' theft of grain in the southern part of Ukraine.
He met May 12 to May 15 in Stuttgart, Germany to participate in the G7 Agriculture Ministers Meeting and from May 15 to May 17 he traveled to Poland to meet with the Polish Deputy Prime Minister and Minister of Agriculture and Rural Development Henryk Kowalczyk, European Union Commissioner Janusz Wojciechowski, and Ukrainian Agriculture Minister Mykola Solskyi.
Ukraine has roughly 20 million metric tons of grain that needs to be moved out of the country so that there is sufficient storage for incoming crops that will be harvested in the next several months, Vilsack says. He estimates 80% of the crops that were harvested from the 2021 crop left the country prior to the invasion.
"Whether they get all the 20 million metric tons out in the next several months or not, that's anybody's guess," Vilsack says. "But there's going to be a heck of an effort to try to get that done."
The European Union recently announced a plan of action in these efforts to try to facilitate the movement of those grains and oils, basically creating a call for the physical infrastructure in rail cars, vessels and loaders that are necessary to move products and to streamline inspection capacity. The EU is also developing and identifying storage infrastructure that can be used once the product is moved to be stored outside of Ukraine.
He explains that some ports have been blocked or mined, but overland routes also problematic. "The real challenge is that the rail system in Ukraine is not compatible with the rail systems in some of the other neighboring countries," Vilsack shares. This requires entire train cars to have to be completely unloaded and reloaded onto other cars onto a different track once it enters into neighboring countries.
Ukraine also has requested a list of testing and weighing equipment that they are in need of, which Vilsack says USDA is calling on universities and the private sector, that may be replacing similar equipment or may have used equipment that could be of value, to offer the struggling nation.
The estimates Vilsack heard from the Ukrainian Minister of Agriculture is that he anticipates, weather permitting, that maybe 50 to 60% of a normal crop would be produced in Ukraine, in which case, there'll be additional grain that has to be moved out of the country, because they don't need all of that to satisfy their own needs. "So, we're going to have to continue to work hard to create fine creative routes for that grain to leave Ukraine to try to deal with the infrastructure challenges that we currently have."
Vilsack adds, "There obviously was a discussion about the need for additional productivity, and the need for us to focus on providing products so that we don't have the risk of food insecure nations, especially in developed countries in North Africa and the Middle East. He welcomed the work by Congress to offer relief to Ukraine not only with military support, but a significant amount of humanitarian support, "which is desperately needed," Vilsack explains.
"I think it's incumbent upon other countries, like the United States and others, to see and look for ways in which we can provide assistance and help to fill whatever void may exist in those countries that have historically relied on Ukrainian grain," he adds.
Vilsack did note that USDA will be working with producers who have expiring Conservation Reserve Program acres to get into the field prior to September 30 to begin preparing it for planting possibly a wheat crop. He also adds there are a number of acres that could look at double cropping and recent action by USDA to allow for additional crop insurance coverage in nearly 2,000 counties can help offer risk protection to producers who choose to double crop.
The G7 communiqué also recognized the importance of frictionless trade and the need for all the countries to continue a commitment to sustainable productivity. The communiqué also expressed concerns about recent export bans that have been put in place, citing a deep concern about India's recent wheat ban.
"We already saw the impact of that export ban today is wheat prices shot up at a time when India is basically restraining or constraining the ability to access their wheat. These export bans have a tendency to distort the market. And that's precisely the wrong thing that should happen at this point in time. What we need is transparency in the market and a market that is helping to get goods in the most efficient way possible to those who are in need," Vilsack says.
Vilsack says G7 ag leaders also noted that there may be a possibility that some speculation is taking place in connection with some commodities, which is why it is necessary to look for greater transparency in these markets. They plan to look for the collection of data and information that will enable everyone to have a true market picture.
"For that reason, the G7 nations including the United States indicated a willingness to increase commitments or to provide commitments and financial resources to the agricultural marketing information system operating out of FAO," Vilsack says, covering not only crop markets but also fertilizer markets.
Subscribe to receive top agriculture news
Be informed daily with these free e-newsletters
You May Also Like
---