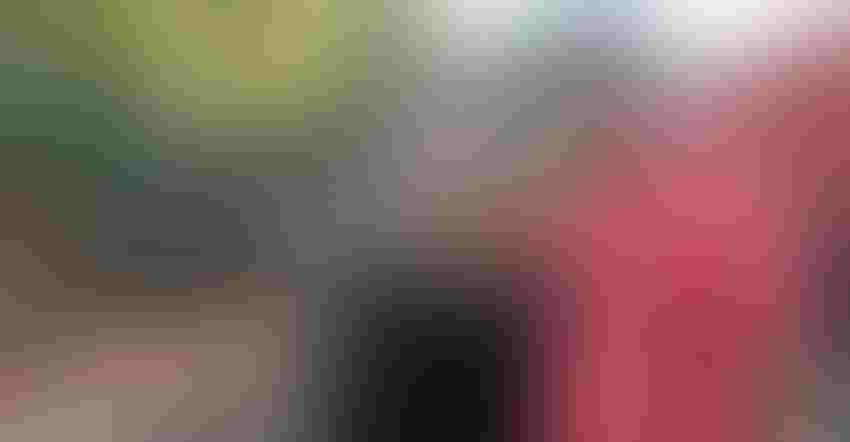 SUSTAINABLE: Sherry and Alex Mewes say they add value to their corn by feeding it to their cattle herd.
For four years now, two young farmers on the Mewes farm near Albion, Ill., have been proving wrong those who said they couldn't restart the family farm.
It hasn't been easy, and Alex Mewes will be the first to say so. Still, he believes he's laying the foundation for a sustainable business in spite of depressed commodity prices, and he's doing so through learning from both mentors and personal failures.
"The first couple years I was pretty much never home because I was working a weekend shift at a Walmart distribution center," says the farmer of 600 acres. "We've been able to get back to reality these past couple years though." He and his wife, Sherry, a nurse, are parents to 10-month-old Grant and 3-year-old Dean.
Alex's father quit farming in the early '90s, which means Alex has effectively started from scratch — and then some. They farmed 120 acres their first year, and Sherry remembers Alex climbing into a fencerow to fetch equipment left behind by his grandfather. He's since upgraded his equipment line and refurbished auction machinery "older than him."
And while small failures have come and gone, the biggest failure isn't an option. "I've not had a parent or somebody to lean on, so failure to me really means having to get out of farming," he says.
"We were fortunate since his family had farmed in the past, we did have some acreage we could start with from his grandparents," Sherry says, noting they save money by doing everything they can themselves: canning vegetables and raising chickens, 45 brood cows and 40 fat calves.
Alex says he doubled his acreage in his second year of farming, biting off a little more than he could chew. Now that he can spray and harvest everything himself, his bottom line is stronger. Supplemental income from carpentry work helps him reinvest in the farm as he waits for grain prices to pick up, storing 30,000 bushels on-farm.
"We've had some good yields, but the markets haven't been there. There have just been some odd years, so we're hoping to hang in for a good one soon," Alex says.

MECHANIC: Alex Mewes plans to fix up an old tractor in his shop over the winter.
Alex and Sherry are members of the Cultivating Master Farmers program, a two-year schedule of gatherings between young farmers and Master Farmer award recipients sponsored by Farm Credit Illinois, Compeer Financial, Illinois Farm Bureau, Growmark, Bayer and Prairie Farmer.
They say they're eager to bounce ideas off non-neighboring farmers, with the ultimate goal of making the farm more financially sustainable.
"We'd like to figure out how to be better with what we've got" Alex says. "I can be content with what I'm farming now, but I would like to be doing more with it. I know I've got more room for improvement." Feeding corn to their cattle herd helps add value, but he's eager to learn what other farmers are doing.
"We would really like to be able to grow our farm and have something for our boys if they want to farm," Sherry says. "Right now, it's clearly not big enough for that. It hasn't been around to prove itself for 50 years like a lot of farms have been, but we hope to get it there."
Subscribe to receive top agriculture news
Be informed daily with these free e-newsletters
You May Also Like
---