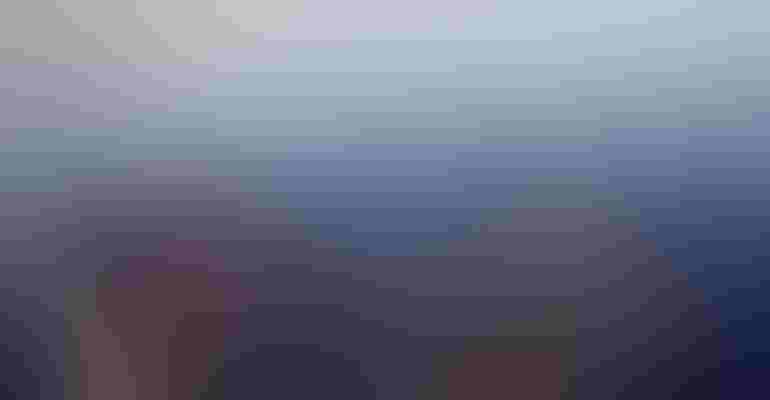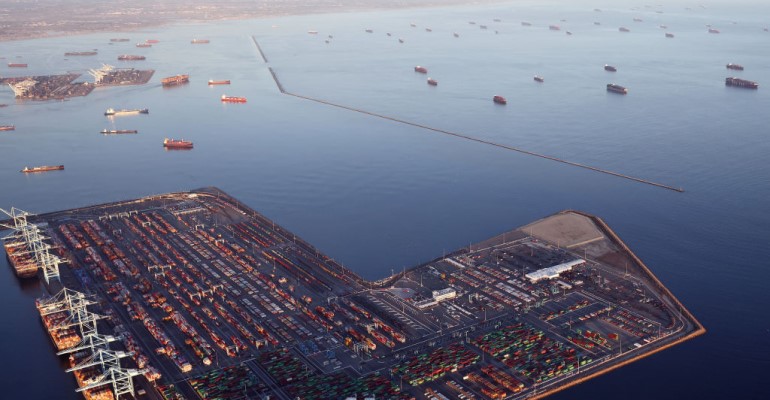 PORT CONGESTION RELIEF? Container ships are anchored by the ports of Long Beach and Los Angeles as they wait to offload on September 20, 2021 near Los Angeles, California. Amid nationwide record-high demand for imported goods and supply chain issues, the twin ports of Los Angeles and Long Beach are currently seeing unprecedented congestion.
Mario Tamo - Getty Images
In the first seven months of this year, shipping supply chain issues cost the U.S. dairy industry nearly $1 billion dollars in additional expenses, lost sales and eroded value, shared California dairy farmer Simon Vander Woude during a House Agriculture Committee hearing Wednesday morning.
The dairy industry is not alone in facing challenging supply chain constraints, including some estimates noting as much as 22% in lost agricultural sales due to the supply chain limitations. Over 70% of containers are leaving West Coast ports empty, an all-time record as boats rush back to China and filled with their own products to meet the unsatiable demand from U.S. consumers.
House Agriculture Committee Subcommittee on Livestock and Foreign Agriculture Chair Jim Costa, D-Calif., noted at the onset of the hearing on Nov. 17 that short and long-term solutions are needed to help address the ongoing supply chain constraints negatively impacting the agricultural sector and recognized many of the witnesses' testimony raised supply chain concerns multiple times.
Costa noted the signing of the bipartisan infrastructure bill offers funding for ports and harbors and includes language to allow for a pilot program to encourage the training of younger truck drivers. Additional action and insight are desired to hear how best to alleviate the concerns, Costa said.
Related: Supply chain issues hitting all segments of ag
Jen Sorenson, president of the National Pork Producers Council, said with regard to U.S. ports, the United States is facing a massive backlog of containers waiting to be loaded into vessels and dozens of ships waiting to offload cargo at West Coast ports. Such disruptions are particularly acute for agricultural goods, many of which are perishable, including pork. A majority of farm products exported to the Asia-Pacific region route through the ports in Long Beach, Los Angeles and Oakland, Calif., and Seattle and Tacoma, Wash.
Sorenson told members the supply chain disruptions at the ports are a grave concern. "We do not want to be potentially viewed as an unreliable trading partner. We want to deliver a product that has been ordered," she said, explaining when a foreign buyer desires chilled pork, U.S. producers don't want to lose value on having to freeze it because of shipping delays.
Vander Woude, who testified on behalf of the National Milk Producers Federation and the U.S. Dairy Export Council, added that last month the nation's largest farmer-owned cooperative, California Dairies Inc., which he serves as the chairman of the board, saw 60% of their orders cancelled or delayed because of shipping container issues.
Vander Woude said there are immediate needs that require action. "We can't wait. We need the Federal Maritime Commission to act. We need to get creative and think outside of the box" whether that's mandating something with those international carriers, he said. "Let's exert any control we have to get our products on those ships."
Almond grower Kent Stenderup, managing partner at Stenderup Ag Partners and on behalf of Blue Diamond Almonds, testified, "We don't want foreign markets to function without U.S. products as now we're talking about 2023 before things return to normal. They can forget us quickly," Stenderup said.
Getting FMC to act
NMPF and USDEC Executive Vice President for Policy Jaime Castaneda says USDEC and NMPF started in January working on how to solve issues that began to hinder U.S. dairy exports at the ports. Among various actions like creating a member working group early in the year as well as meeting with numerous government officials, USDEC and NMPF began working with a coalition and members of Congress to draft legislation with Reps. John Garamendi, D-Calif., and Dusty Johnson, R-S.D. – the Ocean Shipping Reform Act – which forces the FMC to act.
Many witnesses and House Agriculture Committees members who are co-sponsors of the ocean reform bill offered support for passage. Castaneda also said he expects to have a companion bill introduced soon by Sens. Amy Klobuchar, D-Minn., and John Thune, R-S.D.  
The FMC is an independent entity, and Castaneda said many people don't even know it exists. "They have a lot of power," Castaneda said of the FMC. "But it seems that they refuse to use it. With the amount of things happening, you don't see anything from them. We've not seen any significant action that they have taken."
Castaneda said one of the main objectives of the Ocean Shipping Reform Act is to not give the FMC a choice, but rather require them to take action.
Related: Ocean shipping reform bill looks to turn the tide
The Agriculture Transportation Coalition also offered a list of 64 potential solutions for the supply chain crisis addressing issues including the FMC enforcement; marine terminal operations and trucking into terminals; trucking costs and the truck driver shortage; rail service at inland rail ramps; chassis storage; and restoring port authority control over port operations.
Castaneda participated in a virtual roundtable Nov. 12 with the Biden-Harris administration's supply chain disruptions task force to discuss the challenges facing the export industry.
"These issues warrant the focus of the entire federal government in order to address the negative economic effects on both businesses and consumers from these challenges," said Castaneda. "This discussion was a first positive step which we hope will continue to drive high-level attention to the obstacles affecting U.S. supply chains and exports."
The organizations have urged the administration to convene a meeting with food and agriculture industry CEOs to discuss how the White House and Congress can take immediate action to implement additional measures, such as passing the ocean shipping reform legislation, addressing critical transportation industry labor and shipping equipment shortages, and other steps that will help American agriculture producers reach their foreign markets effectively.
Subscribe to receive top agriculture news
Be informed daily with these free e-newsletters
You May Also Like
---