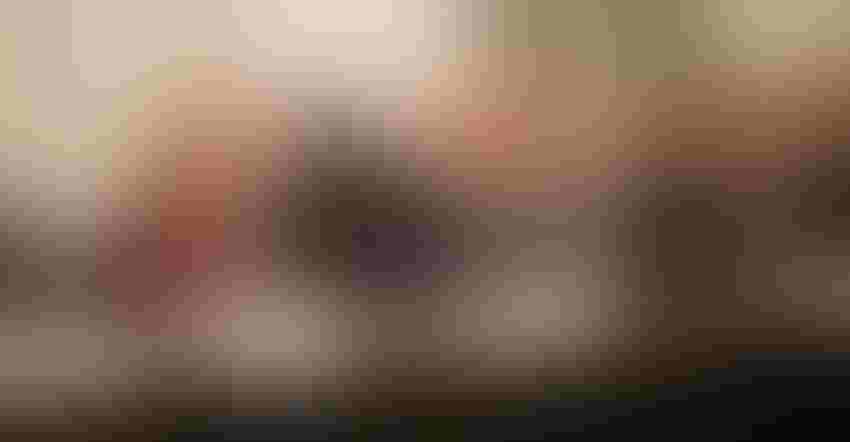 Senate Agriculture Committee Ranking Member Debbie Stabenow and Chairman Pat Roberts listen to farm bill conferees during a Sept. 5 full conference committee meeting.
House Committee on Agriculture
Sunday marks the end of the opportunity for Congress to deliver an "on-time farm bill." It appears politics again got in the way of legislation needed to offer certainty for farmers in a growing uneasy environment of turbulent trade relations and crashing commodity prices.
The House broke for its recess Friday afternoon before the House and Senate agreed on renewing the farm bill, leaving the bill to expire. House agricultural leaders pointed blame at the Senate, as it now appears a bill may wait to get finalized until after this fall's elections during the lame duck. Earlier in the week ahead of the expiration, the four farm bill principals released a statement confirming they're "still at the negotiating table," but the tone Friday from House Republicans turned more accusatory of allowing the bill to lapse.
"Right now, I don't get the sense that getting something done has quite the sense of urgency with my Senate colleagues as it does with me," said House Agriculture Committee chairman Michael Conaway (R., Texas.)
In a #FarmBillFriday post released by the House Agriculture Committee, Conaway said in a video that there are legitimate policy differences of opinions across all of the farm bill titles, not just the Supplemental Nutrition Assistance Program (SNAP). "It's not just SNAP, it's not just the farm bill, it's not just conservation, it's not title—it's a variety of things that we have yet to come to grips with. It's really frustrating because no one of them, who are actually all of them in combination, are worthy of us not getting this done. It's just a matter of having the political will to make those hard choices," Conaway said.
Rep. Ralph Abraham (R., La.), a member of the farm bill conference committee and House Agriculture Committee, went deeper into his criticisms of the Senate's actions holding up a farm bill solution ahead of the deadline.
"Sadly, America's farmers have been caught up in the political games of the swamp. Each time we think we have an agreement, Sen. [Debbie] Stabenow and Senate Democrats move the goal posts, asking for ridiculous things like crop insurance for roof top gardens and other urban farm priorities. They have put at risk vital agriculture programs that rural America depends on all to tow the party line and delay as much legislative business as possible in hopes they'll retake Congress in the midterm elections. The people should not have to suffer because of Washington's political games," Abraham said in a statement.
Impact to programs mixed
As time will run out on the farm bill at midnight of September 30, major programs, including crop insurance and Supplemental Nutritional Assistance Program (SNAP), or food stamps, will continue because they are permanently authorized and funded.
The 2014 Act also provides funding through the marketing year for 2018 program crops, but the dairy program will expire at the end of December. While the Conservation Reserve Program is permanently funded, its authority will lapse in October, meaning that U.S. Department of Agriculture (USDA) will honor existing contracts but not be able to enter into new ones. Then there are 39 so-called "orphan" programs that will lose both authorization and funding on Oct. 1, including certain conservation programs, most bioenergy (biofuels), rural development and agricultural research programs.
The Foreign Market Development (FMD) program will lose authorization and funding on Oct. 1, while the Market Access Program (MAP) will remain authorized and funded through December.  ASA has worked with other trade associations that participate in FMD and MAP to maintain authorization and increase funding for these export promotion programs in the new farm bill.
A recent report released by the University of Illinois noted that one hurdle going into the 2018 debate was the demand by the cotton industry to return its base acres to farm payment programs after having been removed in 2014 in response to the Brazilian WTO dispute.  "Adding back cotton was expected to come with political challenges because it would have required offsets to stay within budget rules; complicating already-difficult politics under lower prices by moving funds among commodities or titles.  Congress, however, added seed cotton outside of the farm bill and USDA has delivered two different payments to cotton farmers for the 2018 crop," the report noted.
For conference, these initial concerns appear to have been reversed. "The concern is now whether the 2018 payments to cotton have freed cotton supporters in Congress to pursue controversial changes to SNAP and conservation programs. There are also questions about whether an unusual yield update and its offset are adding further complications."  
The American Soybean Association also detailed how another highly-debated provision in the House bill would make base acres that weren't planted to a program crop in 2009 to 2017 ineligible for Title 1 payments under Agriculture Risk Coverage (ARC) and Price Loss Coverage (PLC). Savings from this change would be used to allow producers who experienced severe drought in 2009 to 2012 to update their yields under the PLC program. "The base change provision is controversial because farmers who have been allowed to underplant their base and receive payments since the 1996 Farm Bill would have their base and payments taken away," ASA said.
Adding insult to injury, the University of Illinois paper said the promise of payments from USDA could be a hindrance as well. "Billions in Market Facilitation Payments and the potential for billions more could dampen farmer demand for a farm bill," the economists wrote.
Now what?
ASA and its state affiliates are calling on Congress to complete the next farm bill this year rather than consider an extension when they come back to Washington. A short-term extension would avoid the "dairy cliff" at the end of December, but would mean starting the farm bill process over again with a new Congress and potentially new members and leaders of the Agriculture Committees.
Faced with continuing low prices and a volatile trade environment, no one in production agriculture wants to see added uncertainty in the support provided through the farm bill, ASA said in a release ahead of the expiration.
"As a result, and if the farm bill isn't finished in the lame duck session, there has been discussion of possibly extending the 2014 Farm Bill for three years – beyond the term of the next Congress and hopefully to a more stable farm economy," ASA said.
Subscribe to receive top agriculture news
Be informed daily with these free e-newsletters
You May Also Like
---