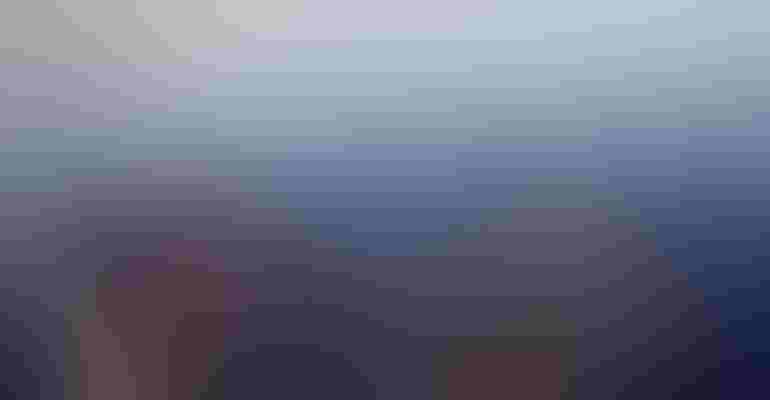 Getty/iStockphoto/Mario Tamo
During President Joe Biden's State of the Union address on March 1, the president took aim at ocean shippers as one of many consolidated industries leading to the rise in prices for small businesses and family farmers.
The president again made his claim that he's a capitalist, "but capitalism without competition isn't capitalism, it's exploitation – and it drives up prices. When corporations don't have to compete, their profits go up, your prices go up, and small businesses and family farmers and ranchers go under."
"We seed it happening with ocean carriers moving goods in and out of America," Biden said during his State of the Union address.
The statement comes after the Justice Department and Federal Maritime Commission reaffirmed their continuing commitment to jointly enforcing competition laws and strengthening their cooperation to promote competition in the ocean freight transportation system. The initiative also directs the DOJ to pursue further actions to increase competition in the ocean shipping industry. 
Since the beginning of the pandemic, ocean carrier companies have been dramatically increasing shipping costs through rate increases and fees. According to a fact sheet from the White House, these ocean shippers increased spot rates for freight shipping between Asia and the United States by 100% since January 2020, and increased rates for freight shipping between the United States and Asia by over 1,000% over the same period. Oftentimes cargo owners are charged fees—known as "detention and demurrage" fees—even when they can't get access to their containers to move them.
The FMC estimates that from July to September of 2021, eight of the largest carriers charged customers fees totaling $2.2 billion—a 50% increase on the previous three-month period.
These historically large shipping price increases translate into higher prices for American consumers. Based on research by the Kansas City Fed and the European Central Bank, these shipping cost increases are expected to contribute to approximately a 1% increase in consumer prices over the next year.
Meanwhile, the ocean carrier companies are experiencing elevated profits and soaring profit margins. Estimates suggest that the container shipping industry made a record $190 billion in profits in 2021, a seven-fold increase from the previous year and five times what it made over the entire period from 2010 to 2020. Profit margins have increased by even larger amounts. In the third quarter of 2021, the average operating margin of the major carriers was about 56%, compared to an average operating margin of 3.7% two years earlier, the White House notes.
DOJ, FMC reaffirm partnership
The FMC is a bipartisan, independent executive branch agency whose mission is to ensure a competitive and reliable international ocean transportation supply system that supports the U.S. economy and protects the public from unfair and deceptive practices. However, the FMC has come under fire over the past year for not taking more action against ocean shippers.
As goods became stalled in the supply chain, importers incurred increasing charges for the use of containers while exporters struggled to find containers available. These events have brought renewed attention to the FMC's authorizing statute.
The MOU established a framework for partnership between the FMC and the Justice Department's Antitrust Division that enhances cooperation in the enforcement of antitrust and competition laws, including the Shipping Act, including by facilitating information exchange between and among attorneys, economists and technical experts. 
Attorney General Merrick Garland says, "Competition in the maritime industry is integral to lowering prices, improving quality of service, and strengthening supply chain resilience. Expanding joint enforcement partnerships like the partnership between the FMC and DOJ is one of our most powerful tools for promoting competition."
"We are grateful to President Biden and his administration for bringing the Department of Justice and the Federal Maritime Commission together in a partnership to better enforce the Shipping Act and promote competition in the ocean carrier market," says Krysta Harden, president and CEO of U.S. Dairy Export Council. "Laws that protect shippers are only as good as their enforcement. We urge the DOJ and the FMC to move swiftly in pursuit of steps that will help deter unreasonable ocean shipping practices that harm U.S. dairy exporters."
USDEC and the National Milk Producers Federation strongly endorsed these efforts as a means of promoting increased competition and better services for American dairy exporters from the ocean freight transportation system. Disruptions in the export supply chain cost U.S. dairy shippers over $1.5 billion in 2021 due to reduced value, higher direct costs, and lost export sales.  
Jim Mulhern, president and CEO of NMPF, says, "The last year has clearly shown that changes are needed to tackle the unreasonable power shipping vessel owners have over America's agricultural exporters working hard to get their goods to foreign markets. U.S. dairy exporters have been forced to endure unfair practices, including last minute changes, increased costs, and other unwarranted charges and penalties. Effective enforcement of the Shipping Act is long overdue particularly as ocean carriers enjoy record profits."
Legislative momentum building on ocean reforms
The White House also called on Congress to address the present antitrust immunity for the predominantly foreign-owned ocean shipping alliances. On Monday evening the House moved quickly to advance reforms in this area by introducing the Ocean Shipping Antitrust Enforcement Act (H.R. 6864), which would repeal certain antitrust exemptions for ocean common carriers and introduced by Rep. Jim Costa, D-Calif., Adrian Smith, R-Neb., John Garamendi, D-Calif., and Dusty Johnson, R-S.D.
Johnson and Garamendi introduced the Ocean Shipping Reform Act and it passed the U.S. House of Representatives twice with over 364 votes—a majority of Democrats and Republicans.
"For nearly a year, Congressman Garamendi and I have been laser focused on getting the Ocean Shipping Reform Act signed into law," Johnson says. "Now that it's passed the House, I'm glad the White House is bringing further attention to the commonsense Garamendi-Johnson proposal. There are solutions to the problems we're facing with the supply chain and the Ocean Shipping Reform Act is one of them. I hope tonight's State of the Union reminds the Senate they have the support to get our bill across the finish line."
Sen. Maria Cantwell, D-Wash., chair of the Committee on Commerce, Science, and Transportation, will hold a full committee hearing on Thursday, March 3, to examine S. 3580, the Ocean Shipping Reform Act, introduced by Sen. John Thune, R-S.D., and Amy Klobuchar, D-Minn. This hearing will examine opportunities to update the Federal Maritime Commission's authority to increase oversight of international ocean carriers. 
"Too many farmers, manufacturers and other American businesses have been hit by skyrocketing shipping fees, unprecedented delays and schedule changes, while foreign shipping companies reap record profits," says Cantwell regarding the importance of Thursday's hearing. "Congress must take bipartisan action to protect our agriculture producers and export businesses from unfair ocean carrier practices so they can get their goods to the global marketplace, and we can further relieve port congestion, reduce supply chain backlogs and lower prices for consumers."   
The Klobuchar-Thune Ocean Shipping Reform Act would: provide the Federal Maritime Commission with greater authority to regulate harmful and discriminatory practices by international shipping companies; require carriers to certify that the fees they charge for delays are in compliance with federal regulations or face penalties; increase transparency on how many empty containers carriers are transporting; and prohibit ocean carriers from unreasonably declining U.S. exports that have been stranded at the docks.  
Subscribe to receive top agriculture news
Be informed daily with these free e-newsletters
You May Also Like
---