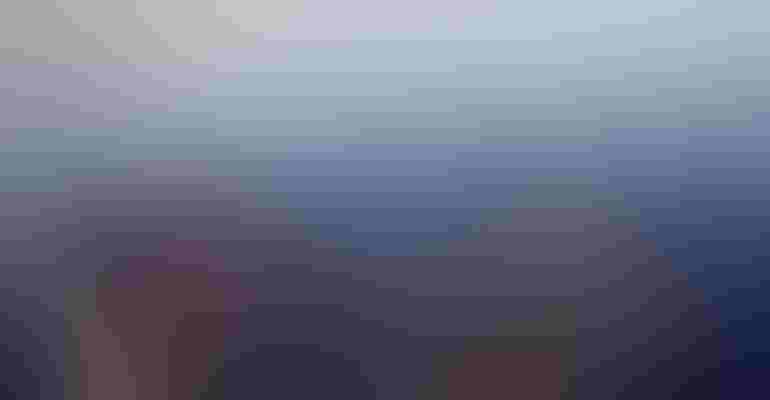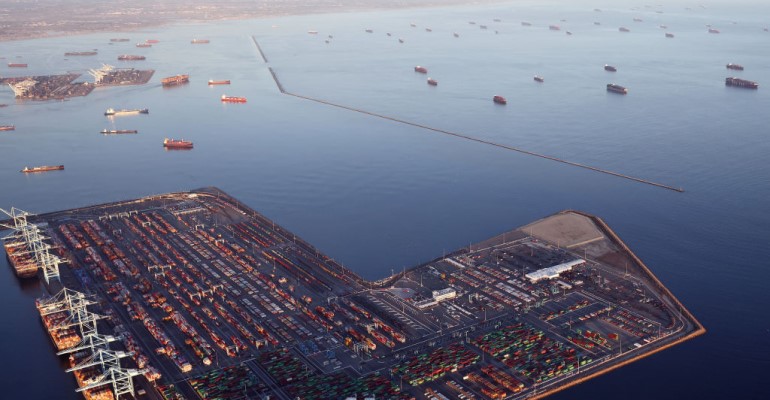 PORT CONGESTION RELIEF? Container ships are anchored by the ports of Long Beach and Los Angeles as they wait to offload on September 20, 2021 near Los Angeles, California. Amid nationwide record-high demand for imported goods and supply chain issues, the twin ports of Los Angeles and Long Beach are currently seeing unprecedented congestion.
Mario Tamo - Getty Images
Containerized agricultural exporters rely heavily on the Los Angeles and Long Beach port complex to move products overseas. However, ongoing delays at the ports have led to an estimated 22% loss of agricultural sales. Touted as a solution publicized during a White House virtual roundtable event on Oct. 13 with stakeholders, the Biden administration announced the Port of Los Angeles would begin operating around the clock, joining Long Beach, which already operates 24/7.
The expanded hours are to help relieve growing backlogs in the busiest U.S. container port complex. Convening leaders of businesses, unions and ports, the administration's negotiation efforts have so far secured commitments from shippers and retailers to ensure extended port hours, the administration notes. The ports' efforts will help regain terminal space by clearing import containers and allowing more fluid operations for all users.
Participants in the roundtable discussed how the movement of cargo during less congested times will allow trucks to move more quickly on highways during less crowded nighttime hours, and truckers at the ports can drop off and pick up loads more quickly.
According to a White House statement, Walmart will increase its container turnover 50% over several weeks by increasing its nighttime operations. United Parcel Service plans to increase its 24/7 operations, which will allow it to move 20% more containers off the ports. FedEx will work with its trucking and rail providers to double the number of containers it moves at night. Samsung said its warehousing operations will be open 24/7 for the next 90 days in a bid to move 60% more containers out of the ports.
Participants agreed to continue to work together, with the support of Port Envoy John Porcari, on 24/7 operations at the two ports and across the entire supply chain. They discussed additional solutions to alleviate congestion and improve efficiency. This included a temporary expansion of warehousing and rail service, improving data tools and data sharing at the ports, and increasing recruitment of truck drivers while improving the quality of trucking jobs.
Secretary of Agriculture Tom Vilsack, who serves on the Supply Chain Disruptions Task Force formed by the president in June, says the administration remains focused on getting more people and more work done at the ports, which he says remains a crucial issue in terms of the nation's ability to both get product in and get product out of the nation's ports.
The cost to ship a container has increased between 300 and 500% in the past two years. Meanwhile, U.S. producers are losing 10-40% of their export value to these added costs. Vilsack says this is combination of a number of factors that increased demand as the country opened up from a very difficult situation involving the pandemic.
"As we opened up, the demand was great, and I think what we have seen is a significant fragility of our supply chain, not just in the United States, but globally," Vilsack adds. He says this also reinforces the need for the historic investment in the bipartisan infrastructure plan, which invests $17 billion in ports, as well as needed investments in roads and bridges.
Peter Friedmann, executive director of the Agriculture Transportation Coalition, participated in the roundtable and believes the actions will help address port congestion. He also shared ATC has been in consultation with USDA on how to utilize recently announced Commodity Credit Corporation funds to provide $500 billion to alleviate port and supply chain congestion.
Soybean Transportation Coalition Executive Director Mike Steenhoek explains the cause for the overall stress confronting our global supply chain is the surge in consumer spending away from services into goods. "This has imposed unprecedented pressure on manufacturing and the supply chains that service it. This has been compounded by shutdowns associated with COVID outbreaks as well as persistent labor shortages. Every mode of transportation is experiencing this stress – ocean shipping, port operations, barge, railroads and trucking," he says.
It will take time to see if the actions taken by the administration alongside businesses prove beneficial, Steenhoek says. "We support the Administration and Congress exploring any option to help mitigate this lack of fluidity. Obviously, time will tell if this proves successful."
During a virtual roundtable event hosted by the Farmers for Free Trade the day following the roundtable, Doug Chapin, dairy producer and chairman of the Michigan Milk Producers Association, shares that the port congestion is paramount for the many dairy products going out of the West to Asian markets. The congestion puts U.S. producers at a disadvantage to world competitors who are not experiencing the same port congestion issues. "It does make the U.S. look more unreliable if New Zealand and the EU can deliver products more promptly," he says.
Subscribe to receive top agriculture news
Be informed daily with these free e-newsletters
You May Also Like
---