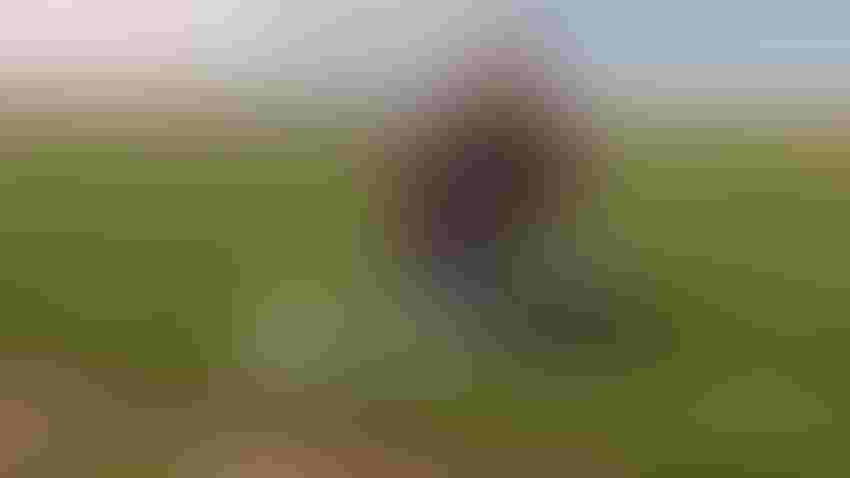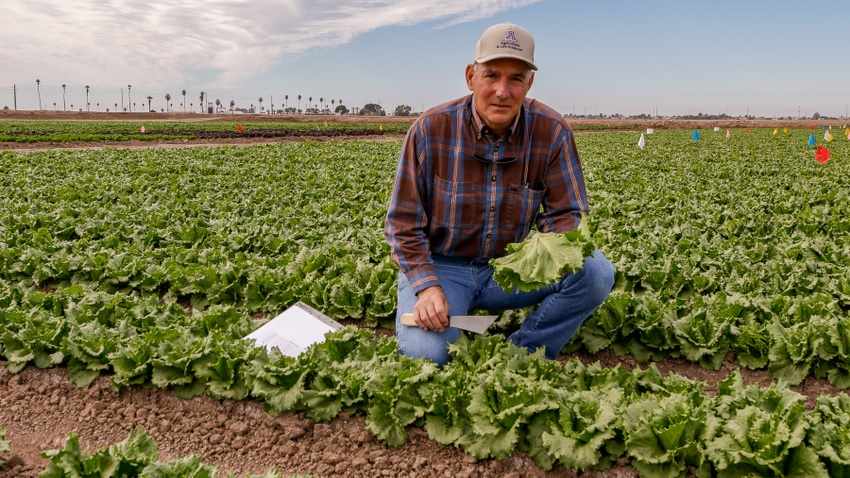 John Palumbo, an entomologist with the University of Arizona, continues to survey desert pest control advisors for their use of pesticides during the winter growing season. He has 19 years of data to reveal trends in pest pressure and pesticide use in the region.
Todd Fitchette
Arizona lettuce farmers are applying fewer pesticide sprays than they did decades ago, with targeted results. Meanwhile, growers continue to find success in a class of safe and effective broad-spectrum insecticides.
Pyrethroids continue to be a go-to class of insecticides for pest control advisers in Arizona lettuce, according to a survey report by John Palumbo, entomologist with the University of Arizona Extension office in Yuma.
"Pyrethroids are the safest and most inexpensive broad-spectrum insecticide still available for effective contract control of flea beetles, crickets, plant bugs and some lepidopterous larvae and adults (cabbage looper and corn earworm." Palumbo writes in his report.
Palumbo's latest report offers a 19-year summary of pesticide use in desert lettuce. The report is a culmination of data from surveys of more than two dozen PCAs covering over 25,000 acres of desert lettuce, includes the 2022/23 growing season. He does the annual report for several reasons:
Address regulatory questions.

Defense of older active ingredients, such as the pyrethroids; and,

Defense of newer active ingredients, such as sulfoxaflor.
"It serves as a source of information for people making regulatory decisions and label decisions," he said. "For me as a scientist, I can use it to justify the needs of certain kinds of research. It also bolters and supports what PCAs do for a living."
Palumbo will also use his data to support calls for emergency or local exemptions, also known as Section 18 and Section 24C requests. The data, collected voluntarily from PCAs during Extension office meetings, serves to quantify and measure integrated pest management (IPM) practices, provide a historic record of insect losses and outbreak, and to identify the relevancy of pest problems in commercial fields.
Key trends
Spray costs and scouting fees continue to rise. The cost of treatments per acre applied now averages over $26 per acre, with scouting fees above $30 per acre. A desert pest control adviser will visit the same lettuce field an average of four times per week, according to Palumbo's report.
Insect populations that can vary from year to year were noticeably higher the past several years for lettuce aphids in the spring crop. Beet armyworm populations continue to trend upward as well.
Pests of concern
Beet armyworm (BAW) is the No. 1 pest in fall desert lettuce, he said. Fall lettuce is planted in late August and early September and is generally harvested in November. Winter lettuce season starts in December and runs through March and April.
The Beet armyworm is problematic throughout the fall and winter growing seasons, he said. PCAs will treat upwards of 100% of the desert lettuce crop in their battle against BAW. Control thresholds are low for BAW – just one larva per 100 plants. Control is more critical in the fall when temperatures are ideal for BAW development, he said.
The cabbage looper is another lepidoptera pest of high concern for desert PCAs. It is present in fall and spring lettuce, though unlike the BAW, its numbers have declined somewhat over the past several years, based on Palumbo's surveys.
The reason these lepidoptera pests are concerning is the rapid pace at which they can consume a young lettuce plant.
These insects consume plants with their chewing mouth parts. In early lettuce stands, the insect can consume the entire plant, he said. This makes control during stand-establishment critical.
"When you have a small plant that's maybe got one or two leaves on it, and you've got armyworm all over it, that plant can disappear within two days," Palumbo said.
Aphids are a pest of high concern as shippers and processors effectively have a zero tolerance for finding them in harvested lettuce. This is largely due to consumer perceptions and demands for pest-free lettuce.
Green peach aphids are an important economic pest on spring lettuce, Palumbo says. The presence of these and other aphid colonies will trigger spray treatments that sometimes are included as a preventative measure to keep lettuce marketable.
Insecticides to control Western Flower Thrips were applied to 90-100% of lettuce acres between 2005 and 2023, according to the annual survey.
Subscribe to receive top agriculture news
Be informed daily with these free e-newsletters
You May Also Like
---