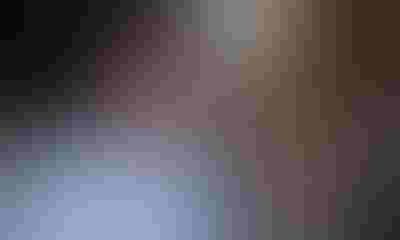 On the wall in Iowa Secretary of Agriculture Bill Northey's office is a picture of a farmer, Sid Northey. In 1981 when Bill graduated from Iowa State University with a degree in ag business, his grandparents Sid and Maude Northey offered him the opportunity to join their 560-acre crop and livestock farm, so they could phase into retirement.
The transition took about 10 years, but the gradual shift of assets kept the debt load down during the 1980s, a decade of financial crisis for U.S. agriculture.
Meet the Master Farmers: Northeys: Deeply rooted in ag
While those were tough years to start farming, Bill and wife Cindy were grateful for the chance to farm with Bill's grandparents. It was a struggle to make ends meet, but they resolved to make their farming operation a success.
During that decade, Bill was active in the community, serving in volunteer positions. He wanted to help improve agriculture, which led to his desire for more education. Eventually, he earned a master's in business administration from Southwest Minnesota State University in 2004.
Grassroots education
In the early years of his farming career, Bill got an education of a different sort. He had an off- farm job with the Iowa Farm Business Association, helping farmers with recordkeeping and business analysis.
"I worked with farm business consultant George Moriarty in the winters in the 1980s," Bill recalls. "On our home farm we had some livestock but not a lot. So from 1982 to about 1990, I worked with George.
"It was very helpful to me as a beginning farmer to see the different farming operations and understand the economics better, focusing not only on the income tax side of record- keeping, but financial analysis, too. Those years helped me learn more about the business of farming during a very challenging time," he adds.
Today, Bill is a fourth-generation farmer growing corn and soybeans on the farm near Spirit Lake in northwest Iowa. Bill's parents, Wayne and Margaret, farm nearby and are Iowa Master Farmers, Class of 1987.
Iowans elected Bill secretary of agriculture in 2006, and re-elected him in 2010 and 2014. He ran on a platform of expanding opportunities in renewable energy; promoting science and technology to better conserve the state's air, soil and water; and telling the story of Iowa agriculture.
As state ag secretary, Bill travels to each of Iowa's 99 counties annually, to hear from farmers and rural residents with a stake in the future of agriculture. The meetings allow him to listen to their needs and better lead the Iowa Department of Agriculture and Land Stewardship as it serves the state's residents. He now devotes much time and effort to help advance Iowa's water quality improvement initiatives; he is recognized as a national leader on water quality issues.
On his own farm Bill uses various soil conservation practices, GPS and grid soil sampling. The farm is close to a four-hour drive from Des Moines, where Cindy and Bill now live. However, Bill still manages the farm and does the planting and harvesting, mostly on weekends.
"We hire the spraying and fertilizer application because of timing," he explains. "And we have a part-time employee who helps me farm. He hauls grain, takes care of the equipment, etc. Due to the time constraints of my schedule, I couldn't do the farming without his help."
Legacy of ag leadership
As a young farmer in the 1980s, opportunities for Bill to hone his leadership skills kept coming. He was a Dickinson County Soil Conservation District commissioner, following in the footsteps of his grandfather Sid.
Bill served on the Dickinson County Extension Council, was county Farm Bureau president and grew active in the Iowa Corn Growers Association. Later he became president of ICGA and then the National Corn Growers Association. He served for four years on the USDA Farm Service Agency State Committee. He helped found Innovative Growers LLC, a value-added crop production and marketing group.
With his involvement in these organizations and as Iowa ag secretary, Bill has traveled the world to view agriculture and promote Iowa's products.
Bill's grandfather on his mother's side of the family, E. Howard Hill, was another role model. Howard led the Iowa Farm Bureau as state president and was an Iowa Master Farmer, Class of 1946. Bill's great grandfather, Edwin L. Hill, was a member of the Class of 1927.
Bill's genetics provide a powerful base for a life that is a positive influence on farming and agriculture. But the genome is only the base. His mom and dad, Margaret and Wayne, raised him right, he says. Bill's experiences in 4-H, church youth groups and work on the diversified family farm instilled a desire and work ethic to continuously improve.
Bill and Cindy have three daughters and five grandchildren. Daughter Jessica (Thomas) Meierotto is in West Des Moines; daughter Emily (Eric) Brown is in Ankeny; daughter Katie Northey is working in Spain.
As the fourth generation of his family to be named a Master Farmer, Bill, Class of '16, has achieved a milestone the Iowa Master Farmer Association may not see again for quite some time
Meet the Master Farmers
Myron and Joyce Pingel
Subscribe to receive top agriculture news
Be informed daily with these free e-newsletters
You May Also Like
---