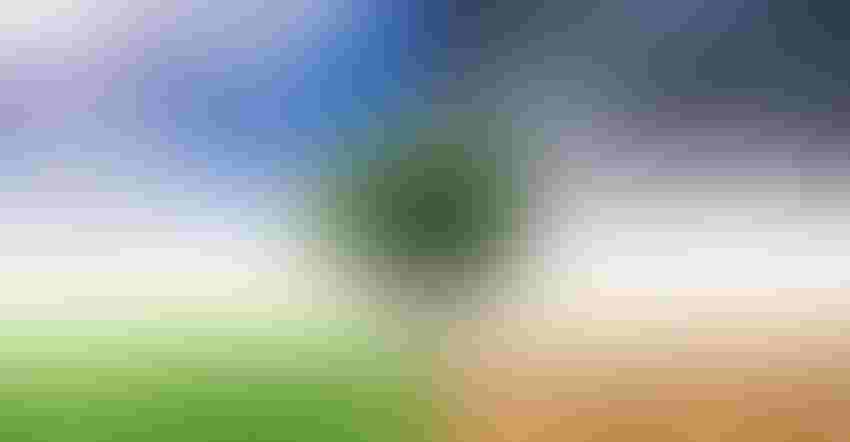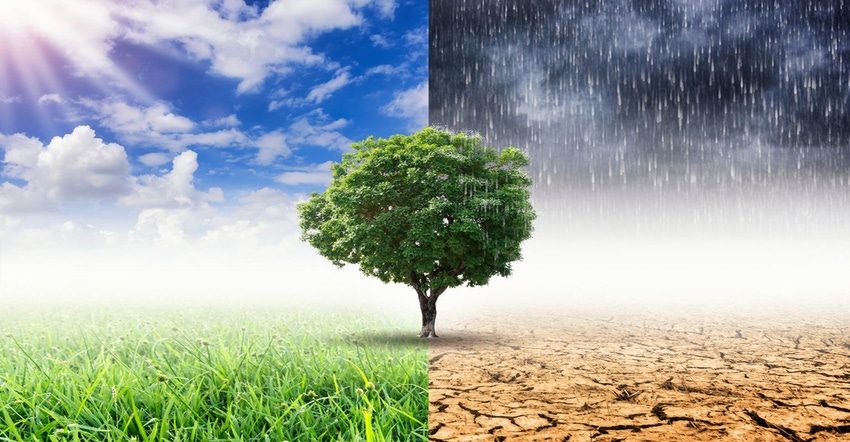 Secretary Tom Vilsack outlined key steps to assist U.S. farmers and consumers with current challenges while charting a course toward a long-term, climate-smart future for all of agriculture, in a speech at Colorado State University on Sept. 29.  Vilsack announced a new initiative to finance the deployment of climate-smart farming and forestry practices to aid in the marketing of climate-smart agricultural commodities.
Vilsack says USDA is investing in a series of pilot projects, as part of the "Climate-Smart Agriculture and Forestry Partnership Initiative," which will provide incentives to implement climate smart conservation practices on working lands and to quantify and monitor the carbon and greenhouse gas benefits associated with those practices. The pilots could rely on the Commodity Credit Corporation's specific power to aid in expansion or development of new and additional markets.
Vilsack says the initiative is "not a carbon bank or a carbon market" although it will be used to empower farmers, ranchers to producers to produce climate-smart commodities and expand on existing conservation practices that advance desired environmental goals.
The new initiative will support pilots that create new market opportunities for commodities produced using climate-smart practices and position U.S. farmers, ranchers and forest landowners as leaders in addressing climate change, says Vilsack. "The pilots will invest in the science, monitoring and verification to measure the benefits of these climate smart practices."
Vilsack says USDA hopes to expand public-private partnerships and receive proposals from a wide variety of stakeholders interested in voluntarily collaborating to test wide-ranging ideas that sequester carbon and reduce GHG emissions on farms and working lands. This may include dairy farmers working together to reduce emissions; corn and soybean producers finding ways to market climate-smart commodities to a retail buyer while also qualifying for ecosystem payments; or industry partners helping measure and track climate benefits over time.
USDA will receive stakeholder input over the next 30 days to determine how the partnerships will be structured and will then initiate a series of partnerships over the next six months. He says the USDA has taken note of previous comments received on how to advance climate-smart ag practices, including from the Food and Agriculture Climate Alliance offered in May, but more insight is needed.
"We're not finished listening and learning," Vilsack says, adding the department plans to ensure any plan before implemented works and provides equitable, adequate resources and abides by the strongest scientific integrity.
Insights gained through this process will inform development of a Notice of Funding Availability soliciting Climate-Smart Agriculture and Forestry Partnership Initiative project proposals that encourage the adoption of climate-smart practices and promote markets for climate-smart commodities. USDA plans to announce the NOFA this fall, with project proposals accepted early next year.
The Food and Agriculture Climate Alliance, which consists of more than 80 agricultural commodity, agribusiness and environmental groups, says it is pleased to see USDA is embracing an incentive-based approach that would increase demand for climate-smart farm, ranch and forestry products, while building trust that the climate benefits are real and verifiable.
FACA supports this "walk before you run" approach by government to advance climate-smart practices. FACA has long stressed that there is no one-size-fits-all solution and is pleased USDA is inviting proposals that would add value to and encourage new markets for the full range of farm, ranch and forestry products, grown and raised on farms, ranches and forests of all sizes. The alliance also supports equitable opportunities and applauds USDA's stated goal to reduce barriers to participation for all farmers, ranchers and forest owners, including producers of color and others who have been historically underrepresented.
"Vilsack's focus on pilots to get the policy 'right' will help inform future discussions and ensure we are doing the best for the environment, our farms and ranches and rural communities," says Zippy Duvall, FACA co-chair and president of the American Farm Bureau. "Reducing barriers, addressing challenges, and encouraging opportunities for all farmers and ranchers, no matter the size of their farm or where they are located, will be key to success."
Elizabeth Gore, FACA co-chair and senior vice president for political affairs at Environmental Defense Fund, adds, "Agriculture plays a critical role in slowing climate change and building resilience to the climate impacts that are already here. USDA understands both the urgency of addressing climate change and the necessity of ensuring that solutions follow the science and make sense for farm, ranch and forestry businesses. This is the right next step for the department to take."
"Today's announcement underscores the fact that farmers are part of the climate solution," says National Corn Growers Association President John Linder. "We look forward to working closely with USDA in the coming weeks to provide input from corn growers."
National Milk Producers Federation President and CEO Jim Mulhern applauded the action taken by USDA. "By aiding the finance of climate-smart farming practices and the marketing of climate-smart commodities, this initiative will ensure even greater U.S. leadership in sustainably feeding the planet. It also will help keep U.S. farmers competitive in a global market that's increasingly sensitive to agriculture's effects on climate," Mulhern says.
While speaking at Colorado State, Vilsack also announced $3 billion in additional funds and activities to address immediate agricultural issues, including drought, supply chain disruptions, animal disease and school nutrition.
Subscribe to receive top agriculture news
Be informed daily with these free e-newsletters
You May Also Like
---