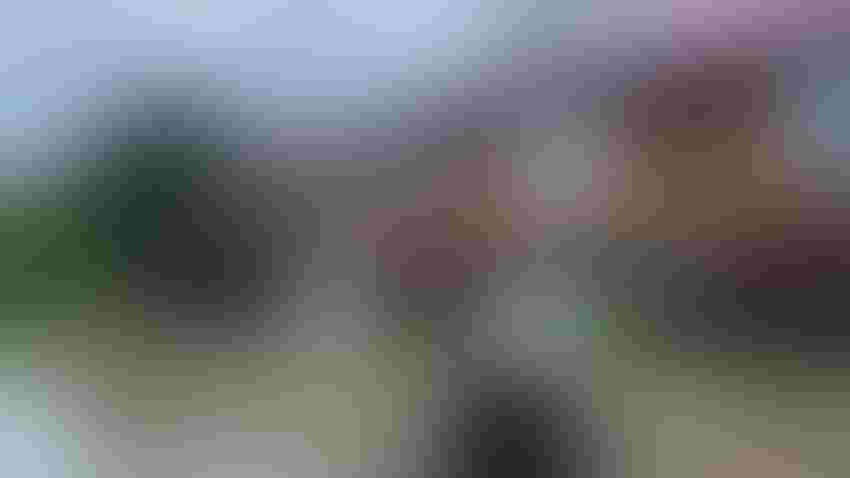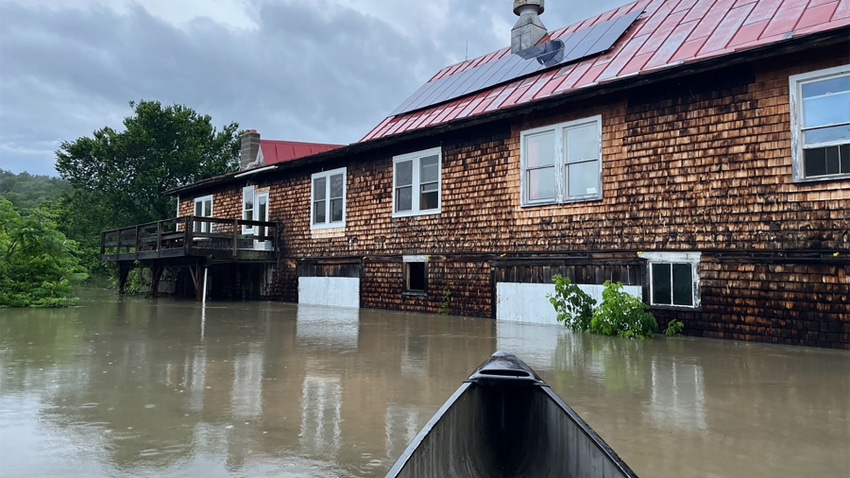 CHALLENGING START: Most of Cate Farm in Plainfield, Vt., was underwater because of storms that dumped close to a foot of rain in the area. This is Flint Wiswall's first year running the farm after his father, Richard, retired.
Photos courtesy of Cate Farm
Vermont farmers are still assessing widespread damage from last week's flooding, with more wet weather on the way.
"More rain is in the forecast, and there's nowhere for the water to go," says Flint Wiswall of Cate Farm in Plainfield, Vt. One of Wiswall's greenhouses, which was fortunately empty, was underwater. Others were safe on higher ground.
But several acres of burdock root, one of his major crops, were flooded. It is too soon to tell how badly the crop was damaged. "It's challenging ... this is my first year running the farm myself, so it's a good way to dive in headfirst," says Wiswall, who took over Cate Farm after the retirement of his father, Richard.
Dave Marchant of River Berry Farm in Fairfax, Vt., said he had never seen water rise as high as it did on his farm. "It was probably the highest since [the devastating flood of] 1927," he says.
The Lamoille River, on which his farm is located, reached a record height. Last Wednesday morning, 6 feet of water sat in his fields. Marchant can't calculate the destruction to his vegetable crops yet. "But we did really pretty well, considering," he says.
That's because many later transplants, such as lettuce and cabbage, were still waiting to be planted. "Now it's a matter of trying to find a place to plant them," he adds.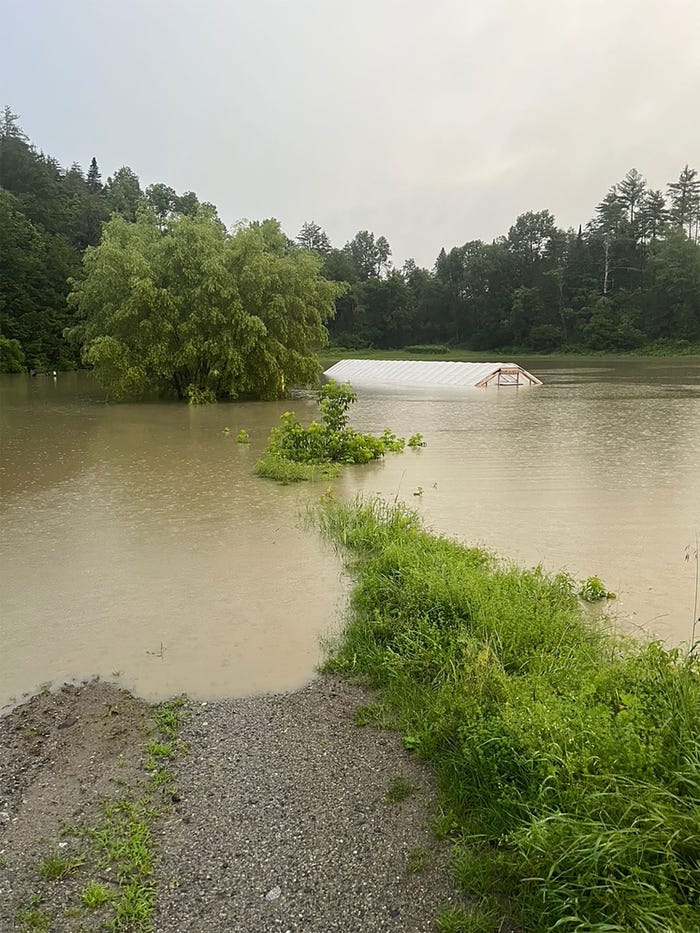 DELUGED GREENHOUSE: One of Wiswall's greenhouses was completely submerged by flooding. Thankfully, the greenhouse was empty at the time.
Most dairy farms were able to ship their milk. Amber Sheridan, director of corporate communications for Agri-Mark Cooperative, says there was very little milk that was not picked up, thanks to the haulers.
"They're the true heroes," she says. "There's been a lot of collaboration. They're doing a tremendous job and finding interesting ways to get around."
Sheridan says it's still too early to assess the amount of damage to members' farms, but "it's a really trying time."
Drivers for Earl T. Wadhams Milk Hauling had few problems getting to farms, Peter Wadhams says. But unloading at the milk plants presented a big bottleneck. Plant employees were having trouble getting into work, so haulers were forced to wait to unload their milk, he says.
Susan Carpenter, a dairy farmer in Cabot, Vt., says an enormous amount of water and debris washed down into the bowl-like village.
"There's tremendous damage to the village and the road to the Cabot Creamery," she says. "Because it's an agricultural village and we have a lot of farms, tractors materialized in the village with their buckets and people were scraping up mud and debris."
Carpenter just finished haying. "But I've seen many farm fields full of silt and mud," she says. "I don't know how people are going to get on their hayfields. It's the most water I've ever seen, and there's absolutely no room for anymore."
How to get help
The Vermont Agency of Agriculture, Food and Markets has posted flooding and recovery resources on its website. Here are some important things to know:
Assess any crop damage field by field, crop by crop. If you have private crop insurance, contact your agent. If you have NAP (Noninsured Crop Disaster Assistance Program) coverage, contact your local Farm Service Agency office.

If you do not have crop insurance, you should still report any losses to your local FSA office.

If you grow produce, or have fields that may be affected, contact the Vermont Produce Program Team at [email protected] or 802-622-4412. Under U.S. law, crops where the edible portion of the plant has contacted floodwaters are considered adulterated and cannot be sold for human consumption.

If your dairy farm can't be reached by a truck and you are required to dump your milk, or are accepting a load of milk from another farm operation, a manure pit is the best location to dump milk. Be sure to maintain accurate records. 

If you don't have a manure pit and need another place to dump your milk, contact Nate Sands at 802-224-6850 or [email protected]. 
More resources are posted on the Vermont Agency of Agriculture, Food and Markets website.
Subscribe to receive top agriculture news
Be informed daily with these free e-newsletters
You May Also Like
---