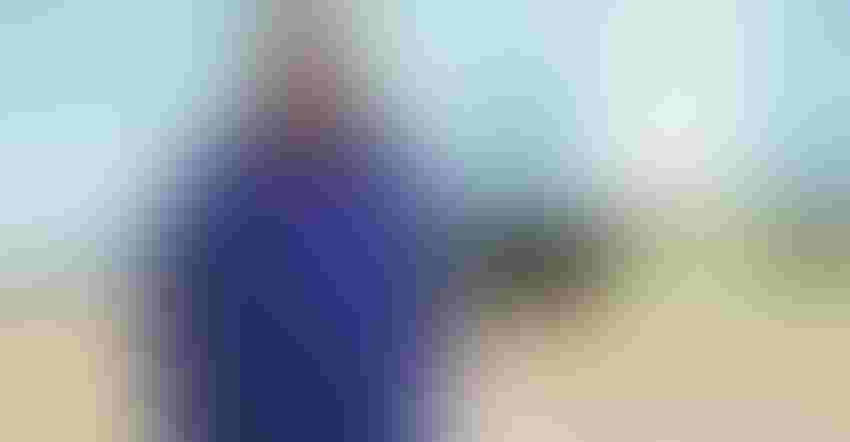 COW-CALF PRODUCER: Glenn Morris, Gibson County, Ind., maintains a cow herd and sells calves as feeders.
Corteva Agriscience
The farmers who round out the 2019 Indiana State Fair lineup of Featured Farmers continue the theme of producing a diverse mix of crops, livestock and other ag products. The Featured Farmers program highlights a different farm family every day at the Indiana State Fair.
The program is sponsored by Corteva Agriscience. You can catch up with the Featured Farmers each day at 2:30 p.m. in the Indiana Soybean Alliance Glass Barn. You may also see them participating in special activities throughout the day.
Glenn Morris might be one of the oldest farmers featured this year. At 81, the beef producer from Lyle's Station near Princeton is still going strong. While he also grows corn and soybeans, he's known for his beef cattle. "We have about 68 cows today, and we keep up the pasture the best we can," he says.
Morris was featured on the cover of Indiana Prairie Farmer a few years ago, working with his cattle. He practices a form of rotational grazing, but he installed permanent fences on the farm by digging the post holes by hand. That's hard work in anybody's book.
Here are the farmers who will be featured on the final six days of the fair:
Aug. 13, Sam and Darren Schwoeppe. Sam Schwoeppe and her husband, Darren, are the fourth generation to operate their dairy farm near Huntingburg. That means their sons, Wyatt, 24, and Ethan, 23, are the fifth generation to be involved.
The plan is for the farm to continue producing milk as it has for decades. Their farm was homesteaded in 1874. Their milk goes to the Prairie Farms dairy plant 8 miles away in Holland, and is in the grocery dairy case within 48 hours of being milked.
Aug. 14, Glenn Morris. Glenn Morris was introduced at the beginning of this article, but here's one more fact about him: He's improved his cow herd over the years by buying quality Angus bulls. At one time he flew his own plane on trips to check out potential bull purchases.
Aug. 15, Emily and Cory Studebaker. The Studebakers raise corn, soybeans and laying hens in Whitley County. They have about 20,000 chickens on their farm in a cage-free facility. Their eggs are shipped to a company that produces various food products.
"We've only been at this location for a couple years," Cory Studebaker says. "The former owner was Amish, so we had to do some updating and install electricity in the laying house. Emily does about 90% of the work with the chickens." Cory's father operates a dairy farm nearby.
Aug. 16, Smith family. Some 10,000 tourists, including lots of schoolkids, will descend on Smith Family Farms near Pendleton this fall, touring the pumpkin patch. Operated by Neal and Jennifer Smith; son Mitchell and his wife, Courtney; younger sons Mason and Miller; and Neal's parents, Mike and Linda Smith, this farm also raises corn, soybeans, wheat, hay and beef cattle.
The Smith family operates Smith Family Farms Custom Meats Inc., also known as The Market, in Pendleton. The store features an on-site butcher and fresh and frozen meats, plus other products. It's a joint venture with two other local families in the livestock business.
Aug. 17, Cline family. Nancy Cline and her husband, Mike, raise corn, soybeans and hogs on the family farm near Kirklin.
They emphasize making full use of their hog manure, and make sure it's placed below the soil surface. They pay attention to manure analysis when determining fertilizer rates and use unmanned aerial vehicles to scout for nitrogen deficiencies during the season, correcting any they find with a high-clearance sprayer and late-season application.
Farming together since 1976, three of Mike and Nancy's six sons are involved in the operation today: Jonathan, Micah and Daniel. Their other sons, David, Bradley and Kyle, work in ag-related professions.
Aug. 18, Kevin Bohman. Kevin Bohman, Hanover, and his wife, Chelsea, are all about producing the best-tasting honey they can. They educate people about the benefits of raw honey whenever they get the chance.
The couple and other family members care for 300 hives spread across four counties in southeast Indiana: Clark, Decatur, Jefferson and Ripley. Others involved in Bohman Bee Co. include Kevin's parents, John and Danette, and his brother Nicholas and sister-in-law, Kayla.
Learn more about these operations at indianastatefair.com.
Editor's note: Corteva Agriscience and the Indiana State Fair provided information for this story.   
Subscribe to receive top agriculture news
Be informed daily with these free e-newsletters
You May Also Like
---