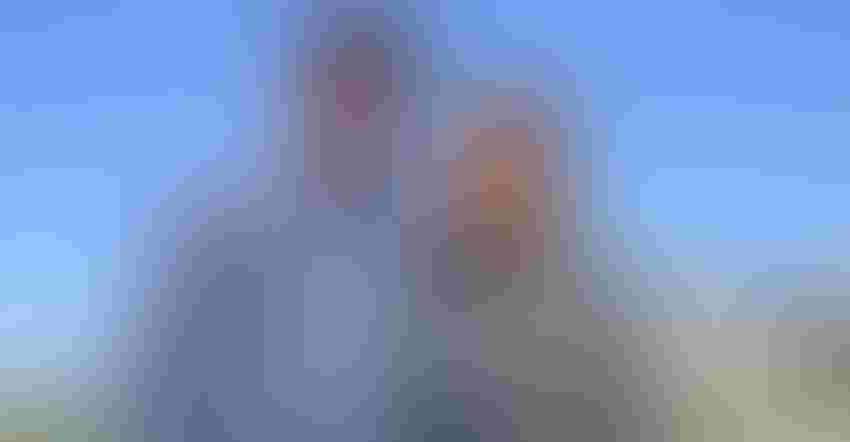 INDUSTRY LEADERS: David and Danita Rodibaugh are sought-after spokespeople for both the swine and soybean industries in Indiana.
The Featured Farmers program is back for the fifth straight year at the Indiana State Fair. Sponsored by Corteva Agriscience, it highlights farmers who represent Indiana's diversified agricultural landscape.
A different farm is featured each day of the fair, which runs Aug. 2-18 in Indianapolis, notes Heide Spahn of Corteva Agriscience. The featured farm family starts the day joining Indiana State Fair officials for breakfast, and then enjoys activities all day, including a live chat with fairgoers at the Indiana Soybean Alliance Glass Barn at 2:30 p.m.
Here are the Featured Farmers for the first five days of the fair:
Aug. 2, Huber family. This is a diversified family operation near Starlight with a long history. "We're being featured for our grapes," says Dana Huber. "We have 85 acres of grapes, which we use to make wines." The Hubers are providing guidance as the Indiana State Fair brings back its wine competition.
Dana and her husband, Ted, with his cousin Greg Huber and Greg's wife, Jan, all work in the business, Huber's Orchard, Winery and Vineyards.
"We're joined by our kids, Blake and Christian, and Greg and Jan's kids, AJ, Marcella and Allie," Dana says. "Each has a specific role in the business."
Dana notes they've recently added a second building for spirits. Each building holds 1,200 barrels. They grow heirloom corn and produce bourbon, along with vodka, gin and rum. They also operate Plantation Hall, a venue for weddings, receptions and other events.
"We also have U-pick vegetables and fruits, and U-cut Christmas trees," she adds. "It's a busy place."
Aug. 3, Russell family. Not far from the Huber operation, across the county line into Floyd County near Borden, you'll find Russell Veggies, operated by Kenny and Val Russell. Today, it's a 2.5-acre vegetable farm that produces everything from asparagus to onions to cockscomb flowers.
Kenny and Val have farmed for 50 years and once farmed more acres. A retired railroad worker, Kenny says he still enjoys working. They're marketing their produce through their roadside stand.
Aug. 4, Rodibaugh family. David and Danita Rodibaugh, Rensselaer, are part of a longtime family operation that raises soybeans, corn and hogs. Both have promoted livestock agriculture their entire lives.
David is a member of the Indiana Soybean Alliance and played a large role in getting Plenish high-oleic soybean oil into Purdue University kitchens. He also helped publicize the program.
The Rodibaughs were named Indiana Prairie Farmer Master Farmers in 2014. The Master Farmer program is co-sponsored by the Purdue College of Agriculture.
Aug. 5, Mark Smith. Mark and Susan Smith raise three types of llamas on their farm near Crawfordsville. They also grow corn and soybeans. In the past, they produced hogs and sheep.
Their entry into llamas started when they used them as guard animals for the sheep. Llamas have a longer life span than Great Pyrenees dogs, which are typically used to protect sheep on pasture from coyotes. Today, Mark and Susan primarily breed and sell show llamas.
Aug. 6, Sean Smith. Sean Smith represents Culver Duck, a company based in Middlebury that relies on local farmers in northern Indiana to raise ducks.
Spokespeople for Culver Duck say about 100 growers raise ducks on contract for its processing facility. Producers are located in a five-county area within a 40-mile radius of the plant. Culver Duck ships products to consumers all over the country.
Learn more about these operations at indianastatefair.com. Watch the Indiana Prairie Farmer website in the coming weeks to meet the rest of the 2019 Featured Farmers.
Editor's note: Corteva Agriscience and the Indiana State Fair provided information for this story.   
Subscribe to receive top agriculture news
Be informed daily with these free e-newsletters
You May Also Like
---